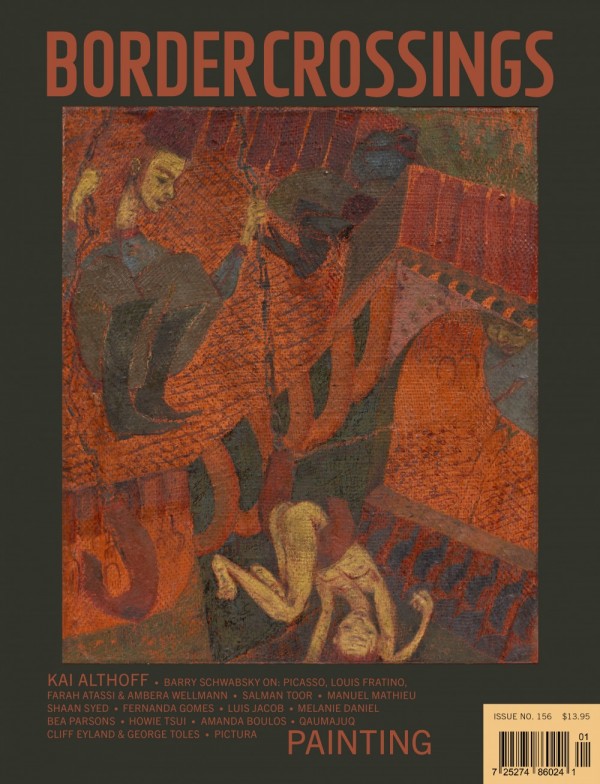 May 2021
#156
Our Special Issue on PAINTING will be available May 5, 2021. Every year Border Crossings publishes an issue which focuses on the medium that never goes away; it is always much anticipated and very well received. This current issue is a dazzler – wide ranging and full of surprises. The feature interview is with KAI ALTHOFF and provides transport to another realm. The gift this remarkable artist offers us in this difficult time is the opportunity to inhabit an atmosphere, a sphere outside the quotidian world where we are resident.
Picasso and his influence have vexed painters almost since he began to make art. He has been emulated and revered; alternatively he has been the subject of jousting, challenges and sneers. In this issue BARRY SCHWABSKY looks at three young artists who are taking Picasso in history's stride and bringing him into their work without a queasy backward glance: LOUIS FRATINO, FARAH ATASSI, and AMBERA WELLMANN. Barry Schwabsky writes, "It is remarkable that many young painters today — and I mean good ones — have been blatantly cultivating Picassoid stylistic devices, something that would have been very hard to get away with not that long ago, when one implicit definition of a sophisticated artist's task might have been: erase all overt references to Picasso." Clearly not the case evidenced in his article, "Picasso Remixed".
In an issue that presents and interrogates painting, Peruvian Canadian artist LUIS JACOB is instead "Painting the Hole in Abstraction", as suggested by the article's author Adam Lauder. Lauder writes that Luis Jacob engages a tactic of unsettling comforting certainties and comfortable habits of spectatorship, disrupting "the formalist scenario of absorptive beholding by reframing the entire mise en scène of white cube display within a boutique-like space whose plate-glass fourth wall mediates visitors' mutual surveillance." And the paintings do something else as well. Jacob has described the series of large canvases titled, "They Sleep With One Eye Open" as inhabiting a liminal state of semi-wakefulness. "They watch you," he stated in his catalogue essay, "from their well-adjusted place in the museum and auction house."
Stephen Horne's article, "Passing Through Painting, On Fernanda Gomes", is painting differently, again. He writes, "Born in Rio de Janeiro, Brazil in 1960, just a few years prior to a long period of dictatorship, FERNANDA GOMES makes the case for intimacy and vulnerability, for art's release from the demands that it be immediately important or offer solutions." Spare, restrained, elegant are words that could be applied to her installations. Stephen Horne describes her exhibitions as "counter heroic", suggesting instead "a voluntary poverty". He goes on, "Her art is a haptic practice of interweaving space-time and commonplace objects in which she proposes that there is already an empathy, albeit suppressed, in our dealings with things as well as space, persons and other sentient beings."
A large section of the Painting Issue of Border Crossings is given to four young Canadian painters who are themselves an example of the universal nature of culture. The quartet of interviews titled, "The Future Past, Painting In Our time" talks with Haitian Canadian artist MANUEL MATHIEU; London-based painter SHAAN SYED, whose father is from Pakistan and whose mother is from England; BEA PARSONS who grew up in Saskatchewan and identifies her immediate roots as Cree and Scottish and painter AMANDA BOULOS whose family, as Catholic Palestinians, found themselves homeless and stateless before settling in Canada.
The tender, intimate vignettes of painter SALMAN TOOR are compelling. The article's author Joseph Wolin writes that, "certain subjectivities have been privileged over others throughout history." He goes on, "The works of 37-year old New York painter Salman Toor grapple with that history by manifesting a hitherto underrepresented subjectivity. Born and raised in Lahore, Pakistan, Toor studied art in the US and limns a world of queer Brown men oscillating between South Asia and North America." The paintings are rich and wonderfully straightforward, with no visual riddles, unusual in their directness and serving as an invitation to viewers. As Wolin noted, the association of intersectional identities or their signifiers with something holy transforms certain of the scenes into "something akin to devotional images."
The entire issue is an opportunity, which includes very much more than what is listed above. Read with interest: Howie Tsui, Melanie Daniel, Sarah Anne Johnson, Couzyn van Heuvelen, Bruce Nauman, Damian Moppett, Bertrand Carrière, Ken Lum, Nicola Tyson, Maria Lassnig and Amy Sillman, Anna Torma, Kai Althoff and Bernard Leach, Cliff Eyland and George Toles, Qaumajuq, Pictura Painting, Hunky Dory, Sovereign Intimacies, Catherine Carmichael, Heat of a Hand, Vivian Suter, and Paul P.
Buy Now
Table of Contents