The Future Past: Painting in Our Time: Manuel Mathieu, Shaan Syed, Bea Parsons, Amanda Boulos
Bea Parsons, the Saskatoon-born, Montreal-based artist, despite her recent series of monotypes, is unequivocal about her aesthetic allegiances: "I consume paintings; I go to painting shows; read about painting and listen to interviews with painters," she says in her interview in this magazine. "Anytime I think about art, painting is still the go-to thing." For our annual painting issue, Border Crossings went to Parsons and three other painters (Shaan Syed in London, UK; Haitian-born Manuel Mathieu in Montreal; and Amanda Boulos in Toronto) to talk about their engagement with this centuries-old storied art form.
The stories have not always been favourable. Beginning in the 1970s, painting was such a contested practice that it was declared dead. A significant number of recognized artists, theorists and critics regarded it as a privileged and irrelevant medium, one not suited to deal with the pressing political, social and aesthetic questions being asked in contemporary society. That suspicion lingered and set painting on a course of redefinition in which the alliances it made with photography and installation allowed it to be more responsive to issues of cultural, racial and sexual diversity.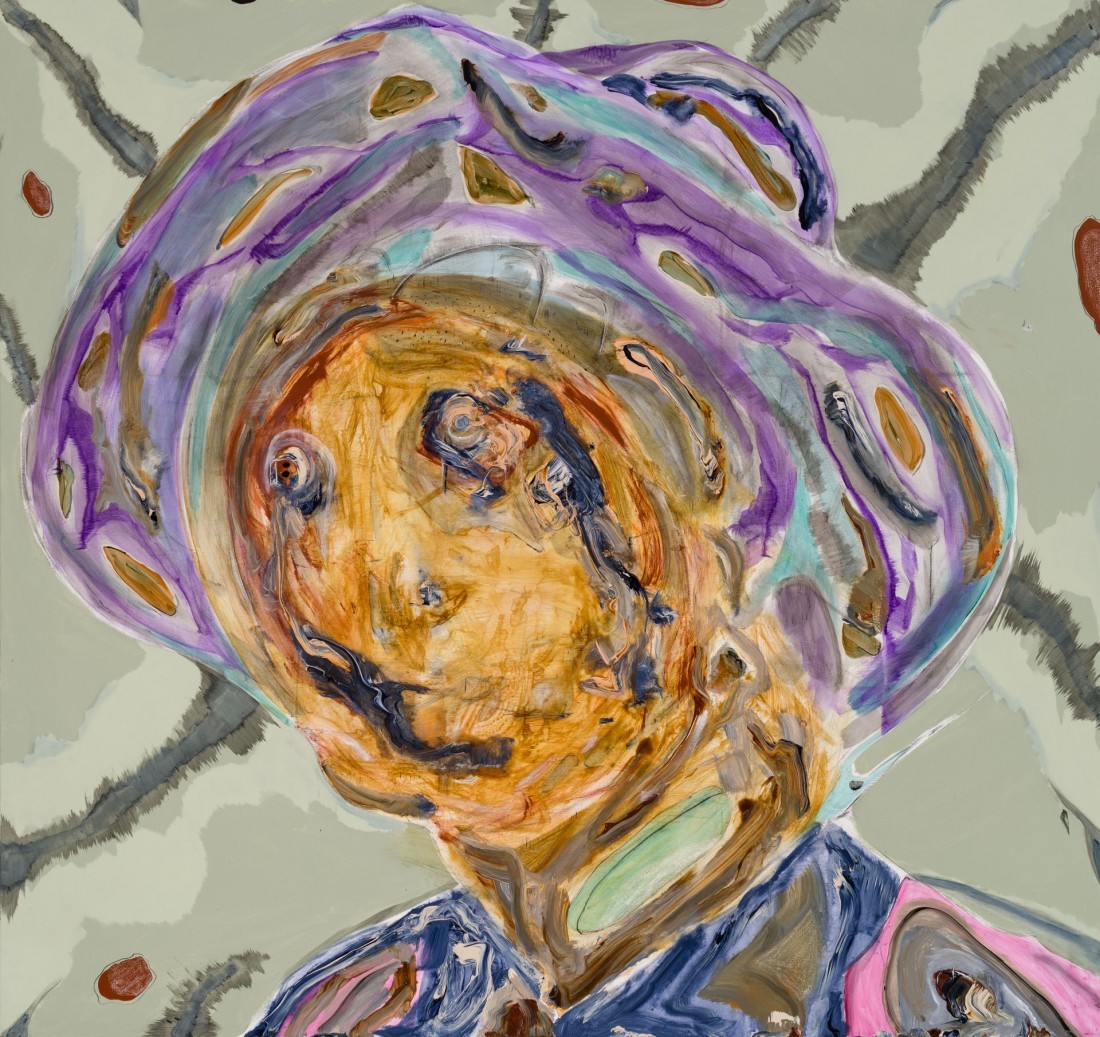 In the 2016 introduction to Vitamin P3, the third instalment of Phaidon's influential painting series, Barry Schwabsky addresses a "general awakening" to a wider range of painters than had been evident in the previous collections in 2002 and 2011, and to "the feeling of having taken a false route into the future—of needing to retrace one's steps and see where the untaken forks in the road might lead." Pace any painterly Robert Frosts; that road has not only been taken, but it is now a busy highway criss-crossing the painting topography. Its re-tracings are evident everywhere. In their distinct ways, each of the four artists in this interview section has stepped into that new territory.
They get there through an openness to process, to the utility of story, and a recognition that investigating what is old is a way of making something new. Both Shaan Syed and Manuel Mathieu understand process to be at the centre of their practice. Mathieu regards his work as being "more about finding art than actually creating it," and Syed views painting "as a process of making rather than a process of ending up with an image." Syed's father was born in India and was subsequently exiled to Pakistan, and his mother is English, so he embodies a dual inheritance. His work involves what he calls "the problem of looking." It is an engagement that leads to a series of questions about the meaning of that looking: "What does it mean to be queer and making paintings? What does it mean to be a person of colour and making paintings?" Because he also inherited his mother's complexion, he admits to having spent his life "passing as white"; as a result, he was given permission to "straddle different spaces."
That straddling has produced a series of four paintings called "Thank You India," where he combines colour combinations and textures from his father's side of the family with a reference to Alanis Morissette's spiritual trip to India following her self-exile from success. The title of the series reuses a line from the song called "Thank U" to comment ironically on his father's bitter estrangement from his birth country. Syed characteristically comes at his subjects with more than a single expectation. When he paints the minaret (he models the shape on the Great Mosque of Samarra in Iraq), the architectural structure is a means of both investigating formal concerns and giving form to an iconic sign. Its status as an icon is a contradiction because Islam decrees against the representation of icons.
Manuel Mathieu also embraces the contradictory. His multidisciplinary practice includes ceramics and installation, but painting is at the centre. Mathieu's abstract paintings seem to drift towards the figurative, a tendency that creates a welcomed tension and contradiction. "My adding figuration … is what creates the time of the painting because the viewer is forced to figure out what is going on," he says. "It's like having several tabs open and they can overlap." Mathieu's paintings are wild hybrids of Western and Haitian painting. He "understands reality" in the choices he makes and how he combines them, so echoes of Mona Hatoum, Jean-Michel Basquiat, Wols and the CoBrA artists will be intermingled with the Saint Soleil artists and with his father's cousin, Mario Benjamin, one of Haiti's most important contemporary artists. But what most accurately characterizes Mathieu's practice is an avoidance of certainty. "I gain from not-knowing," he says, from turning the "slippery into a way of working."
These artists investigate identity through pictorial means; finding meaning in that pursuit is neither easy nor can be taken for granted. But the quest is resolute and uncompromised. They are concerned with the transformation of language into image and with the production of image as language; the former is cultural and the latter is aesthetic. Amanda Boulos, too, is directly involved in this overlapping process of cultural searching and aesthetic declaration in her acknowledgement of the landscapes of Palestinian painter Sliman Mansour and Louise Bourgeois's spidery Maman, 1999.
When Bea Parsons includes her Picasso-masked face in Four Eyes, Distance Between the Trees, she is both acknowledging a modernist pictorial tradition and drawing our attention to a sequence of personal events. She filters the work through references that connect pedagogy with a sublime landscape made psychedelic through Charles Burchfield and a figure informed by Manga, as well as Archie comics, all of which are contained within an Indigenous narrative featuring Nature Girl, her painted surrogate. Parsons's father is Scottish, her mother is Cree and the father of her child is French Canadian. She is currently learning spoken languages (French and Cree) and she has consistently adapted visual languages in her paintings (Odilon Redon and Wayne Thiebaud). She admits that her interest in narrative encourages her to make work out of personal experience and art history, so a tour of a WW II submarine at Fisherman's Wharf in San Francisco and a reiteration of cubism through a Picassoid mask produce equally strong results. "The past is always trying to reveal itself," she says. "It keeps shifting and coming back and being examined and expressed again."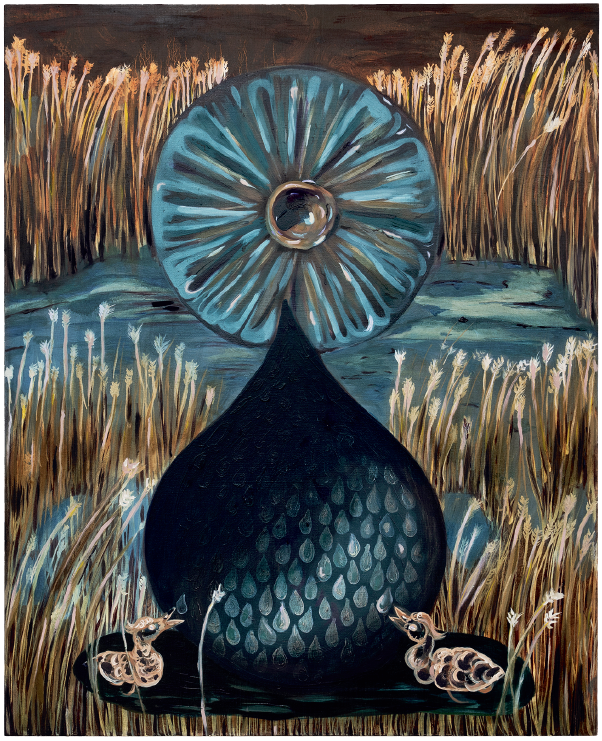 Amanda Boulos is equally engaged in narrative. In her case the stories are the shared narratives of her Palestinian family's history of conflict and displacement—initially from Palestine in 1948 and then in Beirut during the protracted Lebanese Civil War. That history has predisposed her to use images that are constantly mutating, what she describes as a "way that I'm morphing imagery and symbols and stories." She employs the iconography of Palestinian liberation and revolution and representations of the heart and the gazelle—images of maternal protection. A painting can make a reference to her father's work as a car salesman or her boyfriend's interest in demonology; her landscapes refer to Ontario or the Mediterranean, and occasionally both: "Sometimes I put a cedar and a tropical tree next to each other to really mess things up." So far Boulos has concentrated on the women in her family. But her intention is to bring her grandfather, who was a renowned bare-knuckle boxer in Beirut, into the family story as a way of reflecting on certain cultural notions of masculinity. The key for Boulos is to sustain a connection with the originating narrative in her ongoing translation of words into images. "I always put myself out there as a way of being accountable to the stories I tell and not becoming separate from them."
In her interview, Bea Parsons tells a story about coming home later than she was supposed to when she was still in high school and hearing her mother speaking Cree in her sleep: "In that moment I realized that's the language she goes into at night on a deep, deep level." Now, at all times of the day, the painters in this issue are dreaming images that come out of their cultural backgrounds. The results are a visual awakening of a rich, complex and compelling kind. Their storied pasts are being projected into their telling futures. ❚
To read an excerpt from the interview with Manuel Mathieu, click here
To read an excerpt from the interview with Shaan Syed, click here
To read an excerpt from the interview with Bea Parsons, click here
To read an excerpt from the interview with Amanda Boulos, click here