Vivian Suter
Vivian Suter's entangled approach to painting is powerfully materialized at the Brücke-Museum in Berlin where the artist's free-form hanging style creates enchanting connections among her work, selected pieces from the museum's collection and the museum's own architecture. Suter's paintings are shown alongside a selection of collages by her mother, artist Elisabeth Wild, who also chose the artworks from the Die Brücke collection for display. The result is a layered and complex yet delightful exhibition of work that forges surprising associations across multiple dimensions.
Suter's paintings are stylistically free, incorporating a range of approaches from gestural abstraction featuring expansive swaths of colour and woolly geometries, to organic motifs and roughly sketched creatures. All her work has a spontaneous sensibility clearly inspired by natural forms and forces. In fact, Suter incorporates natural processes and material directly into her work. She often paints outside and is known for leaving her work in the rainforest that surrounds her studio, exposing it to the unpredictable actions of the local environment. Soil, the changing weather, the leaves of tropical plants, animals and other organisms—all might leave traces that build up on her canvases. Represented in some works by hastily sketched brush strokes, the footprints of Suter's dog, Bonzo, also show up across many of her works, and the exhibition title, "Bonzo's Dream," is a tribute to him and her generous approach to non-human points of view.
In sympathy with the organic processes that co-create her paintings, Suter's no-holds-barred approach to exhibition display radically reshapes the intimate sequence of exhibition rooms at the Brücke-Museum, with work hung from the ceiling, across walls and splayed on the floor, creating a labyrinthine spatial sequence for the visitor. Designed by architect Werner Düttmann, the Brücke-Museum's exhibition spaces are modestly sized but feature skylights and window locations that elegantly frame views to an inner courtyard and to the surrounding forest. Suter's paintings are energized by the range of natural light conditions here, radiating with sun and air in the loftier spaces under the skylights and creating earthy, ragged and hushed divisions in the lower areas. Unstretched, untitled and gently swaying in space, the paintings all work together to form a single, immersive sculptural installation that recalls the forested environment in which Suter works. In addition, a number of paintings are hung outside in open air, emphasizing the artist's organic process and allowing the elegant design of the museum garden, an important aspect of the architecture, to be included in the exhibition.
Other works are displayed in overlapping layers as if on a rack, actually reducing their visibility (but increasing their mystery), similar to the way Suter hangs the pieces to dry and stores them at her studio in rural Guatemala. It was there in 2005, after a catastrophic hurricane destroyed years of her work, that Suter began to work together with, rather than against, natural force, a life-altering decision. And it was there for over 20 years that Suter lived and worked closely alongside her mother, until Wild's death in 2020. Wild's playful, modestly sized collage works on display are made from images cut out of used art and design magazines, weaving geometric elements together into constructive, slightly skewed compositions.
If Wild's layered collage style is indeed a strategy reflected in Suter's exhibition approach, her rectilinear geometries recall the modernist style of the museum itself, which was purpose-built in 1967 to house and display works by the artist group Die Brücke (The Bridge), who worked together from 1905 to 1913. The museum's elegant integration of inside and outside was an ingenious strategy to reflect Die Brücke group's vision of a new unity between nature and humanity. Formed in Dresden as an avant-garde salvo at a time of increasing industrialization, urbanization and social reform, Die Brücke group's founding members—Fritz Bleyl, Erich Heckel, Ernst Ludwig Kirchner and Karl Schmidt-Rottluff—valued "direct and authentic expression." Artists of Die Brücke group employed an outrageously expressive use of colour and form, reconciling contested urban conditions with rural splendour and exploring natures both human and non-human.
In "Bonzo's Dream," the sculptural display of Suter's paintings drapes the museum in forms and colours that visually pull the work of Die Brücke artists off the wall; their "supernatural" colours and rough, jagged forms find echoes across Suter's raw canvases and seem as urgent as ever. Rhyming shapes and echoing figures appear across time and space as you move through the exhibition, but it is the bold, unrestrained use of colour that makes this unusual juxtaposition of work coalesce with an exceptional, fresh feeling of discovery.
At one point a full-height window separates a blue-washed, wall-hung piece by Suter from Karl Schmidt-Rottluff's Blaue Fenster (Blue Window), 1937, which features expressive streaks of vertical blue paint depicting translucent curtains, in turn evoking the overall spatial sense of the "draped" exhibition display. Nearby, clusters of Suter's work hanging from a skylight further relate to the expressive painting through form and colour, one of which features a dark bulbous tower evoking the plant shapes in the Schmidt-Rottluff work. The maze-like exhibition, which carries on with likewise formal exchanges, also presents works crafted in fabric as well as numerous objects by Die Brücke artists, such as painted wooden boxes, a carved chess set and raw carved stones. These small pieces are displayed on low tables alongside chairs, allowing the viewer's attention to be closer to the ground and more casual, as if in a domestic living room. In general, the raw hanging approach also recalls the bohemian style of Die Brücke artists themselves, revealed, for example, in a photo of Kirchner's studio from 1913 showing a total environment of patterned fabrics, cushions and "primitive" sculpture and furnishings.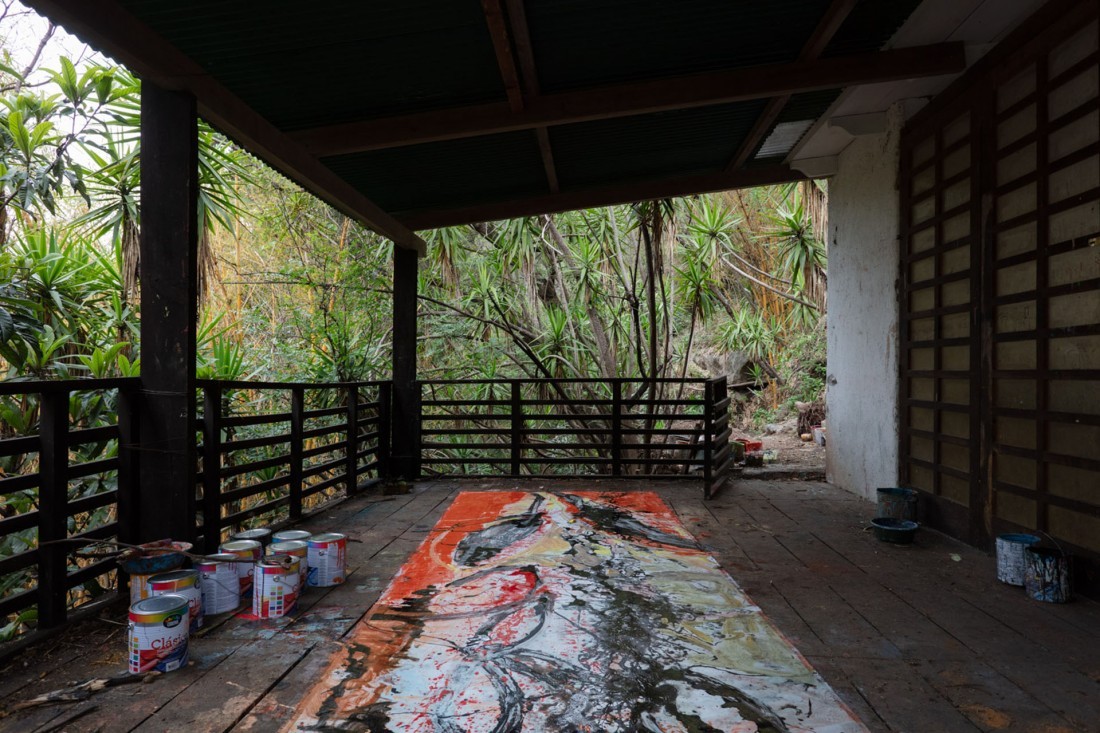 Elsewhere, Schmidt-Rottluff's Augustnacht (Night in August), 1956, is actually hung overtop an orange-red abstraction by Suter, which serves to frame a central orange element in the painting while complementing its layered magenta sky. Nearby, a minestrone-toned work by Suter picks up similar tones in the landscape of the Schmidt- Rottluff work. Other Die Brücke works are shown with backs facing, revealing paintings covering the reverse of known works, such as Ernst Ludwig Kirchner's Violette Bäume (Violet Trees), 1914. These surprising reversals highlight Suter's unrestricted conception of exhibition display, allowing her canvases, which are sometimes painted on both sides, to be displayed in any orientation.
"Bonzo's Dream" not only materializes astonishing connections between work and worlds, but it also embodies a range of complementary relations to the natural world. From Die Brücke group's emphasis on the primal nature of reality, in which nature is imaginatively envisioned with unrestrained subjectivity, to the modern notions of integrating nature and architecture in an imbricated or layered yet still discrete way, the connection to nature is stressed. Yet it is in Vivian Suter's relinquishment of authorship and control to larger natural forces that she goes beyond the mere connection or integration of humanity and nature as separate categories and activates a performative interconnection in which organic processes are baked in and sometimes even still growing.
The overlapping layers of paintings that characterize Suter's exhibitions reorient their reception as singular precious objects typical of the institutional art world and open them up to the conditional relations of collectivity and of the environment. If today's ecologically disastrous circumstances are a result of the belief in anthropocentric hegemony, Suter's acceptance of radical contingency, allowing multiple organic forces to embed themselves in her painting, is not only an aesthetically exciting approach but indicative of a truly contemporary, ecologically minded and hopeful practice. "Bonzo's Dream" was exhibited at the Brücke-Museum, Berlin, from September 13, 2020, to February 14, 2021. ❚
Rodney LaTourelle is an artist, writer and designer who works with Louise Witthöft in Berlin. Witthöft & LaTourelle are included in an upcoming exhibition about colour and space at the Alberta Gallery of Art.