Couzyn van Heuvelen
Couzyn van Heuvelen's Avataq, 2016, breathe, he tells me. Made like party balloons from silvery oval Mylar sheets filled with helium, 12 sway in sync like bodies on a dance floor. Close inspection reveals flipper limbs and a sealskin texture screen-printed across their backs. An avataq is an Inuit hunting tool but a much less fragile balloon made from a whole sealskin inflated by a hunter's breath. Attached to a harpoon line, the hunter's avataq is used to track a marine animal once struck. Visiting SBC Gallery in Montreal on a desolate afternoon during the second wave of COVID-19 outbreaks—my own breath warming the air between my face and mask—I meet van Heuvelen's hovering pod, part of his playful travelling exhibition, "ᐃᕐᑭᐊᒻᒥᒐᕐᒃ | BAIT | APPÂT." Walking in on these 12 felt like stumbling into the best dancers at a house party. Van Heuvelen's avataqs are celebrations of Inuit hunting practices and food sovereignty. As the artist explains it, they are also bait for more meaningful conversations about the seal hunt, international sealskin bans and the decimating effects of such bans on Inuit livelihoods.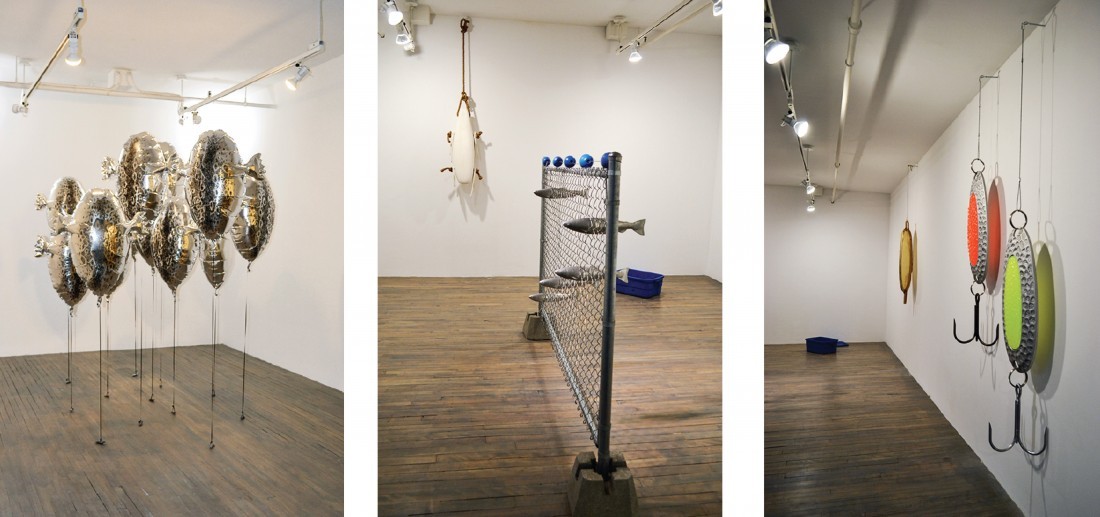 Van Heuvelen is from Uqaluit, Nunavut, and is now based in Bowmanville, Ontario, where he spent much of his youth. He closes the seams of his synthetic floats by hand and ties each one off with a thin black ribbon. A small aluminum harpoon head, or sakku, at the end of the ribbon anchors the balloon. Unlike the sealskin originals, which could be plugged with wood or bone if punctured, these Mylar creatures deflate as the helium gradually leaks through their foil skin. Occasionally, they have been known to land flattened in a frame, sold by Fazakas Gallery in Vancouver. "BAIT"'s curator, Ryan Rice, writes that van Heuvelen arrives at sculpture from a sense of qaujimajatuqangit—what scholar and curator Heather Igloliorte defines as Inuit "ways of knowing," encompassing environmental knowledge, societal values, cosmology, world views and language. Van Heuvelen showcases the malleability of ancestral technologies to create objects that honour traditional ways of making while transforming them.
In "BAIT," fishing lures line the gallery walls at SBC as they might a bait and tackle shop but with a twist. Replicas of the Blue Fox pixee spoon lure, which sells for $4.49 at Canadian Tire, have grown to five feet tall. The bodies of the lures, with neon green and orange fish-egg replica inserts, are roughly the length of a human torso. Conjuring myths of underwater beasts and fishing braggadocio, their treble hooks are set to catch something big. Unlike Claes Oldenburg's gigantic sculptures of matches and ice cream cones, van Heuvelen's giant lures are not melting. They are oversized but eerily intact, almost perfect. More like Louise Bourgeois's spiders, van Heuvelen's lures are sturdy enough to snare their prey. At Sheridan College, where the lures were first displayed, they hung overhead, creating a fishbowl effect in the glass-walled room below. Looking up, the viewer was positioned like a fish to catch the flash of the lure's appeal.
Van Heuvelen has compared cultural objects preserved and displayed in museum collections to relics. His sculptures speak back to settler colonial histories of display, in which galleries have preserved but decontextualized objects made for everyday use. The monumental scale he works in strikes a contrast to a history of miniature Inuit hunting and fishing scenes, traditionally carved from soapstone, serpentine or bone. These were made small by necessity. Portable, they could be carried and traded for essential items or sold at the Hudson's Bay Company posts. Contemporary Inuit artists continue this tradition, adapting the subject matter. Jamesie Pitseolak of Cape Dorset carves miniature skateboards, snowmobiles, a Porsche convertible. Kablusiak of Inuvialuk creates to-scale carvings of already small items—a tampon, a cigarette, a wrapped condom. Van Heuvelen's "BAIT" includes a qamutiik or sled made of soapstone. Seeing miniatures in museums made the artist want to create sculptures that bring those objects back to scale. Rather than hand-held, his soapstone qamutiik is life-size. Lashed by the artist at the gallery, the slats and runners of the sled were cut at a store that sells stone for countertops. The scale of the work and its material are at brilliant odds. This qamutiik conjures images of free movement, the pull of dogs or skidoo, yet its weight keeps it anchored to the floor.
In the same room as the qamutiik stands something of its opposite: a fishing net sculpture built from a section of chain-link fence, technology made for containing movement. Aluminum Arctic char caught tight in its mesh give a sense the net is in use and we ourselves are underwater, swimming along the trap. Here again, van Heuvelen's mode of engagement is immersive. His sculptures magnify traditional materials, shrinking the scale of both the gallery and the visitor, shifting the terms through which we are invited to look. ❚
"ᐃᕐᑭᐊᒻᒥᒐᕐᒃ | BAIT | APPÂT" was exhibited at SBC Gallery of Contemporary Art, Montreal, from August 27 to December 12, 2020.
Georgia Phillips-Amos is a British American writer. She grew up in Málaga, Spain, and Long Island, New York, and has worked at Verso Books and New Directions.
Images:
Left: Couzyn van Heuvelen, Avataq, 2016, screenprinted Mylar, ribbon, aluminum, helium. Images courtesy SBC Gallery of Contemporary Art, Montreal. Middle: Couzyn van Heuvelen, Nitsiit 13, 2019, ceramic, rope. Right: Couzyn van Heuvelen, Nets, 2018–19, aluminum, chain-link fencing, concrete blocks, plastic floats, plastic totes, variable dimensions.