Bruce Nauman @ Tate Modern
The exhibition reviewed here is a major European retrospective organized by the Tate Modern in London and travelling to the Stedelijk Museum, Amsterdam, and the Pirelli HangarBicocca in Milan. It gathers 50 works of video, drawing and sculpture/installation and is Nauman's second retrospective at the Tate Modern.
Simply titled "Bruce Nauman," this show presents a broad survey of the artist's five-decades-long career and emphasizes its multidisciplinarity as well as his loyalty to high modernist themes. Included are a large number of his neon pieces, as well as sound and video/installation works, while the remainder exist heterogeneously. If there is a continuity across this artist's diverse forays into video, performance, sculpture and installation, it is his commitment to theatre as a medium of presentation, especially theatre as defined by Antonin Artaud. Also prominent here is his reliance on the avant-garde emphasis on "the now" as a disruption of our habitual involvement in the narrative conception of time making up dominant culture. Such an art of the present is not necessarily an art of isolation but, rather, a meditation on what life is in the contemporary social and cultural situation, seeing theatre as medium. Selecting a few works from this expansive exhibition can demonstrate what is meant here by an "art of immediacy."
With our first encounter at the Tate we are, with Nauman, Washing Hands Abnormal 1996. Two screens, with the upper inverted, present a looped image of hands washing, apparently a pair. Aside from the reminder of our current pandemic requirement, Washing Hands demonstrates characteristic Nauman moves—his gesture of building from a colloquial phrase, in this case, "washed up," or "I'm washing my hands of this," suggesting several possible meanings and also the artist's letting go of authority with regard to his work.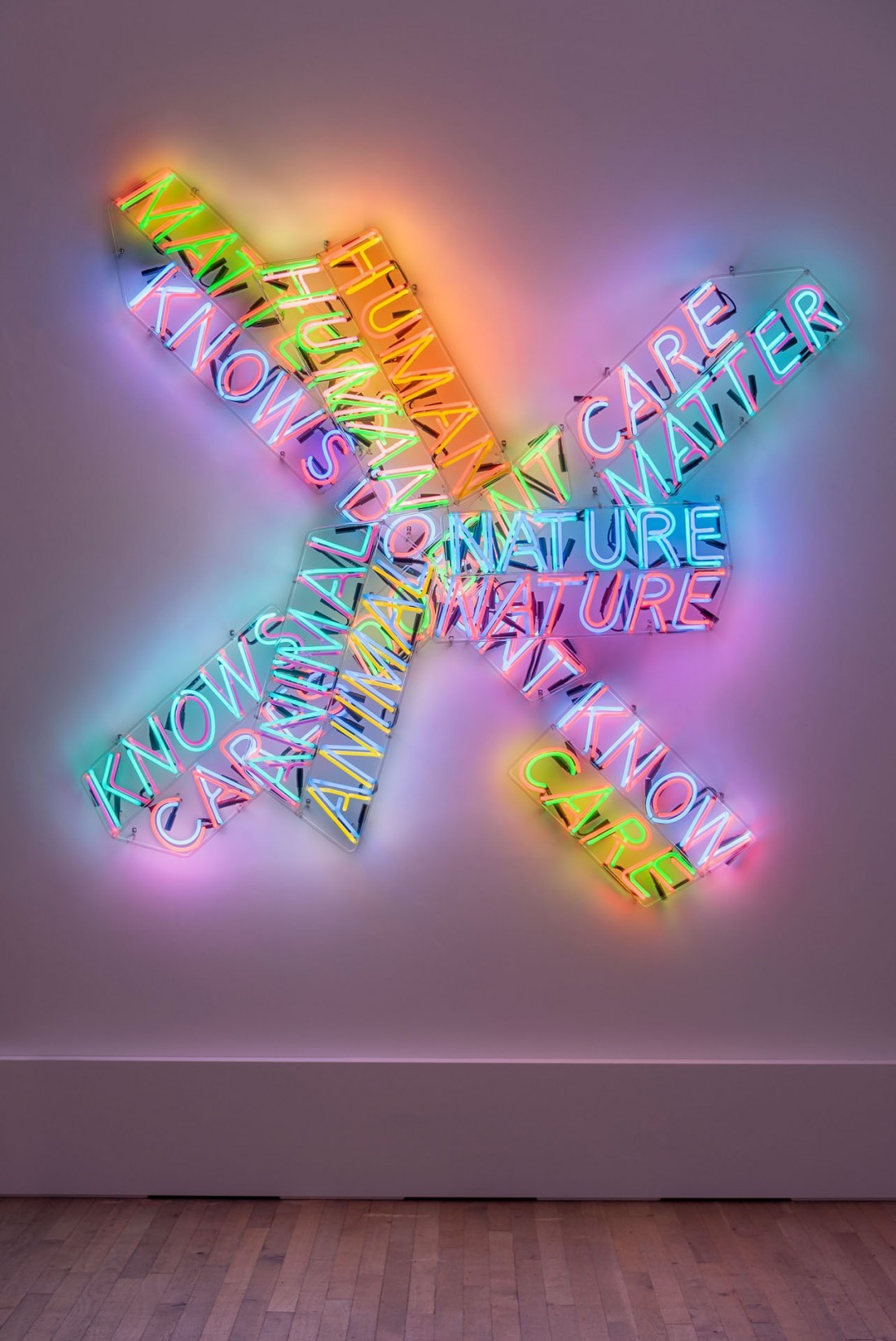 From this perspective the works with the most to offer are those pursuing the theatrical device of staging, and this places him firmly within sculpture and one of its principal themes—installation of the space that is the space of theatre. Considering the prominence of theatre for Nauman, a question might arise as to his relationship with the modernist spirit as exemplified by Barnett Newman's enthusiasm for "the now." In a mid-'90s interview Nauman described his version: "From the beginning I was trying to see if I could make art that was … just there all at once" (Bruce Nauman, edited by Robert C. Morgan, published by the Johns Hopkins University Press, 1994). This notion of the "all at once" can go in more than one direction, one of the earliest formulations being Aristotle's, which advocated continuity through a plot, beginning to end, taken in with a single view. Nauman's alternative to this mode of "now" as a practice of dominance has been to pluralize the moment through repetition and its spatial counterpart, emptiness.
A version of theatrical space is presented in the early video/performance Get Out of My Mind, Get Out of This Room 1968, one of his earliest sound works, in this case using his own voice. Here, his shouts are repeated, but each time the same words are expressed with diverse intonations or inflections of meaning. And, looped to play repeatedly, the build-up of intensity reaches the point where sound becomes silence, leaving the viewer to confront their desire in the face of this void. The feeling of immediacy and confrontation connects us with the "world mood" we are encountering now: of climate crisis, pandemic, failures of democracy and ever-increasing economic stresses. The sense of anxiety often ascribed to Nauman's work has become our everyday reality.
Continuing with that feeling, the video/sculpture titled Anthro/Socio (Rinde Spinning), 1992, is wildly confrontational yet simultaneously reassuring. With this piece, the stage is the place where "here and now" interact in reciprocity with "there and then," a reworking of the actual/virtual relationship, conventionally considered to be oppositional. As theatre, however, it is revealed as relative and on this basis transforms the conventional conception of "the now" as an instant into "the now" as process.
Entering Anthro/Socio immerses us in a space that spins around us and assaults us with layered, repetitive, high-volume chanting emanating from the images of a man's head. The sonorous utterings occupy all the space, appearing to issue from the man whose image we see cinematically repeated several times, both in large wall projections and on video monitors. The musicality is remarkable, integrated with the motion established by the rotating, discontinuous visibility of the images. The man looks at us, his expressivity that of an actor. The feeling of suspension, together with the chant, evoked what I felt was "beauty" itself. There are various sequences in which the huge cropped head image appears, and the ecstatic chorus—"feed me, eat me, help me, hurt me, Anthropology, help me hurt me, sociology, feed me eat me, help me, hurt me"— resonates throughout. Anthro/Socio is confrontational, a "shock," but a shock that opens to pleasure. Sound here hovers between pure sensuousness and signification, confronting the moment when our early world of immediacy "falls" into language.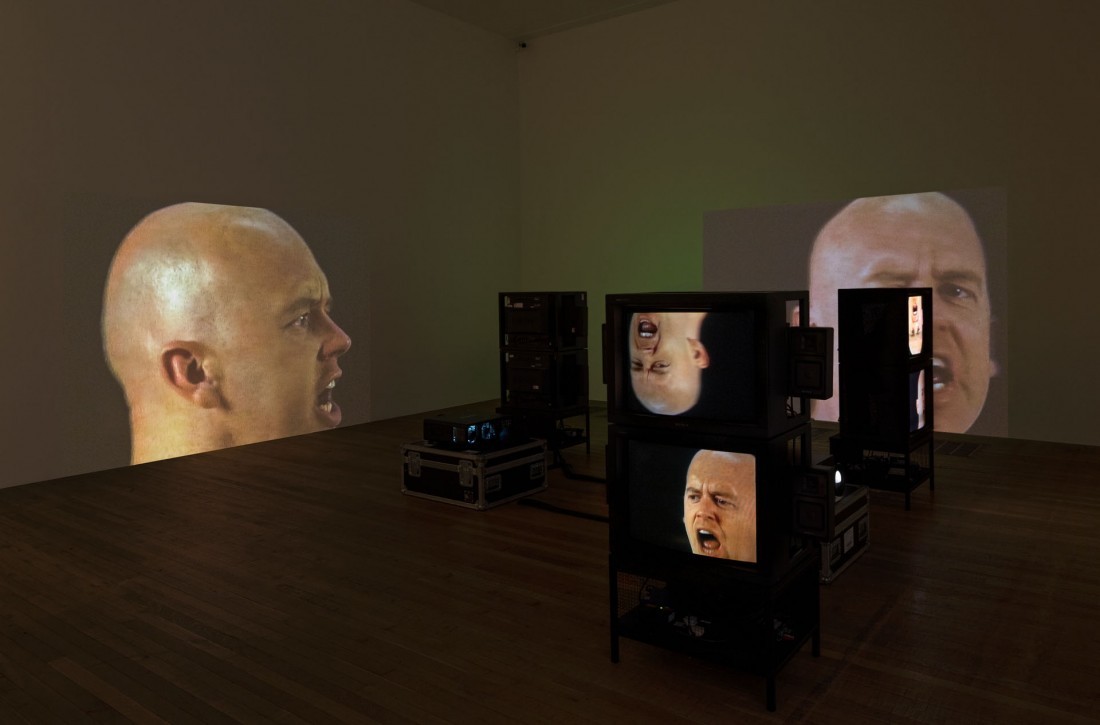 Carousel, 1988, is abrasive in its immediacy. The sound of scraping metal is that of animal shapes being mechanically dragged across the floor. These are metal casts of trophy animals such as a deer, a bear, a coyote, and cast not from actual animals but from taxidermy forms originating with animals stripped of their skins, here left in a state of raw nakedness. We see into the moment of the hunt, of taxidermy and of sculpting all suspended together as process, as theatre. And the entire ensemble is literally suspended, each on a wire attached to a mechanical contraption at the centre, dragging its animal forms in the circular path from which the piece gets its title. Nauman has in other pieces used the device of suspension with wires, and it seems this is, by way of exposing us to the feeling of gravity, also the opening of what we call vulnerability.
Nauman and his audiences have consistently mapped a path around the wet patch of '70s and '80s anti-humanism with its attendant anti-aesthetic. But the perspective presented with this retrospective demonstrates Nauman's continuing dedication to the critical frame of aesthetic experience rather than critique, and viewers hoping for the latter will be disappointed as the artist continues to work out high modernist concerns. Nauman's proposal for an art of the present is not a desire for an art of isolation but for meditation on what life is in our contemporary moment, now so filled with what has, for decades, been Nauman's own "raw material." The question seems to be how can we go from high modernism into something else without falling into either critique or entertainment. Can we be responsive to this current moment without invalidating the successes of the avant-garde, exchanging that abrasive edge for another style of immediacy, one belonging to the compassion and vulnerability hinted at by Nauman and evidenced by artists such as Laurie Anderson and Sarah Sze? ❚
"Bruce Nauman" was exhibited at the Tate Modern, London, from September 7, 2020, to February 21,2021, and is travelling to the Stedelijk Museum, Amsterdam, from March 27 to August 15, 2021, and to the Pirelli HangarBicocca in 2021.
Stephen Horne is an art writer from Canada and living in France.