"Sovereign Intimacies"
"Sovereign Intimacies," installed in Plug In ICA in partnership with the University of Winnipeg's Gallery 1C03, lays out its curatorial premise in the title. "Intimacy" refers to the method invoked to create the art in the exhibition, all of which was made collaboratively. "Intimacy" is also a critical action aimed at the traditional hierarchical forms of curatorial practice. "Sovereignty" is a more familiar term to Canadians, representing the movement towards the self-determination of Indigenous people and the acknowledgement of systemic anti-Indigenous racism. Although it is a small exhibition of four works of art with robust virtual programming, the pieces comment on the major issues facing museums today, including repatriation, respecting heritage cultures and traditional knowledge, and the effort to dismantle the colonial roots of the museum and the discipline of art history. It's a tall order, but a close reading of the art, the texts, webinars and online films brings these concerns to the surface.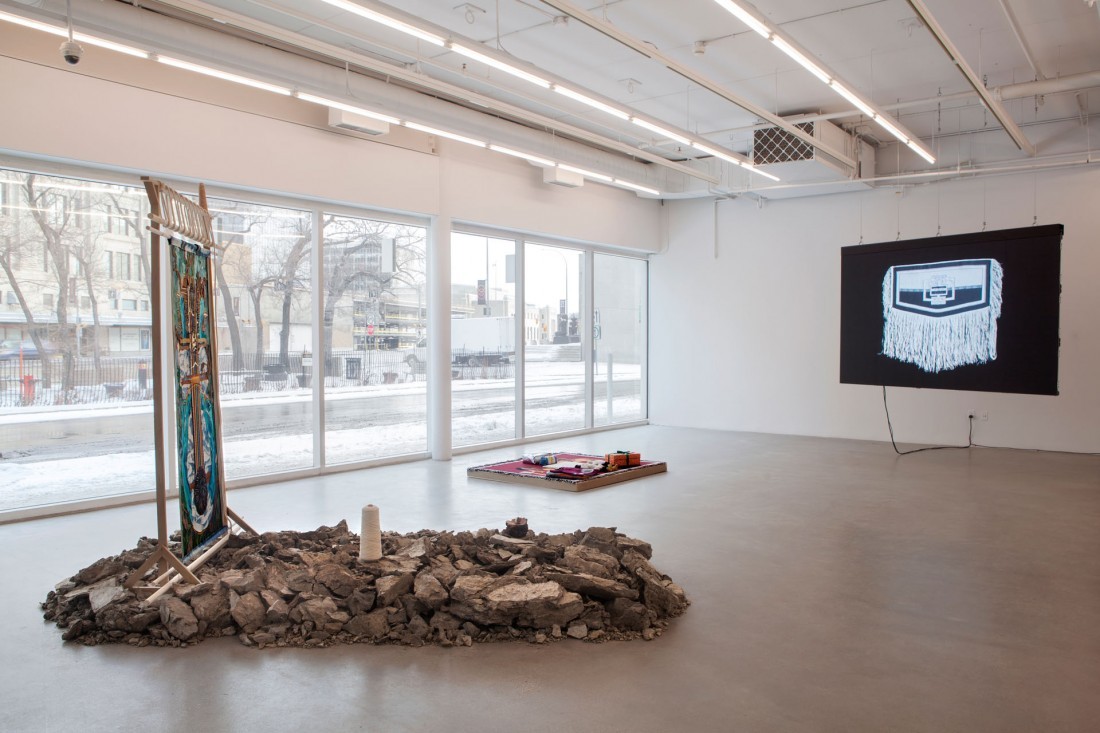 Nasrin Himada, assistant curator at Plug In, and Jennifer Smith, an independent Métis curator based in Treaty 1 territory, stress how they drew on concepts of "care," "trust" and slow curating, which are the foundational principles of a collaborative practice. Curatorial work by its nature involves teams of people, but collaborative curating is a conscious praxis that has been developing over 25 years, with strong examples coming from Canada, the UK and Europe. Some key Canadian examples include the curatorial practices of Wanda Nanibush and Cathy Mattes; the 2017 exhibition at the Winnipeg Art Gallery (WAG), "Insurgence/Resurgence," curated by Jaimie Isaac and Julie Nagam; and "INUA in Qaumajuq" (WAG 2021), led by Heather Igloliorte, Krista Zawadski, Kablusiak and Asinnajaq, an all-Inuit curatorial team. In this tradition, Himada describes organizing this exhibition according to values associated with friendship; "taking time, learning, listening and letting the process guide the work," with the goal of resisting institutional "systems of oppression."
The only commissioned work in the show, Heart Berry Kief was produced by Winnipeggers Hassaan Ashraf and Annie Beach, and situated in the public breezeway outside the Plug In gallery. It's a good spot because it is graffiti-like in both style and content, highlighting Indigenous slang and Urdu calligraphy. Despite its casual formal qualities, it challenges the notion of Canada's two official languages by offering Indigenous and Pakistani Winnipeggers a text they can enjoy. The other three artworks inside Plug In's transparent gallery space delve further into the impact of colonialism.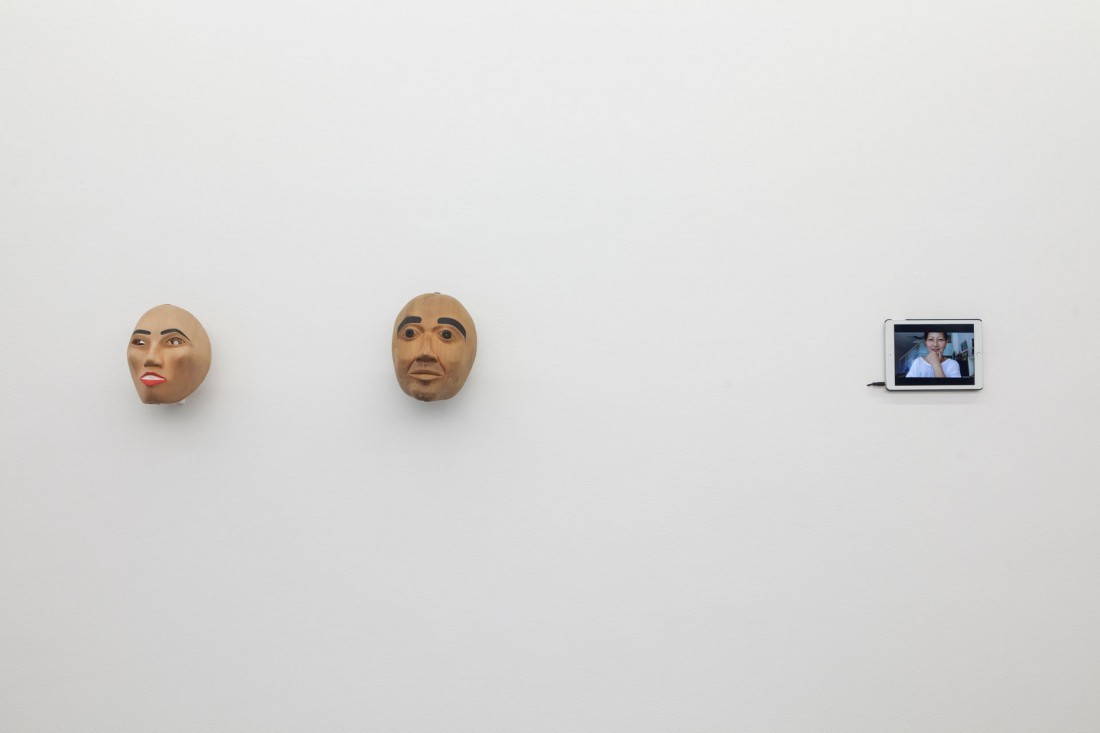 Key to the entirety of the exhibition is the installation Gift – 遠足 (Ensoku) – Away by the artists Ayumi Goto and Peter Morin, who perform traditions of gift giving from their respective Japanese and Tahltan cultures. Their installation of wrapped and unwrapped gifts sits on an unassuming mass-produced woven blanket, the kind you order online, based on a photograph of Goto and Morin. On either side of this commercial blanket are other examples of weaving: traditional Indigenous methods, and digital photogrammetry, a metaphorical weaving. As a form of high art, weaving goes in and out of style, from the stellar production of the Bauhaus women such as Anni Albers during the 1920s, to the feminist textile revival it inspired during the 1960s and '70s. In this century, weaving—along with clay, tattooing and beading—is being reclaimed by Indigenous artists as a practice of embodied learning, after having been suppressed globally by the forces of colonization.
One of the strongest visual pieces in the exhibition is Meghann O'Brien's/Jaad Kuujus's digitized version of Sky Blanket, a handwoven Chilkat blanket that she made in 2014. The original blanket was displayed in "Boarder X" in 2016 at the Winnipeg Art Gallery, but as the show went on an extended national tour, O'Brien decided to keep the robe in her home community for ceremonial purposes. The digital replacement, Wrapped in a Cloud, 2018, is what is shown at Plug In, but it is much more than a placeholder, it is a work of art in its own right. Potlatch ceremonies and Chilkat blankets were outlawed in 1884 by the Government of Canada, and O'Brien had to carry out primary-source research to learn how to make a blanket using traditional technologies. She consulted Elders, community members and old anthropology texts. Sky Blanket was woven from the wool of a mountain goat hunted with a bow and arrow, and as intricate as it was to make the original work of art, Wrapped in a Cloud is also a collaboration among archivists, new media technicians and artists including Conrad Sly, Hannah Turner, Reese Muntean and Kate Hennessy, who created the animated three-dimensional version using an algorithm to literally weave together hundreds of high-quality scans of the blanket. The fact that the artist held her blanket back from the exhibition tour highlights one of the most pressing concerns facing collecting museums in the West, and that is how to ethically deal with sacred or traditionally animate objects acquired by colonizers during the 19th and 20th centuries. As the pressure to repatriate objects builds worldwide, three-dimensional objects or digital scans are being more seriously considered, and this example makes me optimistic.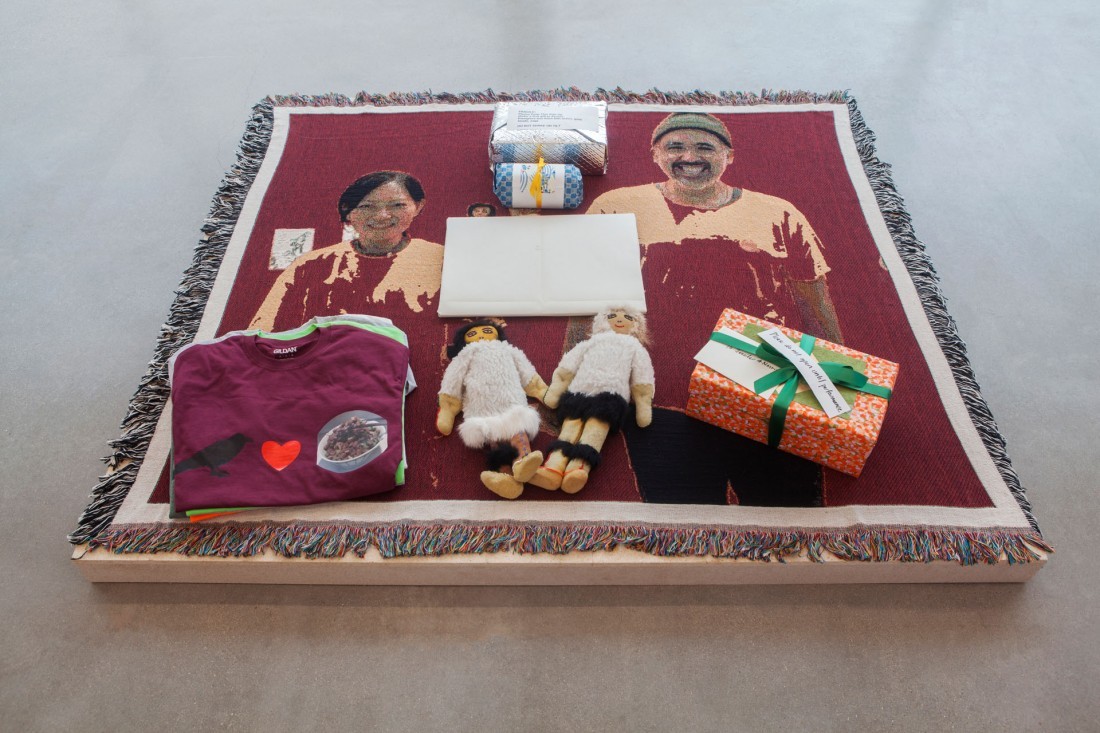 The third piece in the show, by iris yirei hu, similarly reflects the huge effort to excavate traditional weaving techniques through oral history and Indigenous mentorship. hu's installation weaver girl limns two rainbows is built up on local Treaty 1 territory clay, framed by a traditional Navajo loom, with a painted self-portrait of long blue arms weaving in the style of the Atayal people, indigenous to Taiwan. The inclusion of this intercultural piece helped me understand why the curators chose the term "diaspora" over other terms such as "immigrant," "new Canadian" or "BIPOC" in their essay. hu traces her Han Chinese family's immigration journey, their role as "settlers of colour" in Taiwan and her life today in southern California, living on unacknowledged Indigenous land. The Japanese occupiers of Taiwan banned Indigenous Atayal weaving and tattoo techniques, and, like O'Brien, hu went to great lengths to retrieve the traditional methods. With this thoughtful curation Himada and Smith want to demonstrate that positive and personal "intimacies" can emerge out of resisting the colonial structures that diasporic populations experience, including those colonized in their own ancestral land. Artists hu and Ayumi Goto pose a tough question in their pieces: What is the role of racialized immigrants (settlers of colour) in reconciliation? Many new Canadians have themselves been impacted by colonialism, but at the same time they were often given opportunities denied to Indigenous peoples. The curators are thinking through the journey of racialized Canadians and their relationship with Indigenous peoples, while addressing one of most significant issues in museums and galleries today: the pressure for curators to move away from the myth of neutrality and to engage with social issues. With this show Plug In and Gallery 1CO3 are offering up one path towards reconciliation through collaborative artistic and curatorial practices.
Online programing was always a part of the curation, but it became even more significant with the autumn pandemic lockdown in Winnipeg. The webinars put artists and mentors in direct contact with the audience. The new media programing was curated by emerging artists and scholars Mariana Muñoz Gomez and Marie-Anne Redhead. (Video and film programs are available at vucavu.com, and see Gallery 1C03 for a summary and direct links to the programming, https://www.uwinnipeg.ca/artgallery/ programming/2020-21/ sovereign-intimacies.html.) ❚
"Sovereign Intimacies" was a joint exhibition organized by Plug In ICA in partnership with Gallery 1C03 at the University of Winnipeg, with support from Video Pool Media Arts Centre. It was installed in Plug In ICA from September 26 to December 20, 2020.
Dr Serena Keshavjee coordinates the Curatorial Practices MA program at the University of Winnipeg. She is part of the international SSHRC Space Between Us collaborative grant.