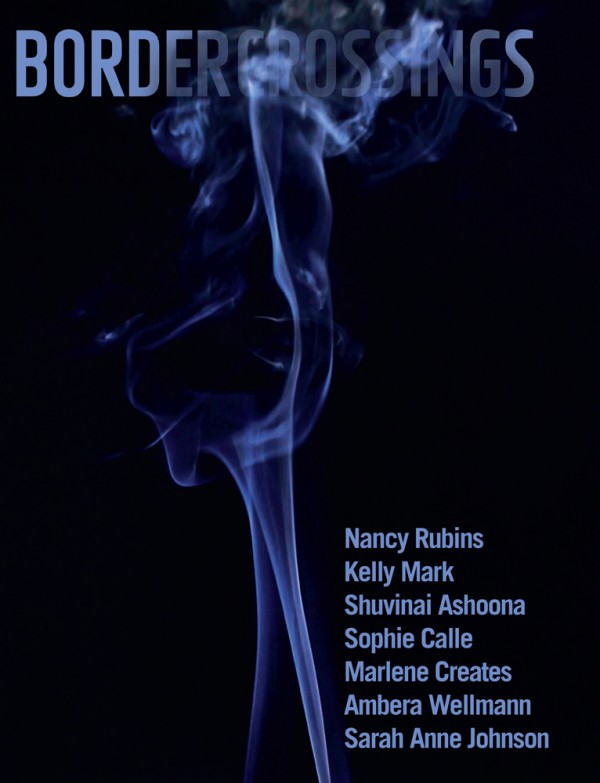 March 2018
#145
In this issue of BORDER CROSSINGS women feature large, taking over the lion's share of the magazine.
In our interviews, Border Crossings takes an in-depth look at California-based American artist Nancy Rubins. For over forty years, Rubins' work has contained an element of the unpredictable as she has transformed industrial materials such as mattresses, television sets, RV campers and boat parts into large-scale installations. Her stunningly complex assemblages —many site specific works that respond to the architecture and environments in which they were built — examine and elevate traditional concepts of modernist sculpture, experimenting with elements such as gravity, balance, and form.
We also look into the world of one of Canada's most important conceptual artists, Toronto-based Kelly Mark. Her work examines the pathos and humour in everyday life. A skillful performer, Mark's work presents elements of the quotidien, daily habits and quiet obsessions that she transforms into art. Never moving far from her working class roots as source material, she works in a range of media such as sculpture, installation, performance, video, photography, and sound.
In this issue we also feature a portfolio of gorgeous charcoal drawings by Berlin-based Canadian artist Ambera Wellmann, winner of the 2017 RBC painting competition.
In our articles section, Stephen Horne looks at artifact and artifice in Sophie Calle's and Serena Carone's quiet insertions into the quirky, lavish and eccentric Paris museum, La Musée de la Chasse et de la Nature.
Robin Laurence presents a profile of Inuit artist Shuvinai Ashoona and writes about the work recently presented at the Marion Scott Gallery in "Vision Quest: A Sunday Afternoon with Shuvinai Ashoona."
And Ray Cronin looks at "Places, Paths and Pauses," a retrospective of Newfoundland photographer Marlene Creates in, "Tracings and Passages: Marlene Creates."
The Crossovers include reviews on Attila Richard Lukacs, Janet Werner, Melanie Authier, Wanda Koop, Margaret Priest and Jen Aitken, Rhonda Weppler and Trevor Mahovsky, Jonas Wood, Monumenta: Biennale de L'image, The Way It Is: The Life of Greg Curnoe by James King, "INSURGENCE/ RESURGENCE," "Once Upon a Time…," The 15th Istanbul Biennial, The North End Revisited by John Paskievich, "Shards," Sandra Meigs with Christopher Butterfield and much more…
Buy Now
Table of Contents
BORDERNOTES

BORDERVIEWS

BORDERCOLUMN

Notes on a Celluloid Gold Mine

Dawson City: Frozen Time, directed by Bill Morrison

INTERVIEWS

The Fitter

An Interview with Nancy Rubins

Tough Love

An Interview with Kelly Mark

ARTICLES

Vision Quest

A Sunday Afternoon with Shuvinai Ashoona

Sophie Calle

Running with the Hounds

Tracings and Passages

Marlene Creates

PORTFOLIO

La Belle et la Bête

Ambera Wellmann's Drawings

CROSSOVERS

Momenta:Biennale de l'image
The Way It Is: "The Life of Greg Curnoe" by James King
Attila Richard Lukacs
Wanda Koop

"Building" in the Pool of the Black Star, Legislative Building, June 1983

Jon Sasaki
"INSURGENCE/ RESURGENCE"
Jonas Wood
"Once Upon a Time…"
Rhonda Weppler and Trevor Mahovsky
The 15th Istanbul Biennial
"The North End Revisited: Photographs by John Paskievich"
"Shards"
Janet Werner
Sandra Meigs with Christopher Butterfield
Melanie Authier
Margaret Priest and Jen Aitken