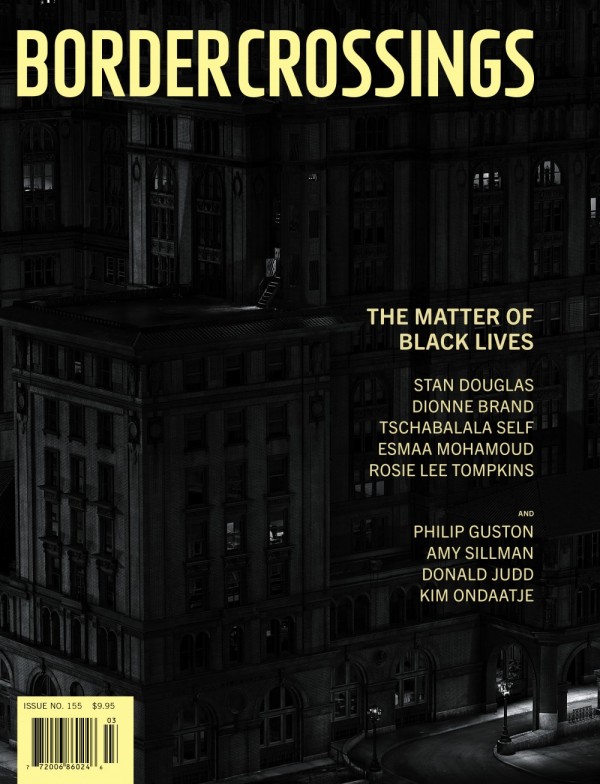 November 2020
#155
We connect and through this we advance. The current issue of Border Crossings, vol. 39, no. 3, issue 155, shows us that art is where this connection happens, must happen.
The largest section of this issue is called THE MATTER OF BLACK LIVES. Here we talk at length with the Canadian photographer and filmmaker Stan Douglas; with poet, novelist and essayist Dionne Brand; with two talented young artists, American Tschabalala Self and Canadian artist Esmaa Mohamoud. We look with admiration at the quilts of African-American artist Rosie Lee Tompkins and we consider the stunning work of Hilton Als in his remarkable collection White Girls.
Each of these artists raises the same issues, based in white society's entrenched racism—each different from the other, unique—whose individual, singular voices rise in a chorus singing suffering, inequity and mistreatment.
Philip Guston is in this issue too, the article opening with his painting, The Studio, 1969, where he broke rank with abstraction and painted his balky, bulky irrefutable figures, among them his contentious Ku Klux Klansmen. These dangerous figures are as present in contemporary America and in other countries where thugs and fascists present themselves, as they were when Guston began to paint them in the late 60s.
The links that art makes, that makes it essential, run throughout this issue of Border Crossings.
At the front of the magazine is Amy Sillman, interviewed about her new book, Faux Pas: Selected Writings and Drawings and among others, one of the large drawings reproduced is a portrait of Frank Bowling, an artist whose work she admires. Sillman makes a link to Philip Guston who she identifies as an early influence. She is also one of the artists who was invited to contribute commentary to a section titled "Artists on Guston Now" for the substantial book published to accompany the touring exhibition which was to be mounted by the National Gallery of Art, Washington; The Tate Modern, London; The Museum of Fine Arts, Boston and the Museum of Fine Arts, Houston—now on hold for at least two years because Guston's critical paintings of the Klan figures were deemed too controversial to be shown, and dealt with at this time. Their response is an example of institutional cowardice, leaving these critical issues unaddressed.
Amy Sillman's opening conversation refers to Donald Judd's writing as work she likes but different from hers, and Donald Judd is substantially present in this issue of Border Crossings in the form of a response to his large retrospective at the MoMA. We include facsimile pages of a pamphlet published to mark Fifty Years of Non Violent Action by the War Resisters League. To support the League's important activities an exhibition was mounted in 1976 at Heiner Friedrich Inc on Wooster Street in New York. Donald Judd was one of the artists in the exhibition and an advocate for their peaceful actions.
Indigenous peoples have been facing issues of racism, exclusion and the attendant harms since the beginning of colonialism. The article, "Fluid Cartographies" addresses well the idea of "migration as territory" guiding this Contemporary Native Art Biennial, and curated by artist, writer and teacher David Garneau.
The issue also presents the cogent poetry of Chimwemwe Undi. And as always our review section called "Crossovers" is broad-ranging and includes: Àbadakone / Continuous Fire; Samuel Fosso; Moyra Davey; Madiha Aijaz and Althea Thauberger; Molatham; Joani Tremblay; Agnes Pelton; Diaspora and Painting; Taqralik Partridge; Rick Leong; and Hinterland Remixed: Media, Memory and the Canadian 1970s. All these topics, ideas and issues recur on the pages of this current issue—cover to cover. Connect with us and recognize the links through art and reading that our present social state impels us to consider.
Buy Now
Table of Contents