Rick Leong
Chinese landscape painting transmutes into a fresh, hybrid language in British Columbian artist Rick Leong's new solo show, "Carmanah," at the Montreal-based gallery Bradley Ertaskiran. The gallery, now reopened, features 11 paintings that draw inspiration from the Carmanah virgin forests, part of the Ditidaht First Nations reserve on Vancouver Island. Quarantine-imposed solitude informs new readings of Leong's utopic paintings, evocations of nature's replenishment in respite from human activity.
Dense foliage, tangled in tortuous lianas and trees, seduces the viewer into Leong's sylvan settings, but undulations between opacity and translucence in paint create spatial illegibility that resists total immersion. The foregrounded lush greenery is captured with vibrant, verdant hues trapped in cartoonish shapes. Behind, a mist, rendered in thinned paint, shrouds forests, evoking at once a fantastical, yet familiar, vision of nature. Scenes on the canvases unfurl organically from the artist's memories and feelings of those places.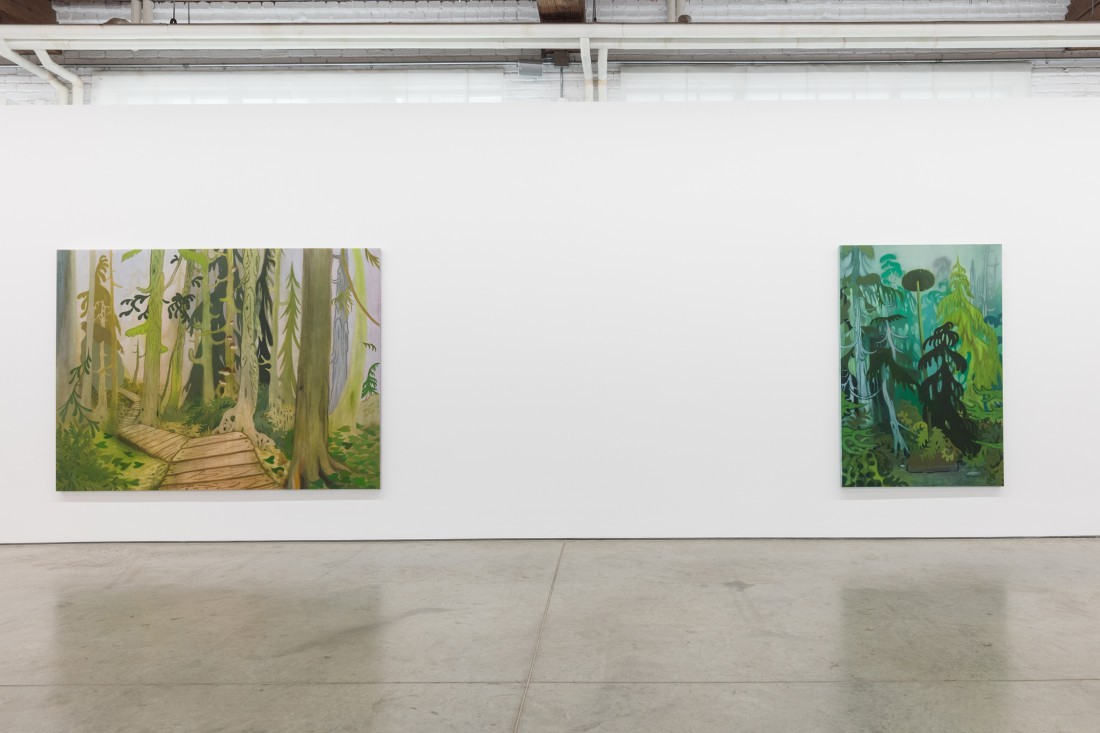 Leong capitalizes on the liminal times of day—from cadmium orange dawns to comforting dusks—to amplify the magical atmosphere in which mysterious phenomena emerge. Peculiar details provide fodder for the imagination: an ominous pair of yellow eyes inserted in shrubs, heart-shaped leaves lining a winding path, a bear cache looking like a large mushroom. All of these encounters with nature appear mediated. A mossy knotted rope in the foreground notifies us not to walk any further. A ribbon fastened around a tree presumably marks protection of the historical coastal biome. One of the landscapes is framed by the view from a neon orange tent, while smoke emanates from a luminous campfire in another painting. Leong is actively insisting on a subjective vision of nature that counters narratives of forests untouched by the Anthropocene.
The ocean scenes, on the other hand, are laconic; Leong limits details to the foam accreting on the waves. An air of solitude pervades in the melancholic blue tones and the empty horizons, evocative of Mark Rothko's abstractions. While the landscapes are large in scale with paint engulfing the edges of the stretchers, most of the ocean scenes are intimate in size. Leong's small sunless seascapes are hung at chest level, beckoning viewers to "navel-gaze" on our role as nature's steward. The tone shifts, however, when you confront the centrepiece. It eclipses all the other paintings in its magnitude. Measuring almost six metres high and three metres wide, the canvas features an immense wave that materializes from a misty, flecked grey sky. This triumphal work mocks any idea of ownership of nature's largess, revealing the ultimate conqueror.
In his seascapes particularly, Leong incorporates Chinese historical art forms to create a fresh, synthetic visual language. While his bleeding colours and low horizon lines reference woodblock printing, the mist that hangs heavily in his works is redolent of traditional Chinese landscape paintings. As a third-generation Chinese-Canadian depicting British Columbian forests, Leong negotiates between his cultural heritage and his Canadian identity. This visual synthesis offers a subjective relationship with nature that critically engages with the legacy of Canadian landscape painting, long dominated by white settler artists like the Group of Seven. By applying a traditional Chinese visual syntax, Leong not only brings new relations to this lineage of Canadian art history, but he also decolonizes and revitalizes Chinese contributions to the Canadian landscape.
The early history of Chinese- Canadian people is rooted in the exploitation of their labour to shape Canadian landscapes, such as the building of the Canadian Pacific Railway, where Chinese labourers were indispensable to the railroad construction. However, as these labourers tore down trees and removed rubble from tunnels in mountains, they were paid lower wages than white workers, and thousands of them died from dynamite accidents, landslides, inadequate food and lack of medical care. Once the Canadian Pacific Railway was completed in 1885, Canada took steps to stop Chinese immigration under the Chinese Immigration Act.
The spectre of this violent history towards early Chinese-Canadians lives on. Leong's landscapes, distinctly Canadian in their subject matter, become metonymic for broader struggles of Canadian people of colour today who try to reconcile their cultural backgrounds and their identities as Canadian citizens. Canada's whitewashed history makes it difficult for people of colour to achieve a sense of belonging. However, Leong creates a uniquely syncretic visual style that offers new ways of relating to and integrating with Canada. While his paintings respond to critical times of climate awareness, they also offer food for thought regarding who gets to relate to this nature.
The artist's inclusion in the exhibition "RELATIONS: Diaspora and Painting," which opened in July 2020 at the PHI Foundation in Montreal, will allow further investigation into Leong's engaging work as it relates to forging unique ways for people of colour to relate to Canada and its art history. ❚
"Carmanah" was exhibited at Bradley Ertaskiran, Montreal, from May 27 to June 28, 2020.
Farid Djamalov is a Montreal-based writer and art historian currently studying art history at Yale University. He has worked at Christie's, Garage Museum, Yale University Art Gallery and at the Darling Foundry.