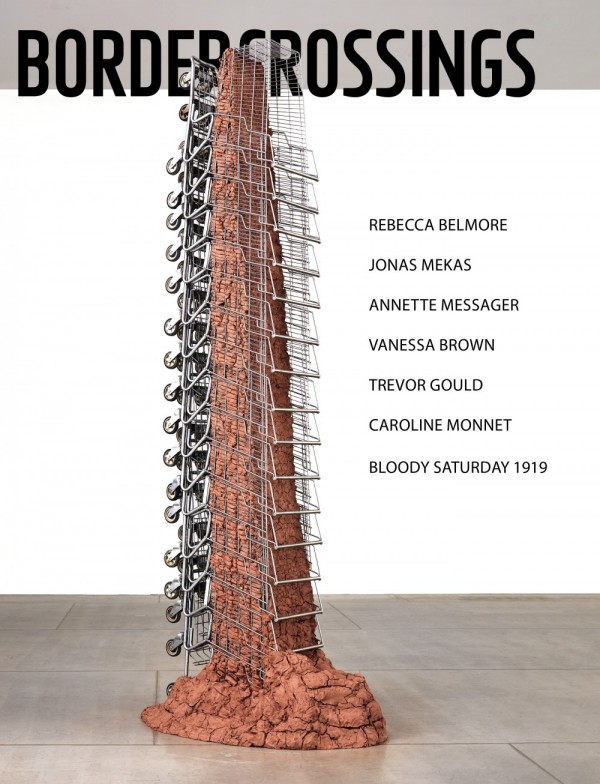 May 2019
#150
BORDER CROSSINGS ACHIEVES A LANDMARK WITH ITS CURRENT PUBLICATION Next year Manitoba will celebrate 150 years as a Canadian province. In our 38th year, Border Crossings, the Winnipeg-based international arts magazine, has just reached that milestone. We have now published Number 150, and the issue embodies the range our readers have come to expect from the magazine.
In this issue Border Crossings looks at the way in which humans layer their interactions and engagement with animals and the landscape, with other artists, and with audiences. The issue also considers the ways in which bodies are presented, treated and adorned.
On the occasion of her touring exhibition, "Rebecca Belmore: Facing the Monumental" at the Remai Modern in Saskatoon, the artist looked back at her 30 year-long career and Border Crossings talked with her. The exhibition was mounted first at the Art Gallery of Ontario in Toronto and is currently at the Musée Art Contemporain in Montreal.
Border Crossings talks with young Vancouver-based artist Vanessa Brown whose work is a feminist tribute to accessories. "Her art talks and listens", says writer Lee Henderson. With references to the female artists—Louise Bourgeois, Camille Claudel, Marianne Brandt, Aganetha Dyck and Valerie Blass who inspire her, Brown presents stunning installations and sculpture.
Montreal-based South African artist Trevor Gould discusses the importance of the double in his work, as well as the complexities of the interaction between nature and culture. "I've been looking back on my work and two things always seem to come together in some kind of opposition–you have black and white, primate and human, you have belief and reason."
Also in this issue Irene Bindi on the formative avant-garde filmmaker Jonas Mekas, as well as an article by Stephen Horne on Annette Messager in the inaugural exhibition at the Giacometti Foundation, and a Borderview on Noam Gonick's and Bernie Miller's public art piece; "Bloody Saturday", a commemoration of the 1919 Winnipeg General Strike.
In our Crossover section there are reviews on the exhibitions of; Dana Schutz, Dana Claxton, Mickalene Thomas, Bahar Noorizadeh, Theaster Gates, Nep Sidhu, Paul Klee, Julie Nagam, David McMillan, Hervé Guibert, Mamma Andersson, and others.
Buy Now
Table of Contents