Grace Wales Bonner
An anti-Brexit van festooned with puppets of Tory MPs drove past as I waited to cross the road in Hyde Park where Grace Wales Bonner's exhibition was installed at the Serpentine Galleries. Tooting its horn, its tune was despondent, while the self-imposed crisis of the British government carried on in Westminster. Inside the Sackler Gallery, we are able to forget about Brexit. Instead, an assemblage of sounds, artworks, performances and texts looks back to Black Intellectualism, including an invocation from poet and novelist Ben Okri: "Bring your wisdom, your fire, your hope. Bring a new courage and a new fight."
Grace Wales Bonner is only several years out of her BA degree in fashion design (menswear) at Central Saint Martin's School of Art, but the 28-year-old British designer's talents are vast, recognized by prestigious awards and intellectual in their scope. With this exhibition, Wales Bonner has cemented her cultural influence beyond fashion. Spanning across art, such a reach is a natural fit, given the broad cultural references that inform her practice. Wales Bonner is neither the curator nor the sole artist of "A Time for New Dreams" but has assembled artworks, sound recordings, music and archival material within the exhibition space. Together these serve as an expanded sketchbook for her cultural references and inspiration, and as stage and set for the showing of her autumn/ winter 2019 collection, "Mumbo Jumbo," at London Fashion Week. After the runway show, the exhibition continues as the ghost of the ephemeral experience and becomes a point of departure for her work, which extends far beyond fashion.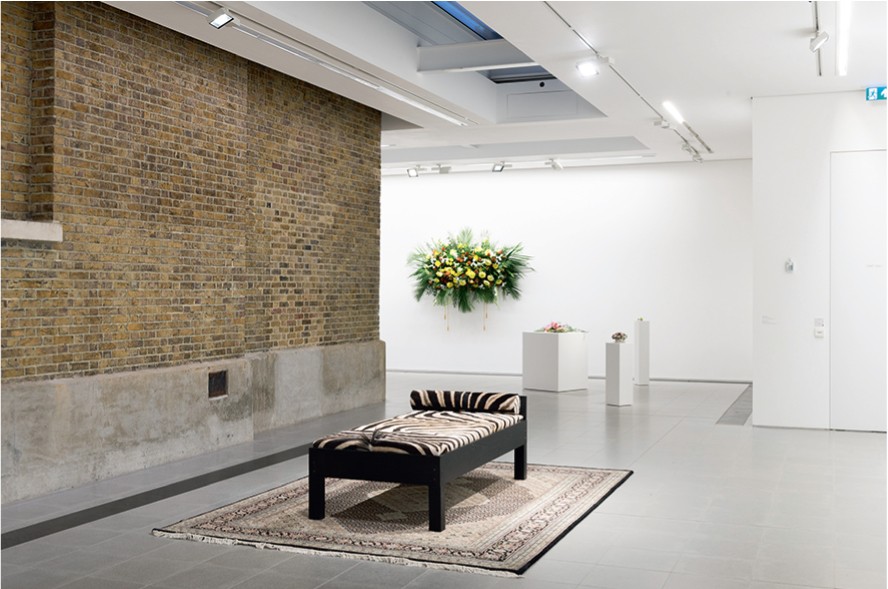 Central to the project are evocations of shrines, places of prayer and worship. With Flowers for Africa, 2014, Canadian Kapwani Kiwanga presents a series of four floral tributes to African countries at key moments in their sovereignty. Some bouquets are small and mounted on plinths; others, large wall-mounted tributes. Kiwanga, who studied anthropology at McGill University before pursuing fine art in Paris, developed the floral tributes from archival images of flowers at large ceremonies celebrating independence (Uganda), or bouquets handed to the Queen's representatives on official visits at the moment of independence (Nigeria). Withering and fading, with some petals dried and dropped to the floor, the floral tributes become decaying funeral wreaths for the moment of sovereignty as acknowledged by a colonial power, and the hope that came with it. In a text in the exhibition booklet titled Shrine, Chino Amobi writes on liberation; elsewhere in the exhibition a sound installation by Amobi plays the Howard University Chamber Choir singing "Ain't Got Time to Die." Wales Bonner contributed a research shrine to the exhibition in which texts, objects, sounds and moving images create a microcosm of the influences for her of magical realism, mysticism and ritual. In Wales Bonner's interpretation, the gallery becomes a shrine to Black Intellectualism as she makes a space for meditation and reflection, conjuring up new possibilities with references from Howard University, to shamanism, to literary oracles.
Both aurally and visually, the installation is multi-layered. Sightlines are complicated, with works intersecting with each other the same way ideas traverse geographies and time. Looking through a square in Eric N Mack's textile installation, A Lesson in Perspective 2017, you see a deconstructed tent with bright floating colours suggesting market stalls. Across the gallery, David Hammons's Rock Head, 2000, sits on a plinth, an oblong stone affixed with hair gathered from the floor of Black barbershops. Sound and space also interact with Wales Bonner's collaborators, including Jamaican-born, US-trained and Berlin-based dancer Michael-John Harper, who, at intervals, performs choreographed movement throughout the installation, interacting with the objects and the audience. (Harper has also choreographed movement direction for the runway show.)
Video works and analogue recordings are featured elsewhere in the exhibition. A sideboard with a blocky TV on it plays archival interviews with Okri and performances by renowned American writer Ishmael Reed (from whose 1972 novel, Mumbo Jumbo, Wales Bonner's collection takes its name). It also holds books by both authors as well as others, some held open, a shrine to her literary heroes. Another video work by Reece Auguiste explores physical and social change in London against the backdrop of Thatcher's Conservative government. Auguiste, a member of the Black Audio Film Collective—a group of artists, filmmakers and writers formed in East London in 1982, which included founding member filmmaker John Akomfrah— makes works that circle memory and history, using experimental editing and narrative sequencing to explore Black British popular and political culture. Here, in Twilight City, Auguiste traces a portrait of London against the backdrop of Section 28, the UK government's response to the legalization of homosexuality, while still discriminating against it. Rotimi Fani-Kayode's photographs exploring the Black queer male body are shown nearby. Wales Bonner and the curators make no hierarchical distinction among the artists, and archival material is given equal footing with well-known individuals such as Rashid Johnson, whose two zebra-skin-clad daybeds flank the entrance.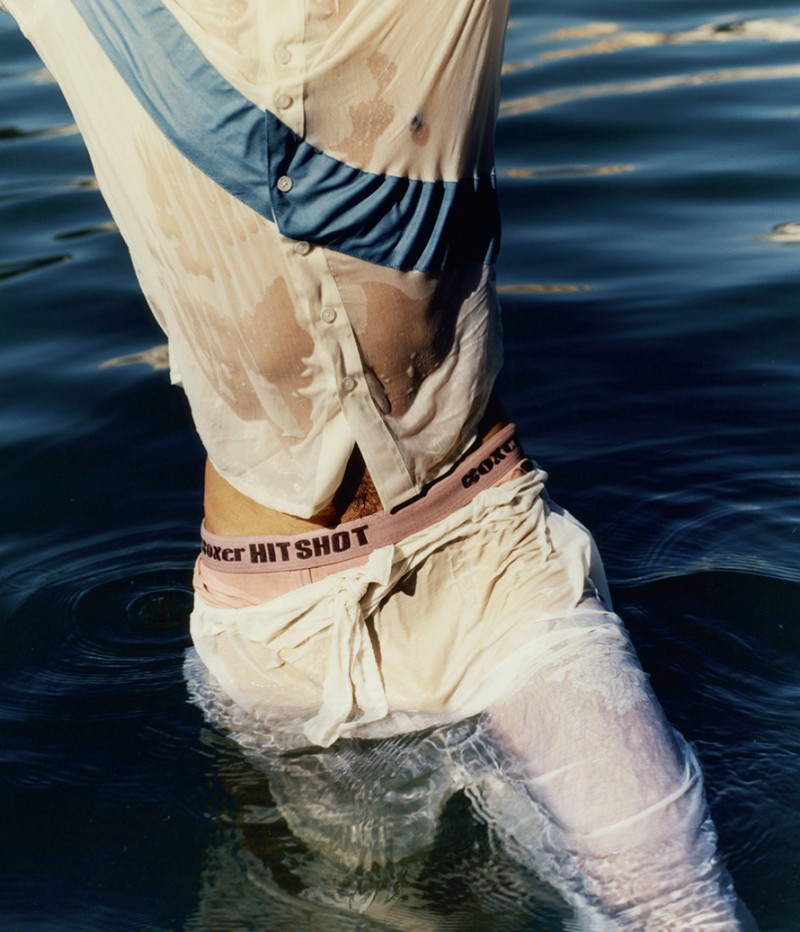 "Mumbo Jumbo" debuted and lit up my Instagram feed, and Wales Bonner's cultural polyphony sinks in: the fashion is the place where the cultural references, disparate throughout the gallery space, come together on one site—the body—and are worn, inhabited. As the runway show took place, Reed played a jazz composition on the piano and Okri recited a poem written for Wales Bonner. Preppy striped hoodies were layered beneath polo shirts embroidered with logos inspired by Haitian veves; beige-coloured joggers were paired with soft beige trenches over white button-downs. "Fall 1980. An intellectual brotherhood converges on the campus of the historically black Howard University" and "Honour the lineage," Wales Bonner's official account proclaims. The collection is an extension of the exhibition, and the exhibition is the seeding ground for the collection. As fashion, there is the potential for embodiment of the garment by a select few, but fashion is co-opted, adapted, remixed: a site of reinterpretation by those who can inhabit the present moment of her vision but, more so, enact its future possibilities.
"A Time for New Dreams" was exhibited at Serpentine Sackler Gallery, London, UK, from January 19 to March 17, 2019.
After 15 years in London, Kim Dhillon now writes about art from Vancouver Island. She teaches critical theory at the University of Victoria.