Primal Work
An Interview with Rebecca Belmore
In the following conversation Rebecca Belmore talks about her interest in watching people work and she admits that observing 10 men standing around a hole they've dug in the ground can hold her attention. "I think it's fascinating when people do something," she says, and then shifts from her watching others to our watching her. "When I make a performance I just hope that people are interested enough in what I am doing to pay attention."
She needn't worry. Rebecca Belmore is among the most compelling and mesmerizing performance artists working anywhere in contemporary art. But "performance" is too limited and maybe even misleading a term. What she does when she performs is to embody a state of mind. She resists words like "ritual" and "ceremony" to describe her actions. What engages her is the time it takes to work through an idea, and nothing mediates the concentration necessary to achieve that purpose.
Watching Belmore inhabit one of her pieces is to witness the transformation of trauma into healing. The intensity of her performances is the stuff of legend, whether she is dancing to the point of collapse in Indian Factory, 2000; drawing individual roses through her mouth in memory of the lost women in The Named and Unnamed, 2002; or painting the floor of the Walker Court at the Art Gallery of Ontario with clay for 12 hours, writing the words "land," "water" and "breathe" and then covering them over in Clay on Stone, 2016. She describes the change she goes through in these presentations as "becoming some other part of myself." It is a self to be reckoned with visually and viscerally.
There is a discriminating and subtle sense about the choices she makes in her performances. For The Named and Unnamed she wrote the names of the missing and murdered girls and women on her arms; it was a way of honouring them by taking on their identities and it was also a way of recognizing the larger dispossessed community that lives in Vancouver's Downtown Eastside. In order to read the names she was obliged to move her arms in ways that were sometimes contorted; the movement duplicated the gestures she would see when area residents "were tripping out and dancing crazily." Her insistent choreography enacted a danse macabre in more than one register.
Similarly, at the end of her emotionally and physically exhausting performance, she leaned back against a pickup truck that she had arranged to have parked on the street. The song coming from its interior is "It's a Man's World" with the perfectly gruesome lyrics "It's a man's world/But it wouldn't be nothing, nothing without a woman or a girl." The truck addresses the grim history of Robert Pickton's method of picking up his victims, and Belmore could easily have ended her performance by getting into the truck and driving away. But she resisted that act as both didactic and too dramatic. The truck's being there is enough; its leaving would be too much. What makes Belmore's performances so effective is her unerring sense of passionate restraint; she always knows exactly how far to go and, more importantly, how far not to go. She is an artist who exercises impeccable judgment in everything she does and finds ways to articulate that judgment in images and acts that are intense and primal.
The following interview took place at the Remai Modern in Saskatoon on February 2, 2019, where "Rebecca Belmore: Facing the Monumental" was on exhibition from February 1 to May 5 of 2019. The exhibition, which was curated by Wanda Nanibush, originated at the Art Gallery of Ontario and will travel to the Musée d'art contemporain in Montreal from June 20 to October 6 of this year.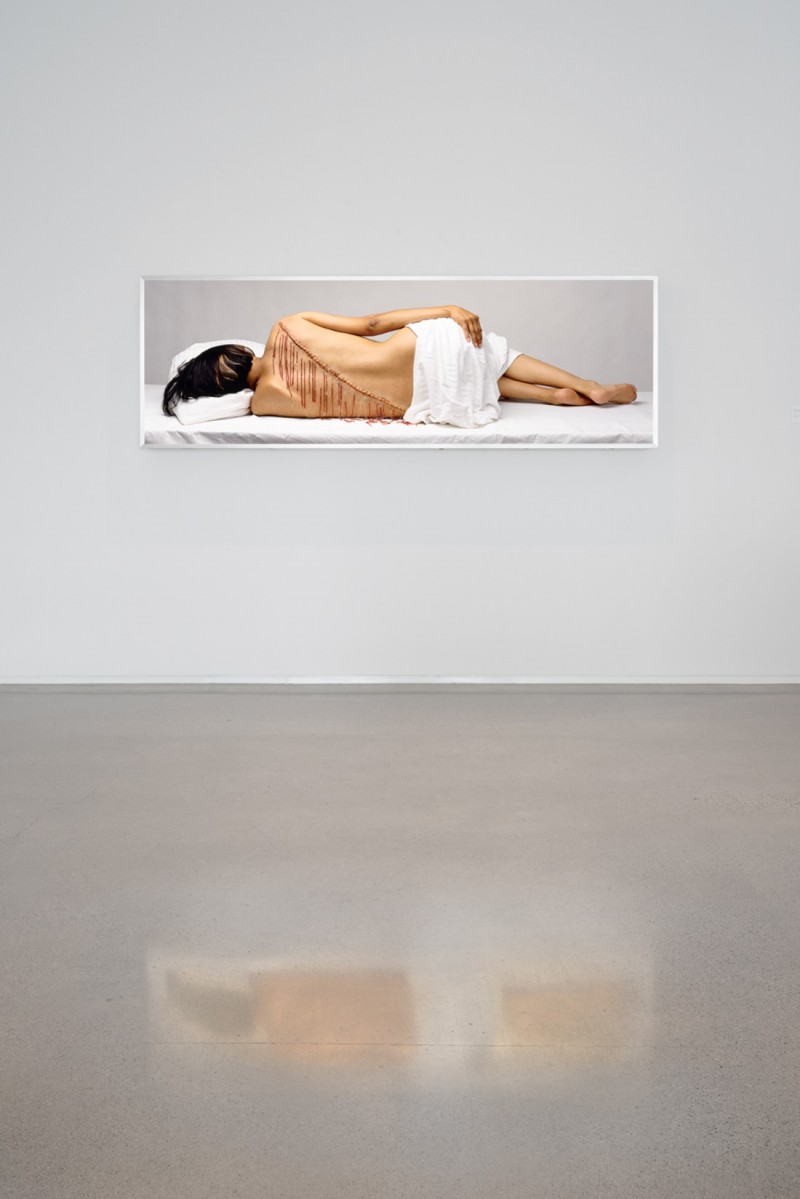 BORDER CROSSINGS: This exhibition at the Remai Modern, and earlier at the AGO, is an opportunity for you to look back over 30 years of work. Is that a strange position to be in?
REBECCA BELMORE: It is a very strange place because when you first start making art, you don't ever think that you'll be looking back. But when you get to 30 years, you're forced to do that. What I can draw from that backward look is that I've had a pretty good life and that I've been working pretty hard. I also see that things haven't changed very much. So I think about how my work fits into this span of time.
You have a statement in the catalogue that says "the world will be a different place in twenty years, and I have no idea what that looks like."
I mean that we should be concerned about the not-so-distant future. What will this planet look like then? I try not to worry, but, like so many people, I still do. In 20 years—and if I can be there that would be lovely—I would have 50 years to look back on. I'll continue to work as I always have, which is just to keep going forward. I am fortunate enough that the conditions are there for me to do the work, to do my job. I don't know how to be analytical about myself, but the way I operate is I just keep going forward. That work is done and it no longer belongs to me: it's not in my space, it's not in my making world, it's separated from me. One work is done; you go to the next. That's done; you go to the next.
Is there a necessary trajectory, so that one work necessarily leads you to the next?
No. But I think there is a thread running through all of it. For example, in the work that I did in 1991 in Cuba, I was bound with a thin red rope, and then in the Sudbury piece from 2012, there is a thin line of red flagging tape. The funny thing is that I notice the smaller details only when I see them together.
…to continue reading the interview with Rebecca Belmore, order a copy of Issue #150 here, or SUBSCRIBE today!