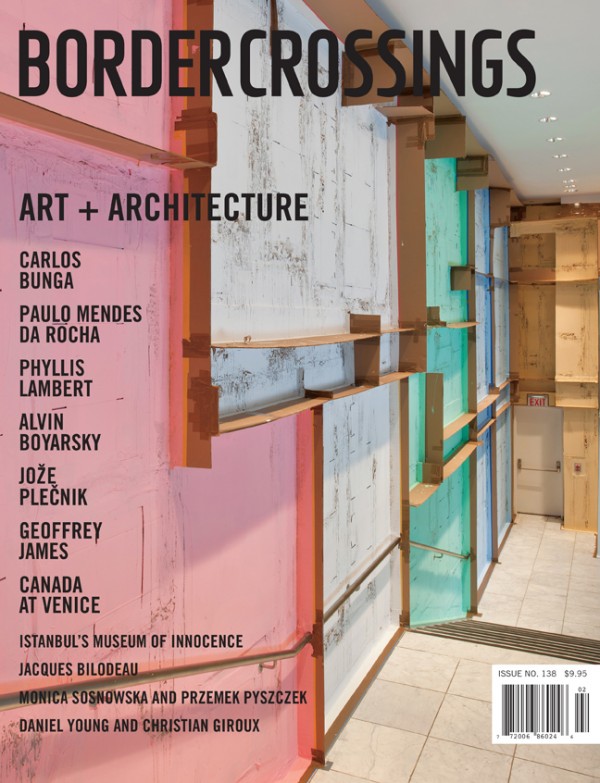 June 2016
#138
Border Crossings publishes its largest issue ever. It is a Special Issue on Art and Architecture and the intersection that rides between the two disciplines. For this topic Border Crossings Editor Meeka Walsh collaborated with two Consulting Editors: Eduardo Aquino and Neil Minuk.
The issue focuses on the idea of Influence and here we looked at three key international figures: Paulo Mendes da Rocha who just won the Lion d'Or at the Venice Architecture Exhibition; Phyllis Lambert, founder of the Canadian Centre for Architecture in Montréal, who was awarded the Lion d'Or in 2014; and Alvin Boyarsky, the Canadian architect who was the legendary Director of the AA in London, UK.
The issue contains a pride of architects and designers and theorists from around the world: Peter Cook, Nat Chard, Indra Kagis McEwen, Pierre Bélanger, Adrian Blackwell, Adele Weder, Peter Sealy, John Shnier and many others.
Art meets architecture in the work of Carlos Bunga; Christian Giroux and Daniel Young; Monika Sosnowska, Przemek Pyszczek; Natalija Subotincic; Carlos Rueda; Anne Cormier; and in the rhapsodic photographs of Geoffrey James who turned his lens to the architecture of Jože Plečnik.
We look at the loftiest but often unrealized dream projects of three architectural practices: Kohn Shnier, Toronto, Atelier Big City, Montréal and marc boutin architectural collaborative inc., Calgary.
We asked 10 architects from architecture schools across Canada to list their Perfect Seven favourites: books, art, films and houses.
The issue considers the uses to which architects turn their attention—from the social architecture of Gregory Henriquez in Vancouver to the gross misuses in the application of architecture in the design and construction of gas chambers.
The issue includes Artist Pages by Montréal artist and architect Jacques Bilodeau and our usual broad range of reviews includes Sky Glabush, the biography of Agnes Martin, Álvaro Siza, Adam McEwen, Gathie Falk, Takashi Iwasaki and many others.
Buy Now
Table of Contents
Bordernotes

Borderviews

The Art Centre That Came Down From the Cold
Vinyl Parfait

Bordercolumn

Museoddity

Francofonia: An Elegy for Europe, directed by Alexander Sokurov

Interviews

What's at Stake? The Canadian Presence at the 2016 International Architecture Exhibition

An Interview with Pierre Bélanger

Collaborative Aspirations

An Interview with Christian Giroux and Daniel Young

Articles

On Running Into History, And How to Avoid a Bloody Nose

Work by Monika Sosnowska and Przemek Pyszczek

How to Turn a Foreclosure Crisis Into a Domestic Revolution
In Search of a Paradigm: The Social Role of Architecture
Reservoirs of Memory

The Museum of Innocence in Istanbul, Turkey

Figures of Influence

Figures of Influence

Place Maker: The Art of Paulo Mendes da Rocha

Figures of Influence

Being Architecture: The Passion of Phyllis Lambert

Figures of Influence

Creating A Scene: Alvin Boyarsky and the Architectural Association

Second Places Unrealized Dreams

Second Places Unrealized Dreams

Sometimes I Dream of Bats: Kitchener City Hall Competition Entry 1989

Second Places Unrealized Dreams

The Roadshow and Its Landscapes: From the Determinant to the Offering of Possibilities

Second Places Unrealized Dreams

Bright Lights Big City: Rio Tinto Planetarium Competition, 2008

Perfect Seven

Perfect Seven

Portfolio

Jacques Bilodeau

Essay

Good to Think: The Architecture of Jože Plečnik

Portfolio

Looking at Jože Plečnik

Photographs by Geoffrey James

Crossovers

Sky Glabush
"things you can't unthink"
"1920s Modernism in Montreal: The Beaver Hall Group"
Takashi Iwasaki
Gathie Falk
"enendaman | anminigook"
Qavavau Manumie
Ted Barker
Jason Deary
Patrick Mahon
Jason McLean
Nat Chard and Perry Kulper
Adam McEwen
Álvaro Siza
Agnes Martin: Her Life and Art by Nancy Princenthal