The Continuous Contradiction: Making and Unmaking in the Art of Carlos Bunga
Carlos Bunga is a self-described nomad, peripatetic in every way. In the interview which follows he explains that he doesn't have a house, travels continually from one place to another, but more importantly he is nomadic in the agility of his mind, his capacity, as he says, to break firmly held impediments to the way he thinks. It is in the spaces in between, in the contingent condition that allows for doubt, in the fragile seams between states where generative questions about certainties can be asked that he asserts his nomadic identity. Out of this nimbleness he addresses temporality in his work—looking at the past as fragments and traces—an examination that is evident in his interventions and responses to existing spaces, and to the more immediate and material signs you see in his installations, paintings and sculptures.
The future is easy—it's all potential, but it is only in the present, in the inhabited still-forming time and space where his nomadic expressions can occur. He is fluid and motile among forms as well. He began with painting, chafed at the limitations, like Lucio Fontana to whom he refers, and literally forced through a two-dimensional surface to have it read as three. He makes drawings, sculptures, does performances, videos, architecture and continues to paint. He shifts scale in all these forms, from the macro to the micro, and is, as he says, "between nomadic transformations and cyclical ecosystems."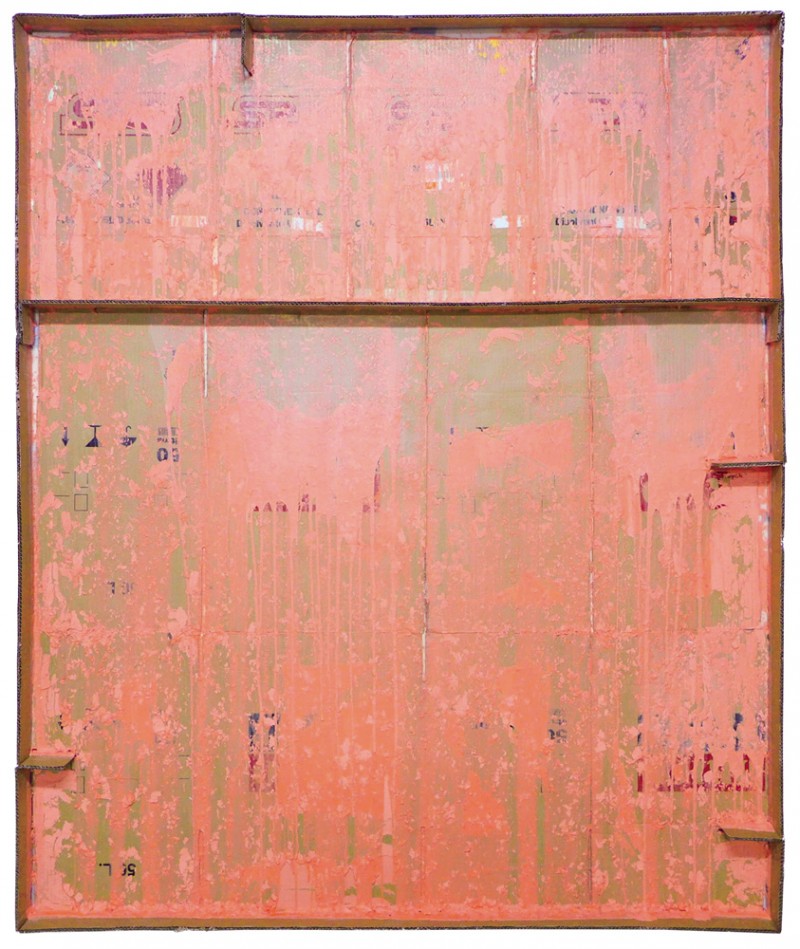 Carlos Bunga was born in Porto, Portugal in 1976. He received his Bachelor of Fine Arts in 2003. Since then he has been showing internationally. In 2015 alone he had solo exhibitions at Museu d'Art Contemporani de Barcelona (MACBA), Museo de Arte de la Universidad Nacional de Colombia in Bogotá, Museum Haus Konstruktiv in Zurich, Galería Elba Benítez in Madrid and Christopher Grimes in Santa Monica. He has received numerous awards and residencies and his work is in private and public collections internationally.
Carlos Bunga's installations are buildings inside buildings, where he begins his work not with preparatory drawings or models but through a conversation with the space itself, which he believes carries its own history and individual sensibility. What he finds—how he responds—intuitively and rationally, tells him how to begin. Using his consistent tools, cardboard, packing tape, a blade, paint and his own body, he builds and unbuilds on a continuum of process. The transformation from standing cardboard walls to his knife-slit gestures, the application of his body and the subsequent collapse of the structure are generative. There is no stasis. He builds, he dismantles, he photographs and draws over the photographs, and so it goes. He says, "I don't talk about death. I talk about rebirth."
When you look at improbable towering works like La Capella, 2015, at Museu d'Art Contemporani in Barcelona, Mausoleu, 2012, at Pinacoteca Art Museum of São Paulo or Under the Skin, 2015, at Stony Island Arts Bank in the Chicago Architectural Biennial, anomalous is what comes to mind. We are seeing works of monumental fragility. How would you pair monumental and cardboard? The adherent that makes it work is tension, the state which is Bunga's operative preference. If monumentality is at issue so is its nemesis, gravity—the limitation Bunga identifies as the first one with which he has to reckon. It was this condition that Gordon Matta-Clark also challenged: the reveal and fissure which test gravity and speak about elegy, ruin and destruction in Matta-Clark's works like Splitting, 1974, the physical incision into and separation of a substantial house, and Conical Intersect, 1975, which was an action and documentation in response to the destruction of Les Halles (to make way in part for the Centre Georges Pompidou). These are relevant for Bunga as source and in confronting and dealing with gravity.
It's the acute fragility of Bunga's built works that is so apparent in the video Carlos Bunga dismantles Capella, MACBA. He moves his blade with force and precision, understanding well the building's construction. He slices horizontally through and along the baseline, circling the structure, testing, pushing, and when it buckles like an animal shot and brought down, he throws himself at it, runs up its slanting side, kicking, shouldering, incising. You see the lowering walls heaving as if with laboured breath and when it's all finally down, its forms tumbled and stacked, Bunga drapes himself over its carcass, exhausted with his efforts. Having once brought it to life he has destroyed it; that is the generative and regenerative process he seeks. Nothing is over, everything transforms.
Bunga talks about his early fascination with finding buildings, on his walks through the cities of Portugal, in a state of ruin, where the insides revealed themselves to him as large and beautiful paintings. It was all there—space, colour, history, decay—a narrative which would have had meaning. It made sense then for him to be interested—in his own constructions—in bringing the inside out, in showing in the dismantling of a structure what the inside palette looked like when cut and folded and collapsed. When you see the standing portion of an apartment building under demolition or look at the bombed remains of houses in war zones, beyond interest and curiosity there is a feeling of the shame of exposure. You are seeing the wallpaper and paint colours isolated from their lived-in context and are privy, through inadvertence, to intimate interiors into which you wouldn't necessarily have been invited. It's a reminder of the fragility of shelter which now houses only the remains and traces of someone's aspirations—the place people would have gone for, among other things, refuge. Houses and domestic interiors have long figured in Bunga's work, references in part to his own impoverished childhood house.
The startle of exposure isn't at a remove either on the surfaces of Bunga's painted works. The paint is applied in many pieces, like a wash barely covering the support which he doesn't intend to disguise; its materiality is understood. The joins and seams, the tape and the cardboard surfaces are as evident in the foreground as is the pigment covering them. But the palette is soft and inviting, and the cells of the cross-cut sheets of cardboard, which are also the frames for the paintings, are unapologetic and handsome; when you look, you can smell its dusty, particular odour. Inside the perception of his works there is that oscillation, the slightly disordered or out-of-order reading which is the present state that Bunga finds so generative—a space of some kind of immanence.
This interview was conducted with Carlos Bunga by phone in his studio in Barcelona on April 16, 2016.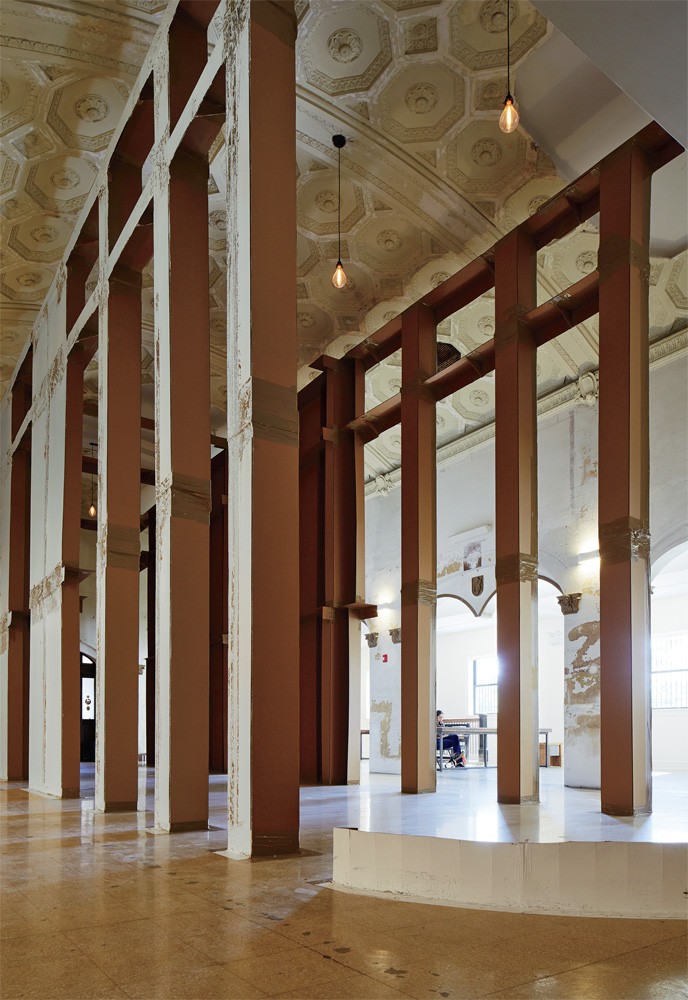 Border Crossings: You started as a painter, didn't you?
Carlos Bunga: The decision to become a professional artist came through a very natural process but yes, I came to the university as a painter. I didn't go to university to be an artist, really. I went because I loved painting and didn't think much beyond that. My school was a relatively new one in a small Portuguese municipality called Caldas da Rainha. Unlike other schools of higher status located in large cities like Lisbon or Porto, from where most leading Portuguese artists come, this one was considered parochial. Paradoxically, what made it interesting was the absence of any symbolic responsibility, or the weight of expectation that I might have felt if I had gone to a better-known school. Painting is a very open process in that you have perspective, you have scale, you have texture—these are the things we think about when we think about painting. But then things changed and I became very frustrated with traditional painting and with the canvas support. At one point I actually stopped painting.
What was it that you found frustrating and limiting about painting?
At university I had been working in my studio on small canvases but I wasn't happy with the painting I was making. That frustration led me to want to destroy the medium and cross the canvas with my body. I started to make performances with my paintings; I opened them up, broke into them, and started to paint inside of the paintings. That became a very important moment. Then I took paintings from my studio and put them in the streets and in old buildings.
So you put your paintings in this ruined urban environment?
Yes. In Portugal you have these decaying old buildings and I would place my paintings in them. I was fascinated by empty lots, torn-down houses and the marks they left behind on adjacent buildings; the remnants of demolitions; the residue of the city. I started looking for spaces that specifically resembled my paintings and I hung the works on the walls so they would be exposed to the weather. I wanted to see how they would decay with the passing of time. I wondered how I could explore the sensibilities embodied within these structures. I took pictures of the paintings in that context. I was looking at the transformations the paintings went through because of the weather. When I was doing these performances the question became, "What is more?" I realized it wasn't the painting on the wall; it was all the space. When I put a painting in the space, the painting became invisible because the context is the entire building.
What was it about ruins that attracted you?
I don't know exactly why these buildings became so fascinating to me. It is not something that is necessarily rational. In life we try to make concrete answers that provide us with security. The abstract is regarded with suspicion, and we need standards to base things on so that they can be categorized and then accepted. When we are confronted by something that we do not understand, it encourages us to ask questions. The ruin is a space of freedom for questioning, a place in permanent reconstruction, and it functions as an artefact, or as fragments in a state of decomposition. We live in a permanent state of ruin. Despite the fact that ruins are deemed to be negative, they also entail creativity.
I know your childhood home was makeshift. Do you think your interest in deteriorating buildings might have some connection to that?
In 1978 the Portuguese government acquired the land for the construction of several prefabricated houses for families returned from former African colonies. Standing in a small village, it was in this house that I spent most of my childhood. Due to the fragile nature of the materials used for its construction, these structures were in a constant process of decay. It may partially explain my fascination with old buildings but it is very difficult to explain or understand why we are attracted to some things in life. But I do think it is important to ask questions about yourself and about what you are looking for. That is how I think in my work; it's as if I were in a permanent laboratory. A laboratory is a place where you are constantly engaged in the process of asking questions. Sometimes it is difficult to come up with concrete answers.
Does the space talk to you about what it wants you to do with it?
Yes. The process in my work is really important. In a pre-existing architectural space I am interested in the temporal and emotional process, as well as in the possibility that the imposing character of architecture may somehow exist as experimentation. In conceiving the installations there is no prior plan, which is why becoming familiar with and directly confronting a physical and mental time period is so important for the process of construction. The context is always important. I am very aware of the narrative of a space, of its identity as I make work in it. I have to remain open-minded so I can learn through the process of working. I travel to the places I am hoping to work before starting a project, to pick up the story of the building, the city and even the country. I always have to see and feel the space before I start working. The space often has a very powerful identity and its own sense of rationality. I work without drawings and without models. What I try to do is to think how I can fill the space, try to understand what I am looking for and then find the concept that will allow me to start the process of working in the space.
If every building has its own personality, I assume some buildings talk to you more than other ones?
Each space is different and every space has its own identity. It is very important to arrive in the space with an open mind. You have to accept what you see and feel and then start a conversation between yourself and that space, and between that story and that identity. Taken together they can produce another sensibility, another reason, another speculation. But it is true, for example, that a white cube is different than working in a church. It may be a different process but as I say, the basis is to arrive in any space with an open mind because in the beginning there are many possibilities, and that is where you start to develop the allocation between the spaces. These works always function within a kind of time concept. I look at the buildings as past—either in their story or their identity. The project I make is a kind of architecture; it's not a real space but a mental idea, a projection of something. When we walk in that space we are walking between the past and the future and we are the present. It is very important that you can move around and have a temporal experience in the space, because when we walk we activate the space.
…to continue reading the interview, order your copy of the issue here, or save big and subscribe (receive the following 3 issues after Art + Architecture, including a fabulous one this fall on PAINT).