What's at Stake? The Canadian Presence at the 2016 International Architecture Exhibition
An Interview with Pierre Bélanger
In his published remarks as the President of the 15th International Venice Architecture Exhibition, Paolo Baratta describes the time in which we live as one "characterized by an increasing disconnection between architecture and civil society." EXTRACTION, Canada's entry in the 2016 Exhibition, takes a wide view of the practice of architecture and focuses on the processes and attitudes that have produced some uncivil conditions in Canadian society.
EXTRACTION has been organized by Pierre Bélanger, a landscape architect who co-directs the Postgraduate Design Program at Harvard University's Graduate School of Design. He has written extensively on the intersections between ecology, infrastructure, media and urbanism, and he is professionally registered as a landscape architect and urban planner in Canada, the United States and the Netherlands. He is leading a team that involves OPSYS, a design and media organization, the architectural firm RVTR, as well as Nina-Marie Lister from Ryerson University's Ecological Design Lab and Kelsey Blackwell from Studio Blackwell. Together they have conceived and executed a multimedia presentation that will include a book, a film and an installation on the grounds of the Giardini in Venice. After the exhibition closes on November 27th of this year, EXTRACTION will become part of the 150th anniversary of Confederation. As Bélanger has noted, "the opening of the Biennale is only the beginning of this project." It will go on the road in the form of a multimedia travelling interrogation of the traditional understanding of what architecture is and does. The Official Commissioner for the exhibition is Catherine Crowston and the Art Gallery of Alberta. It is encouraging to see that the major art gallery in the Canadian province that would be especially sensitive to an installation of this kind has become the Commissioner for an exhibition that will investigate the layered implications of resource extraction.
If you go to Venice expecting to encounter a view of Canadian architecture that focuses on buildings on an urban grid, then you will be disappointed. EXTRACTION will not look like a conventional architectural installation; there are no models and no drawings. It will not be exhibited in an interior space, since the Canadian Pavilion is temporarily closed for renovations. Bélanger calls what he is doing an 'intervention' rather than an installation, and the edge in his naming is intentional. Among the writers he admires is Dene scholar and activist, Glen Coulthard, who has written and lectured extensively on the relationship between Aboriginal and settler cultures and their differing occupation and use of the land. He has praised Coulthard's book Red Skin, White Masks as a provocation and a manifesto, and in many important ways, so is the exhibition Bélanger will locate on the grounds of the Giardini.
The overall theme of the 2016 Exhibition in Venice is "Reporting from the Front," and the front from which Bélanger and his team of designers, architects, writers and artists issues is a country where more than 75 percent of the world's mining and prospecting companies are based. Canadian companies are behind more than half of the 20,000 mining projects in the world. The mining economy employs nearly 400,000 people across the country and contributed almost 53 billion dollars to Canada's GDP in 2012. Extraction is us. These statistics are drawn from the online Manifesto that is the introduction to Bélanger's website. In the following interview, he explains how extraction continues to manifest itself as a shaping and mishaping force in Canada's cultural and political life.
Paolo Baratta's remarks conclude with the statement that he and Alejandro Aravena, the Chilean director of the Biennale, "are not interested in architecture as the manifestation of a formal style, but rather as an instrument of self-government, of humanist civilization, and as a demonstration of the ability of humans to become masters of their own destiny." Humanism as a guiding attitude and self-determination as an aspiration are qualities that sit at the heart of EXTRACTION. When you kneel down to look into the compacted history of Canada's relationship to its land and its inhabitants, you will yourselves have become reporters from the front. The challenge that EXTRACTION poses is what do you do with that knowledge?
The 15th International Architecture Biennale runs from May 28th to November 27th, 2016 in Venice. The following interview with Pierre Bélanger was conducted by phone to Harvard University in April of this year.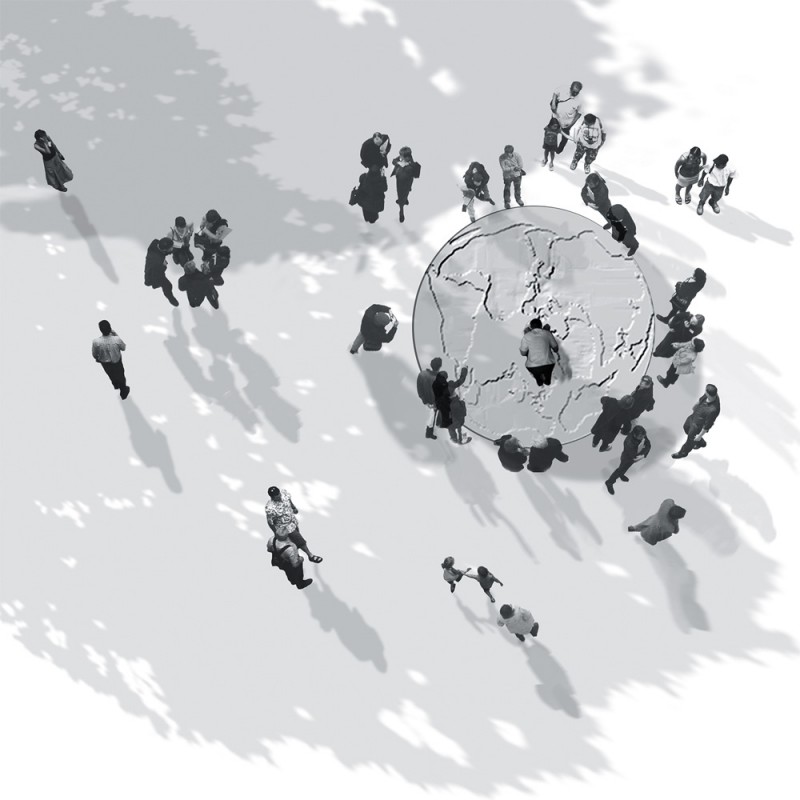 Border Crossings: What experience led you to propose an alternative approach to the Venice Architecture Biennale?
Pierre Bélanger: I had spent a lot of time working in the bush, planting trees, seeing cut blocks of forests, building and grading roads. Over that period I had a chance to form my own understanding and I came to the conclusion that we were spending a lot of time educating people on design precedents from Europe, but that old world had absolutely no relation to the new world in which I was living. I began to think, "what are Canadians known for?" It's not architecture. We know how to cut down forests, how to build roads and how to dig pits to get stuff out of the ground. The settler mentality is to extract. That's fundamentally what the culture is built on, and all I was doing was drawing historically and culturally on that recognition.
So your engagement with landscape architecture was more experiential than theoretical.
You've nailed it. It was a lived experience. And it raised a number of critical questions. As much as I learned from those experiences about resource mining, infrastructure, the transformation of landscape and the production of new landscapes, what I never learned was the relationship between the Crown, the State and land. Ninety five percent of this country is Crown Land and the operative word is "Crown." Canada is the only monarchy in the Americas and in marking 150 years of Confederation next year we should recognize the significance of the Crown. It is arguably at the base of every complex challenge that Canada is facing in this next generation. It's no surprise that we are constantly reading about suicide rates and states of emergency in Attawapiskat, about healthcare problems and problems in the schools.
Recently at the NDP leadership convention, the introduction of The Leap Manifesto underlined the connection between land, resource extraction and Aboriginal issues. They are not just in the present; they are the future.
Yes, what's vital here is that all these issues are interconnected. It's also clear that Canadians have to understand that they don't live in a postcolonial era. They don't realize how the relationship between the law and the land, and the structure of the country itself, is fundamentally racist. It privileges one class over several others. We're seeing a reaction to that from two ends; we're seeing new immigrants who are not willing to become citizens by pledging allegiance to the Queen and we're seeing the invocation, on a massive scale, of Aboriginal rights in relationship to an era of broken promises. The reason that is changing is because the growth rate of the Indigenous population has been tripling over the past 20 years and is culturally concentrating itself as a result of social media. For the most part, Canadians live in cities and are blissfully and conveniently ignorant of these realities, but if we don't face them it will ignite a revolutionary period the likes of which the country has never seen before. I'm saying this partly as a result of an interview with Chief Allan Adam, who is the Chief of Treaty 8 lands, and Eriel Deranger, an activist and communications officer. The Tar Sands are in Treaty 8 lands and it is part of the Athabasca River watershed. I asked Chief Adam if the Oka crisis from 1990 was a turning point in global Indigenous rights, and he simply said, "If you thought the Oka confrontation in Kanesatake was a turning point, you haven't seen anything yet."
The intensity of the response to the current state of affairs is noteworthy. I was struck by the eloquence of the social critic and Dene scholar, Glen Sean Coulthard, posted on your twitter feed. In telling a story about 17th-century Holland, he paints this utopic picture of the ship and the canoe moving side by side with co-equal power. But in his view the nation-to-nation principle on which Canada proposes to operate is not commensurate. His conclusion, in an uncompromising phrase, is "to sink the fuckin' ship." On the West Coast they would call that skookum wawa: strong talk.
Although I have never met him, Glen Coulthard's work represents the result of a long and hard struggle, and he brings to it an extremely high level of intelligence, and a level of increasingly precise observations on the different techniques and historical strategies of domination that are cloaked in languages other than colonization. He is meticulously calling it out, point by point. I think every Canadian needs to read Red Skin, White Masks. It will lift the veil and open up a reality that has disingenuously been hidden from Canadians in our largely Christian system of education. So his book is an essay, a provocation and a manifesto; it is also the voice of the Dene, the voice of Mohawk and Cree. Coulthard finishes his book with five theses on Indigenous resurgence and decolonization, and they're right on point. Given the level of trans-generational trauma he writes about, I am in no position to judge his level of radicalism. I cannot imagine what I would do. But most Canadians know nothing about treaties, about the colonial history of the country, about the levels and the cycles of domination that were arrived at through forms of settlement. White European settlers have tried various strategies of colonization; a program of assimilation didn't work; the program of subjugation through the residential school system worked to a certain extent but wasn't complete; and in the eyes of the British colonialists the work of extermination was deemed too expensive based on observing the American experiment. Under Andrew Jackson it was a policy of removal, assimilation or extermination at all costs. Canadians came in with a more economic and bureaucratic perspective. Extermination was too expensive, so colonialists decided to try the latest strategy, the relocation and displacement through the reservation system. The system of segregation was the way the British Crown and the colonial forces addressed what they called the "Indian Question" or the "Indian Problem." But this is not the stuff of history; it is the structure that is in place now.
How does EXTRACTION address the issues around land and resources?
Let's make no mistake: Canada was built on the singular purpose of extraction, of getting resources out. There is a profound essay by Maurice Charland on technological nationalism (Canadian Journal of Political and Social Theory, 1986) in which he considers the myth that the Trans-Canada Railway was a great unifying infrastructure that would bring the nation together. In that regard, it was a blatant failure. It still is. Via Rail is essentially on life support and nobody can make the case for it being a viable business. It fails time and time again because it is based on a false premise. The reason for building the railway was not to allow east-west travel; it was a front to get materials out, and the control of those raw natural resources is in the hands of a Crown Corporation. To this day it is a policy based on extraction.
It raises the question of how determining history actually is. I wonder if a sort of natural resource Calvinism has set in, a sense of predestination. Given the statistics you quote about extraction, it seems that we are trapped historically and economically. The question of how we disentangle ourselves from that history is a major one. Where do we start?
I'm not going to beat around it: we've developed the hashtag CrownNoMore. The Venice Biennale is opening a few days after Queen Victoria Day, May 23, 2016, and this in not just a call to Justin Trudeau; it is a confrontation to the Prime Minister to finish the job his father began. While his father achieved sovereignty for the country, that sovereignty was not obtained through independence. The only path forward is for Canadians to graduate from the innocence and cuteness of the monarchy and to categorically reject the Crown. Then the Canadian government would not be accountable to anybody but its own people; it would not have to defer to the doctrine of divinity of kings and queens who place themselves above land and above people, and above or in-line with god. At the base of it is the question of the Crown. The Crown has been the political alibi for the governance of both French and English empires to essentially subjugate large numbers of people.
This project you're doing in Venice seems radical but it's based on evidence that has been hiding in plain sight. It's not that any of this information is new but the way you are coming at it raises some profound questions. You call what you're doing an "intervention" and not an installation. The word announces a different approach.
We are not looking to uncover a great conspiracy; we are not looking to uncover the darkness that lies underneath the practices of mining corporations. What we are looking to address is the fundamental reality that lies between the lines of the very constitution of this country itself. The law that oversees between 95 and 97 percent of all territory in Canada is applied to land that belongs to the Crown. So ours is a very simple idea; we're demonstrating that its origins lie in the birth of the Crown itself, where the power of the monarchy is in the Magna Carta. We don't have to expose anything; it is written in the first line of Canada's constitution. We're not making this up.
I realize it is not fiction but I have to say that any archive, as does yours, that starts with the Magna Carta and that goes on to include writers, photographers and artists, as well as Carl Jung, is an archive that is clearly open to the possibility of 'reading' the history that we have both inherited and continue to act within. Your component parts are intriguing; it will have a film, there's a book, and a presence in the Giardini.
Originally the proposal was to fill the pavilion with gold ore, to simply take Walter De Maria's Earth Room and apply a Canadian version to it. We may think about Canada in terms of water and wood, but you need to understand Canada through gold. If any culture can understand that it would be the Venetians because their empire was built on stolen gold and stolen stone. Venice understands the question of empire. Then a series of things occurred that changed our original proposal. Although we were accepted by a peer group of architects who were not affiliated with the Canada Council or with government bureaucracy, it was very clear that the discourse we were developing about Canada as a global resource empire was one that they had never expected to be chosen, and I don't think they were prepared for the backlash from the architectural community. "What does this have to do with architecture?" they've been asking. I have to remind them that the bricks, the wood, the glass, steel, aluminum and the marble all have come from somewhere. Not only does it have to come from somewhere, but it comes from territories belonging to others, it crosses borders, and it is processed by people and by technology. Neo-liberal culture allows us to ignore, if not erase those realities. What happened was the RAIC, which is usually the Commissioner, backed out and the Canadian Pavilion was closed for renovations, so we decided on another route. We asked for permission from the Venice Biennale and the municipal authorities to do a project outside, in the Giardini. It is essentially on Italian soil. Rather than trying to do a large expensive installation and exhibition with a lot of ore to speak about a large topic, we needed to flip the script. So we collaborated with the architectural firm RVTR to miniaturize the territorial realities of the project and make the experience extremely personal. The miniaturization of the experience magnified the territorial reality. That was the turning point last fall. It also coincided with the point where we were studying colonial surveyors for the book and how the treaties were negotiated over time, sometimes over two or three years, and how people who did not speak English had to sign agreements on bleach-white British calf skin in India ink—a fluid from another part of the empire. They had to mark an X beside words they did not understand. Our research led us to the realization that there is no architecture, there is no infrastructure, there is no construction, there is no engineering, there is no form of built environment without land; there is no land without life or people; there is also no land without territory; and there is no territory without the survey stake. It's not by mistake that we call survey stakes benchmarks, but we also call them monuments. So what we're doing with the exhibition and intervention is that we are literally planting a gold stake in the ground; it is cast gold made by the Canadian goldsmith studio Hume Atelier. There is a keyhole through the stake through which you can watch 800 years of history flash in front of your eyes—800 images from 800 contributors in 800 seconds.
This can only be done one person at a time?
Correct. It is an individual experience. We are holding to the idea that one person at a time will have to kneel down in front of the British and the French Pavilions, put their hands on an upsidedown topographic map of the world, and place their knees on a sandbag that has the scale of that world map—one to one billion. Experiences are all about scale and this is an important scale. One to one billion is also the global threshold for the concentration of gold ore on the surface of the earth. We have reached that threshold and as we go deeper and as we try to reach gold in smaller and smaller concentrations, the environmental effects and the territorial issues go sky-high.
The film you're proposing has some relationship with In the Labryinth, the film that was made for Expo 1967. It is a kind of fragmented, kinetic Family of Man. It has images of birth and death and landscapes and weather. How does your film relate to that 1967 project?
The film was hugely popular in 1967; there was no voice, it had sound and it launched all the other films about the transformation of the planet itself. It was an incredible visual experience, a manifesto you could say. Apparently people were lining up for two hours to see it, and then lining up again, because they were seeing images juxtaposed they had never seen before. Then we found this book, also from 1967, which was the last yearbook that the Dominion Bureau of Statistics, now Stats Canada, issued on the centennial anniversary. It is a book in blood red carrying the Canadian Coat of Arms topped by the Crown and organized according to the 23 categories by which the country was understood. It was an understanding and an inventorying of the country by statisticians. We found a very interesting parallel between statisticians and surveyors in that they were the bureaucrats of the empire. You don't have territory without those two technocratic individuals. That book is revealing in terms of categorizations of Indians, of assimilation and portrayals of the Crown. Both the book and the film made us realize that we had to operate within a somewhat interventionist experience of that 150-year history. Rather than mark a colonial lie, we took cues from Alanis Obomsawin's Kanehsatake; 270 years of Resistance and Gord Hill's The 500 Years of Resistance Comic Book and decided to backdate the emergence of a global resource empire to the Magna Carta in 1215. Between 1215 and 1217 it was really developed in terms of its different iterations and that's why on the survey stake we date-stamp 2017 to 1217 as a way to mark its longevity, but also to mark its end.
EXTRACTION is a history lesson and a social and political critique. It is also a critique of the practice of architecture, which you unequivocally state is a discipline that has served colonial purposes all along. This intervention is aimed at a lot of different targets.
There are a lot of protagonists and there are a lot of targets. But we're trying to make it as surgical as possible. Placing it in front of the British Pavilion and in line with the French Pavilion at this intersection of the Canadian Pavilion is not a mistake. It took us a year and a half to receive the approvals for the site location. We know exactly what we're facing and where we are in history. We're very clear that the imperial protagonist and the colonial target is the Crown, and with the Crown everything else comes down. It is a very big risk. In the end the risk is that most people will walk right by and not pay any attention. In fact, when we were doing a test installation in Venice we had a vice commissioner from one pavilion laugh at us, and of course, the French workers seemed to think it was hilarious. I have been very clear that we are not doing an exhibition; this is an intervention. We are using that word very purposefully. I think our professional disciplines—architecture and landscape architecture—are literally intervening on legal grounds we do not understand. I'm going to use one example. It is not by mistake that you have to kneel down on this map that is one to one billion and you look through a survey stake that is made to the exact specifications of the Canadian geologic survey benchmarks. When you look through the keyhole you have to place your hands on top of this inverted topographic map of the world so that you also understand that it replaces your position in the world. You are underneath the world, not on top of it, like most maps. People have asked if we made a mistake in inverting and placing the map upside down. We're used to looking at the world through the ground; we're not used to looking at it from below.
As I hear you talk I want to say the artfulness of EXTRACTION is in the details and the precision of its presentation.
The devil is entirely in those details. There is no territory without technical detail. In the hands of the Empire, there is no territory without the map or without a trick. But you're absolutely right. If you want to call that art, you're more able than I to do that. Certainly there is a craft.
Glen Coulthard talks about the absence of moral equivalency in the relationship between Indigenous peoples and the Crown. It makes me think that in lots of ways the issue that EXTRACTION is looking at is more an ethical question than an aesthetic one.
The question of moral equivalency is an important one. On November 15 when the Biennale closes we will be removing the gold stake from the ground. We've extended an invitation to the Royal Family and we are going to remit the gold stake to them—the fake one—with the understanding that "You've had your empire for 150 years; you are the longest-standing monarch; you are the largest property holder in the world, above the Saudis, and above every other empire in the world." We're simply going to say, "Your empire is over, you can take it back now." No one has made that gesture yet. We're going to do it, and if they don't come to us, we will go to them. As for the real gold cast stake, we will auction it off at the end of the book tour in 2017, and share the proceeds with the Dechinta Centre of Research and Learning in the Northwest Territories, an institution that privileges the relationships between land and language, culture and curriculum.
Along with your attention to detail I also admire the carefulness with which you use language. It starts with your using intervention rather than installation; you describe the landscape of resource extraction as the "bedrock" of contemporary life, and then you talk about our "deep-rooted notions of land." Those are all words and phrases that are literally lodged in the issues you're addressing. But if these notions are that deep-rooted, can an exhibition like EXTRACTION be a point of departure for dislodging them?
We have to ask whose land are we using? As landscape architects, as ecologists, as planners and as urbanists, we sometimes have to map things differently in order to see them.
Cartography is the pictorial rendition of the demonstration of power. If the relationship is going to be remapped, you're calling for a radical power shift.
Absolutely. To a certain extent we can't deny the extreme power that mapping and cartography have. We like to think we're doing a form of counter-cartography. We're trying to use the same means by which cycles of domination have repeated themselves. This is also where the work of Glen Coulthard, among others, is especially important; those powers need to be subverted. If you want to change an institution you can either protest outside with a placard, or you can get inside and gut it. Can this project act like a Trojan Horse? I don't know.
You say when you draw as a landscape architect that you fight for the land and the political and ecological issues it raises.
If any act or action on the ground is political, then when we draw, we fight. My question to my students and my peers is always what freedoms are you fighting for? This is an important question today. The world is not perfect, it is complex, uneven and becoming more extreme. If we don't see that, then all we have to do is put our feet up, enjoy the wilderness and not realize that we are walking through forests that have been cared for, or lived in, or cut down and burned and fought for. We are walking through somebody else's territory. The attitude of this project is that when you don't recognize you are an empire, then you commit the greatest atrocities. We have been criticized as to whether or not a project on extraction vilifies corporations and resource extraction and we have made it very, very clear that this project is not exclusively focused on mining. That's why we specifically called it EXTRACTION because it is an ideology. Our thesis is that it has become an empire of such grand proportion, and in the making for so long, that the colonial discourse has suppressed it under the veil of a country that is touted as being the most humanitarian on the planet. I keep reminding people that Lester B Pearson received the Nobel Peace Prize in 1967. That was 60 years ago and we are still surfing that humanitarian wave. We're not saying you should stop mining and stop developing different parts of the world. That is not the point and it is not for us to say. But Canada needs to understand what it is doing. It is exporting an empire of extraction to the world; it is showing other nations how they can displace and dispossess other indigenous peoples. What Canada exports is an extractive ideology to make other states in its own image. We show them how to do it through legal policies and techniques and instruments and technologies of segregation, in the same way we did with South Africa. Our foreign policy is entirely based on an extractive ideology. Our architecture is not in bricks and mortar. It's on paper, in the laws, the tax acts, the maps and the stats. What we're doing is developing so-called staple economies based only on raw resources, without innovation and without added value; we're simply pulling resources out of the ground and getting them into the global economy market for the most immediate return, which only serves one very slim cross-section of people in the country. The challenge of this generation is to put an end to the complacency and hypocrisy of a colonial oppression that is written into the law. Let me say it again; the Crown is the bureaucratic cloak and the imperial alibi for all these injustices, all the violence, all the attrition and all the damage that we are doing as a country. ❚
…order your copy of Issue 138 Art + Architecture, or save and subscribe (and receive the following 3 issues, including a special one on PAINT this fall).