Infinitely Unknowable x1000: Cliff Eyland's Library of Babel
2022 brings the retrospective collection from Cliff Eyland's forty-year career to Winnipeg. "Library of Babel", a comprehensive collection of Eyland's work opened at The Winnipeg Art Gallery on January 22, and continues until May this year. Robert B. Epp has curated over one thousand five-inch painting and drawings, Cliff Eyland's most recognizable pieces, alongside archival video, print, and photographs.
The retrospective is structured by writings from Eyland's early influence, Jorge Luis Borges. Borges' The Library of Babel names the library as the Universe, "unlimited but periodic". Cliff Eyland's work focuses on this definition, often explored through humour and play.
In a city which so recently felt the loss of Cliff Eyland — his passing announced May 16, 2020 — he is remembered as a courageous teacher, critic, creator, and friend. This Retrospective provides an opportunity to revel in the artist's devotion to "Keep painting", a sentiment Eyland used to close his "Letter to a Young Artist" in Border Crossings' 2015 Painting Issue. Please read Eyland's message in-full here.
Eyland appeared in numerous issues of Border Crossings, including in an interview titled "Sexy Boy" in 2003, Issue 88, available in-full here.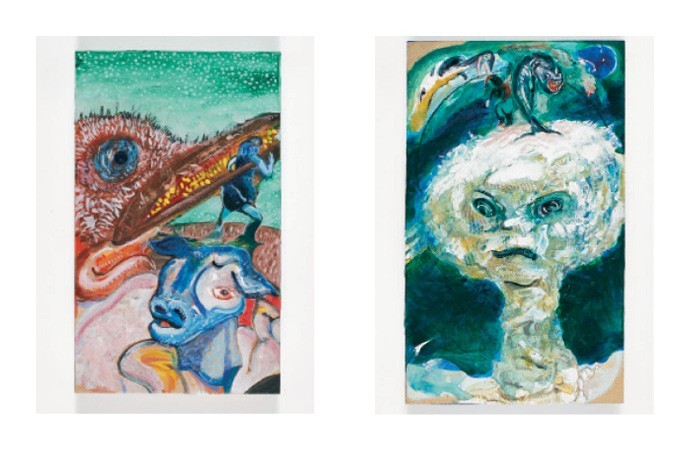 In multiple issues, Cliff's critique was welcomed in our Borderviews and Crossovers sections. Here are some of the links containing Eyland's perspective:
"Nouveau Winnipeg: Carol Phillips and Cliff Eyland". Issue No. 86, May 2003.
"Wordlessly, Bookishly: Guy Maddin & Cliff Eyland". Issue No. 116, December 2010.
"Lines of Difference: The Art of Translating Islam". Issue No. 151, September 2019.
Another measure of Cliff's immense impact on Border Crossings and the Winnipeg art world is The Border Crossings Study Centre. Commissioned in 2009 by Eyland during his time as director of Gallery One One One, the Study Center housed 132 issues (at the time) of Border Crossings. The mobile archive travelled across continents, from Saskatoon to Paris, and back. Eyland's adjacencies to the project reinforce the importance of periodicals in his work, considering the Centre served as a retrospective archive of art production, mobile and therefore endlessly available.