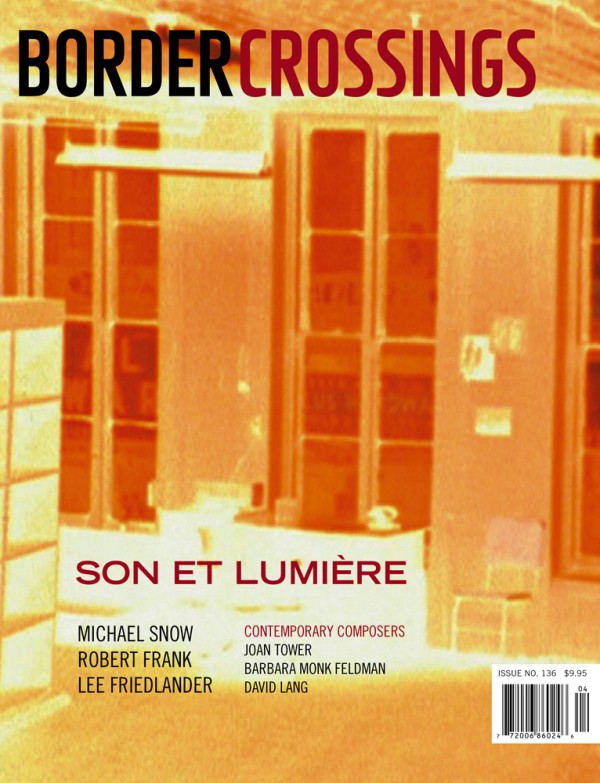 December 2015
#136
Son et Lumière – the two essential elements of expression and celebration and both are present in this issue. The light (photography) is presented by the photographs of two American masters: Robert Frank and Lee Friedlander. The sound is here in the music work of Michael Snow and the eminent contemporary composers: Joan Tower, David Lang and Barbara Monk Feldman. And meet the first postmodern multi-media communications diva, Canadian polymath Emma Gendron, 1895–1952.
Robert Frank, Michael Snow, Lee Friedlander, Joan Tower, Barbara Monk Feldman, David Lang, Emma Gendron, Ed Burtynsky, Collin Zipp, Jon Sasaki, Shary Boyle & Shuvinai Ashoona
Exhibition reviews featuring Doug Aitken, John Player, VSVSVS, "Japanese Photographers Respond to 3/11," John O'Brian's "Camera Atomica," Noam Gonick's "To Russia with Love," Gilles Hébert, "Lost Space and its Remnants: The Hole in the Wall, A Retrospective," Jon Rafman and Brad Isaacs.
Buy Now
Table of Contents
Bordernotes

Borderviews

Bordercolumn

Hearing Al Purdy

Al Purdy Was Here, directed by Brian D Johnson

Interviews

Play Back Playing Forward

A Conversation with Michael Snow

The Music That Comes in from the Cold
Exactly Like Writing A Novel: Joan Tower and the Art of Composing
Re-Composing History: An Interview with Barbara Monk Feldman
Bang on a Plan: An Interview with David Lang

Articles

Looking for Desire

The Collaborative Projects of Robert Frank and Gerhard Steidl

This Small Library of Books

The Photographs of Lee Friedlander

From Fashion to the Supernatural

Emma Gendron's Multimedia Modernism

Crossovers

"The Flesh of the World
Doug Aitken
John Player
"In the Wake: Japanese Photographers Respond to 3/11"
"Camera Atomica"
VSVSVS
Gilles Hébert
Brad Isaacs
Jon Rafman
To Russia with Love
"Lost Space and its Remnants: The Hole in the Wall, A Retrospective"