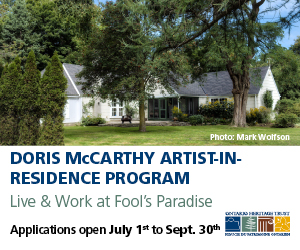 Winnipeg-based multimedia artist Collin Zipp is intrigued by the things that can happen to paintings; they can be admired, appropriated, copied and stolen. In his recent work he has concentrated on a combination of the last two—copied and stolen—the former being a response to the latter. His exhibition, called "Recent Acquisitions," included 11 copies of Poppy Flowers, a stolen van Gogh still life that he commissioned from a company in China that reproduces paintings on demand. "I have always been interested in the idea of trickery and stories of paintings gone missing" and in that regard the van Gogh was a perfect subject. "First of all, I chose it because it is a beautiful painting and secondly, I find the story behind it irresistible. Stolen once in 1977 from the Mohamed Mahmoud Khalil Museum in Cairo, it was recovered two years later in an airport in Kuwait, and when they got it back there was a rumour that it wasn't the real painting, so right off the bat it was steeped in the unknown. Then, amazingly, it was stolen again in 2010 from the same museum."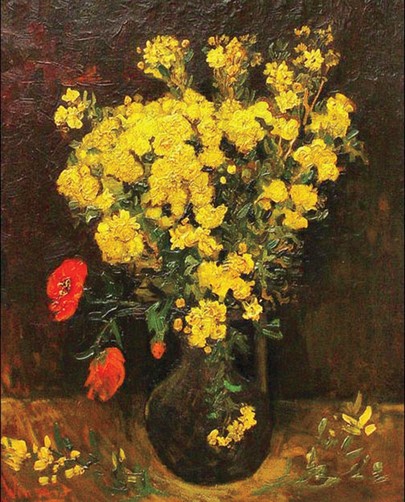 Collin Zipp, (left) Vincent van Gogh, Poppy Flowers, 1896, oil on canvas, 21 x 26 in, image from web (right and lower right) Poppy Flowers, reproduction, 2015, oil on canvas, 21 x 26 in. All images courtesy the artist.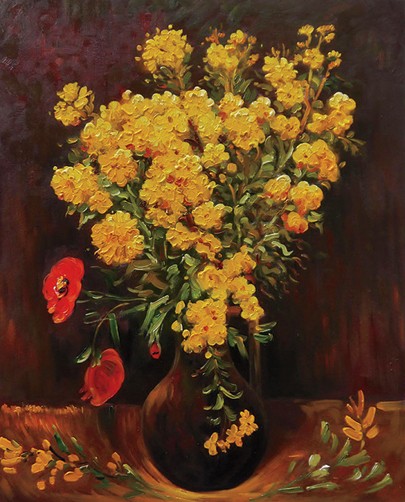 Zipp's project, then, becomes a reclamation project; a sort of surrogate art sleuthing. He finds the painting because he has copies of it made. He likes the fact that a single painter in China does the work on each order. "They sent me photos. What they do is put one painter in a studio, the canvases are up on the wall, they mix that colour and they just go for it." (The paintings are not cheap; each one costs $200 US and that doesn't include the cost of shipping; the stolen painting is valued at $50 million). His choice of 11 copies is a response to a detail of the story. When the painting was stolen a second time, that number of employees at the museum—security guards, curators, administrators—was arrested, but ended up being released due to lack of evidence.
Installation view, "Recent Acquisitions," 2014, Trianon Gallery, Lethbridge.
"Recent Acquisitions" is an ongoing conceptual project. "I think of it as a single work that has multiple parts." Already in its second iteration (his first exhibition was in Lethbridge, the second in Winnipeg this year at the Martha Street gallery), he hopes to show it as often as he can until the painting is found. He recently sent out 60 applications to various artist-run centres.
His most recent work deals with the world of dioramas, where he is able to further investigate the line between the real and the constructed. He makes c-prints of objects, animals and spaces and then begins to play with how they should be realized. "They could end up as c-prints or they could be paintings or a set; it's taking the same information and using that repetition to get the most real rendition of this object or time or idea."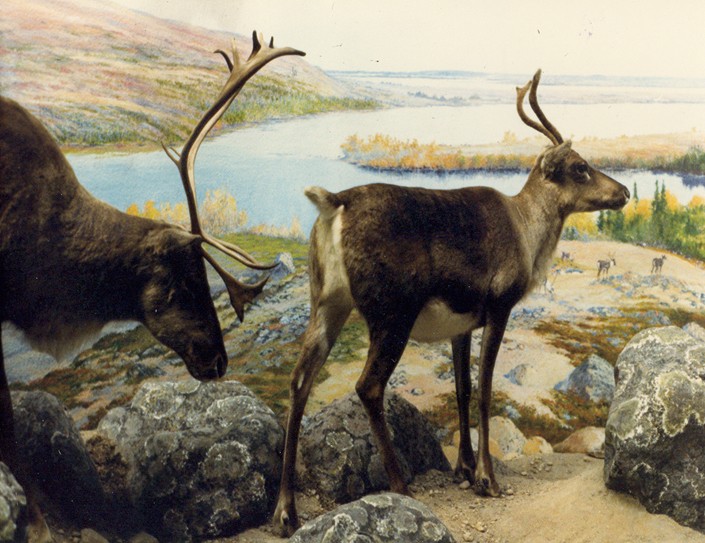 CARIBOU, 2015, C-print, 20 x 26 in.
Throughout it all, Zipp is a painter-in-waiting. "I have always wanted to paint but I never picked up a brush." Through his continuous involvement with the still-life project and out of his multimedia renderings of aspects of the diorama, he may be approaching his brush with the medium he has studiously avoided. "I'm working off the whole dichotomy of fact and fiction and truth and falsity. I like the idea of never really having a set end product in my mind. It's just going to happen. Maybe this is when I finally paint." ❚