The Synonym Revealer's Life
Neil Farber Makes Connections
Neil Farber, the Winnipeg-based artist, was a founding member of The Royal Art Lodge and remained part of the collective's various configurations from its beginnings in 1996 to its ceremonial online burial in 2008. Since then he has been engaged in an ongoing collaboration with Michael Dumontier, another Art Lodge founder, and their work together has resulted in numerous two-person exhibitions and, most recently, a nomination for the 2014 Sobey Art Award representing The Prairies and The North. In addition, within the collective structure he has maintained his own art production as a drawer, painter and sculptor.
There is a playful sense of menace in Farber's work. One blog entry includes a list of "Songs improved by replacing the word love with the word blood," and among them is "Blood Me Tender," a tune that reimagines Elvis Presley as a crooning vampire. The imminence of something that approximates tender bloodletting, and other kinds of chaos, is everywhere visible in Farber's paintings and drawings. These activities are more genial than gruesome. Things forever teeter on the edge of some anticipated occurrence, the conditions and consequences of which are not immediately apparent.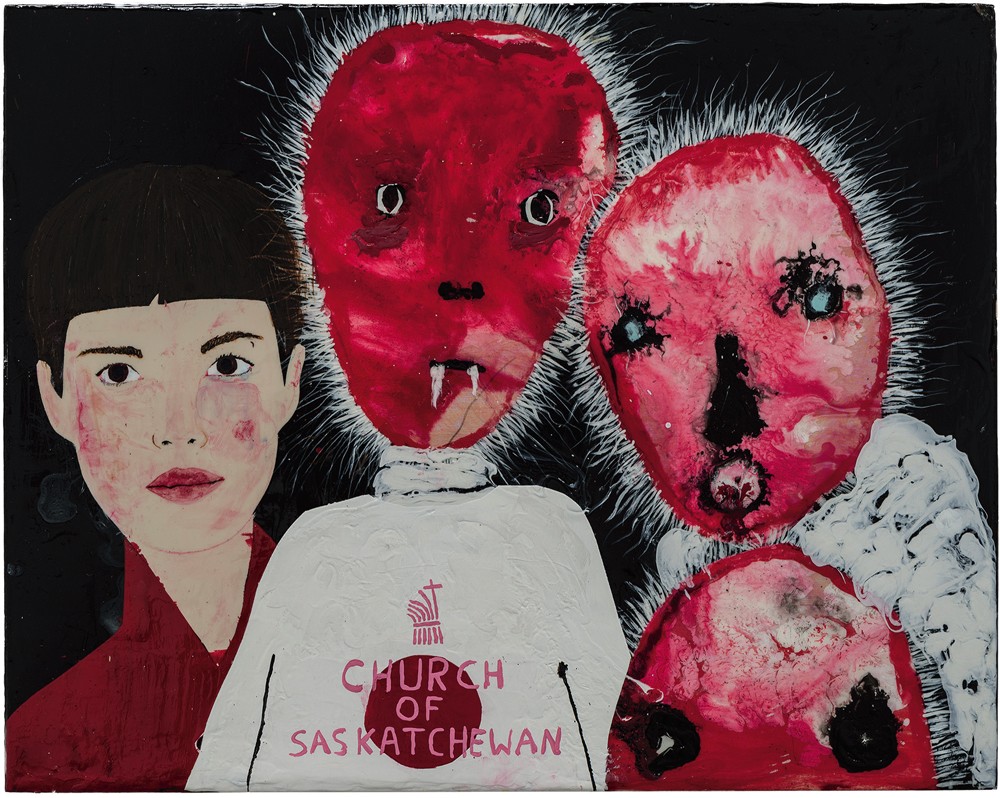 An Untitled watercolour shown at Division Gallery in Toronto in 2013, one of his "multiple figure thing" drawings, depicts this kind of unpredictable event. The composition is a confection of people, ghosts, ghouls and creatures that intersect and abut window frames, bookshelves, furniture and pieces of luggage. The whole structure is angled and topsy-turvied in such a way that it is either a world snugly fit together, or one on the brink of collapse. It's an example of what Farber, in another context, has called "endless fun." His most recent paintings, in which he is layering a pigment-infused pouring medium, are extremely beautiful. At once precious and perplexing, we are never sure what we are looking at, but always certain of the pleasure of looking. As this new work goes, so has all his work gone: no matter how odd, impish or perverse, his paintings and drawings invariably register a sense of being adored and being adoring. How this happens remains a mystery. The connections he makes individually and in his collaborative projects aren't always obvious, nor are they usually logical. But they are deliberate choices. When he picks the titles for the books painted by Michael Dumontier in the "Library," he takes the most pleasure in either "going against the image or ignoring it." Evidence of that delightful contrariness will be evident in the exhibition of finalists' art for the 2014 Sobey Art Award at the Winnipeg Art Gallery in November. In the texts for the "Typing Prints" he again works a sense of purposeful disconnection.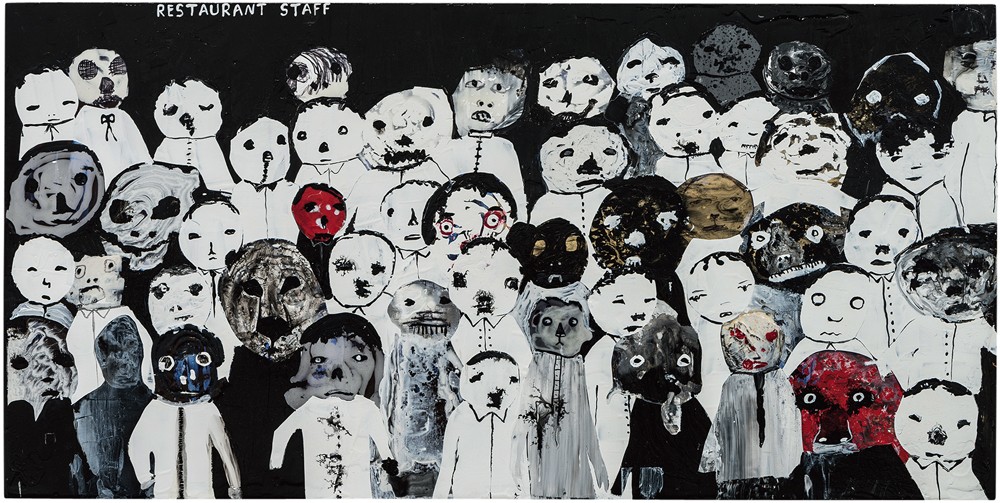 Similarly, the relationship between the titles of his drawings and paintings and their content is often elusive. A work called 15 People, 2014, shows a suspension of ghostly figures numbering in the hundreds; The Northern Lights, 2013–14, a mixed media on birch panel drawing, includes a girl, an elephant, a tarry-looking lumpen ground, a weird hummingbird-like creature and a fringed sky, everything but the natural event named in the title. His Restaurant Staff, 2010, gets that name only because they wear white shirts, but you wouldn't want a meal prepared and served by any of the cooks and waiters among this motley crew. And his Class of 2010, 2009, takes the conventional commemorative portrait in a direction unimagined in school yearbooks. These are works made and named by an artist who understands "how the brain of a frog could legitimately function inside the head of a salamander."
Farber's art is synonym-laden; for him the synonym is a prosthetic tool that extends and enlivens the thing it is close to. Synonyms both mimic and approximate their sources and Farber engages both these possibilities. He is enamoured of language and its mobility. He writes in his blog entry for February 6, 2014, that because people don't listen to the words he is saying, he may as well "say the beautiful ones I like to hear." He lists "cinnamon," "lullaby" and "symphony." The echo rings back with qualities commensurate in their poetic migrations: "synonym," "passers-by," "polyphony."
For the Sobey Art Awards, work by Neil Farber and Michael Dumontier will be on exhibition at the Winnipeg Art Gallery from November 1st, 2014 to January 18 th, 2015.
To read the interview with Neil Farber, order Issue 131 or subscribe.