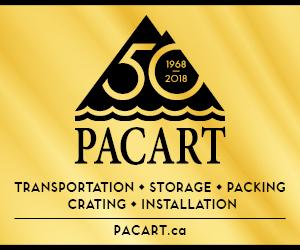 June Leaf is the artful dodger, weaving in and out of the world, moving like a dancer, skirting fixed endings, always lifting and pointing toward the light. In the conversation which follows she talked about her always knowing she would be an artist, having achieved two particular things at the age of seven—a wonderful classroom drawing of the story of Joseph and his brothers and the recognition that while her life was full of light and wonderment, the world would not necessarily receive her in that way. Eager to share this favourite story of Joseph and its remarkable appearance on her drawing paper she raised her hand and moved to the front of the class where the teacher gave her permission to leave the room and use the toilet. June Leaf told us, "I stood there—I felt I was holding a light—and I looked at her and I looked at the drawing and I thought, 'Oh that's how it is.' You see something and then you spend your life getting other people to see it. I wasn't discouraged at all. I just saw how it works."
June Leaf, Woman Carrying Infant Upstairs, 2011, acrylic on paper on tinplate, 11 x 12.5 inches. Courtesy the artist. Photograph: Alice Attie.
June Leaf has made many fine small sculptures in tin and wire, some set on treadle sewing machines. They have a wonderful sense of play and implementation and a determination in their resolute occupation of space. These hand-operated mechanical sculptures are oddly coiled to action even when their activation results in nothing more aggressive than the issuing of a soap bubble or the rotation of a small, off-figured wheel. Like a Calder circus without the animals or Jean Tinguely's fantastical, jerry-rigged and explosive machines, June Leaf's small sculptures are themselves generatively explosive, without the immolation. Like plucked lyres, the tin and wire pieces virtually hum with energy. They are poignant metal devices set to capture and then break your heart. (In Mabou, Nova Scotia where she and her husband Robert Frank spend many months each year, she has constructed a large mended heart of 14 metal pieces which hangs by two hooks from an iron rod frame and swings and quietly sounds in the wind.)
Woman Drawing Man, 2014, acrylic on tinplate, 20 x 21 x 27 inches. Courtesy the artist. Photograph: Alice Attie.
There is a painting—a work in acrylic on paper on tinplate titled Woman Carrying Infant Upstairs, from 2011. At only 11 by 12.5 inches it is at the same time capacious enough to represent Leaf's sustained topic of seeking an ascension toward the light. A figure mounts a staircase. She carries a loosely rendered baby, its arm falling limply behind it in the unguarded gesture of complete surrender exclusive to sleeping children. Consistent with Leaf's open-ended narratives, the stairway is safe against a wall or out in open space but in either setting the palette is celestial: sky blue and golden light. The figures could be read as sepia, a pigment of iron oxide or Joseph Beuys's hare's blood. Whatever their metaphoric source, her colours are air and light. With infinite care and stealth the woman climbs the deep steps, placing her feet with the grace and precision of a dancer. The artist does describe herself so, saying she thinks like a dancer and that dancing and drawing are movements in space, both a choreography. When you look at the work Woman Carrying Infant you note the deep arch and high instep of the woman's left foot and Leaf says, "That's how it is to draw. Foot down, foot drop."
Horses are a frequent subject in Leaf's work—rendered in three dimensions or two because, she says, for a woman and the little girl who precedes her, the horse is "the prophecy of her power." There is a sheet which the artist has identified as Studies for Rider and I think of 16th and 17th century Italian drawings by Carracci and Cantarini, for example, showing both the loose idea of gesture and form and the telling credible detail that gives conviction to a later, fully worked piece. It's a quality of latency and immanence that June Leaf's drawings also have.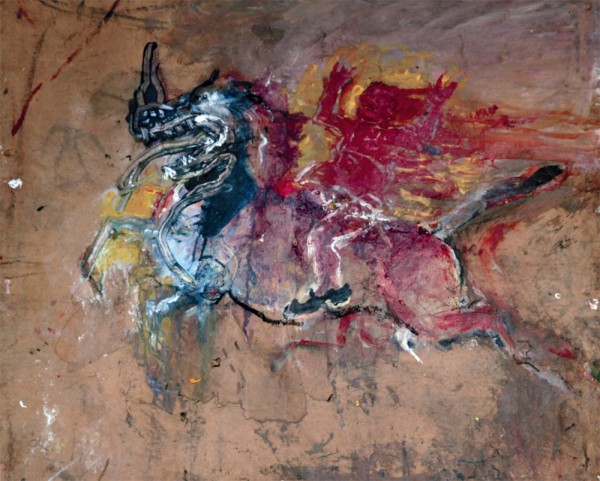 Girl Riding Dragon, 2006, paper on tin, 31 x 34 inches. Courtesy the artist. Photograph: Alice Attie.
The newest work, Woman Drawing Man, 2014, is sculpture, painting and drawing, as designated in the title. The slightly concave sheet of tinplate resting on a floor of the same material creates a stage set or a room or an enclosed world. It is sufficient. The man has been brought into being in acrylic—the brush marks at once gestural and deliberate. Both figures are naked. He stands with his arms lifted outward away from his body, looking down as the woman, a three-dimensional tin sculpture—a drawing in space— holds the pencil that is his maker. She kneels on the floor in front of him level with his thighs, her pencil lifted to the area of his groin. The work contains light. It's there in his quiet containment and interest as he looks down at the figure in front of him. It's in the transparency of the acrylic painted on the silvery tin surface; it's there in her concentrated application to the task of artist creator. June Leaf has always been a storyteller. She says she waits for the time in a day when the hand and the heart work together. This is evident in Woman Drawing Man which is also a story—a love story telling the connectedness of these two figures who are here a unity and a globe.
Detail, Man Cranking Machine, 2010-11, wood, wires and gears on treadle sewing machine, 29 x 26 x 19 inches. Courtesy the artist. Photograph: Alice Attie.
The interview which follows was conducted, not inappropriately, on February 14, 2014 in June Leaf's New York studio. We began the conversation with her recent work.
BORDER CROSSINGS: What is this new theme you're talking about?
JUNE LEAF: It came from a drawing of a woman washing a man. That's the origin of all this work. In this case she's drawing him. It took me eight months to make that figure and once I did it, everything broke. She really goes with him. What I was waiting for was to know the character and then I could draw. It was so hard technically because I'm working with very resistant material. But I'm very happy because finally I was able to give life to her and then I was free to draw her story. That's what it's all about. I only made a few drawings. I just made her head yesterday. I don't know if you can see the profile but she is like a seamstress making the man. You see the brush is like a dart; it shoots from the mind. In other words, I don't entirely know yet what she is doing. She is either sending the dart out of her mind, or she is drawing, or she is washing. I like the little penis. It is beyond sex.
There's also a child on the back of the centauress. I had never made a child before and it was a big shock to make one.
The child came unbidden? It was an immaculate conception. I had the man and the woman and all of a sudden there was a baby. It changed the whole view of what I'm doing because before that there was just the two of them and now with the baby, it's the world. I'm very happy about that. ** There is something you are able to get in the gesture that is unique.** It's wonderment. It's all about being alive.
I want to pick up for a minute on this question of working with material. Did you really study auto mechanics? I took a course on how an engine works. I did it because I had to learn to fix my car in Mabou in case we were stuck. Robert had a job in California and they had a course in how to take care of a car, so I took it but I didn't understand anything. It just made me love machinery more. Actually, that was when I was making the "Women Monument" series and I decided they were too big, so I made little ones. I decided I was going to do simple mechanics, one movement, either pushing or turning or pumping. Those are the three things I know how to do. It's a very simple repertoire.
To read Robert Enright and Meeka Walsh's full interview with June Leaf, purchase your copy of Issue 130 here.