We hope you had a fantastic summer! We are writing today to introduce you to Border Crossings magazine, not because we are a new arts magazine, but because IF you aren't currently a subscriber, we think you SHOULD be.
Border Crossings is a quarterly cultural magazine edited and published in Winnipeg. A local, international magazine, it is now in its 36th year of continuous publication. Edited by Meeka Walsh, it investigates contemporary culture through a combination of articles, reviews, interviews and portfolios of photographs and drawings.
"Border Crossings is a skin-tingling collection of beautiful images and galvanizing ideas—every issue is just so drinkably fresh!" —Guy Maddin, Filmmaker, Winnipeg
More curated than edited, Border Crossings occupies a vital place in the geographic centre of the North American continent. The magazine is committed to Northrop Frye's sense that the centre is where you are, and so we take Winnipeg as the place from which we begin looking at the culture and art of the world.
Things happen quickly and it's not always easy to get a handle on what's going on, or to figure out who's doing what and where they're doing it. That's why readers have come to rely on Border Crossings; in the words of the Globe & Mail, it's "Canada's only arts magazine devoted to the next great thing in all the arts".
Border Crossings does what our name says. We cross the borders where one art form moves into another; where art and architecture intersect; where video reflects film; where painting continues its talk with photography; where fiction and poetry work their continual reinvention of language. We are interested in the places where one art meets another; we like being between things, and we find the edge when the art we're looking at takes us there.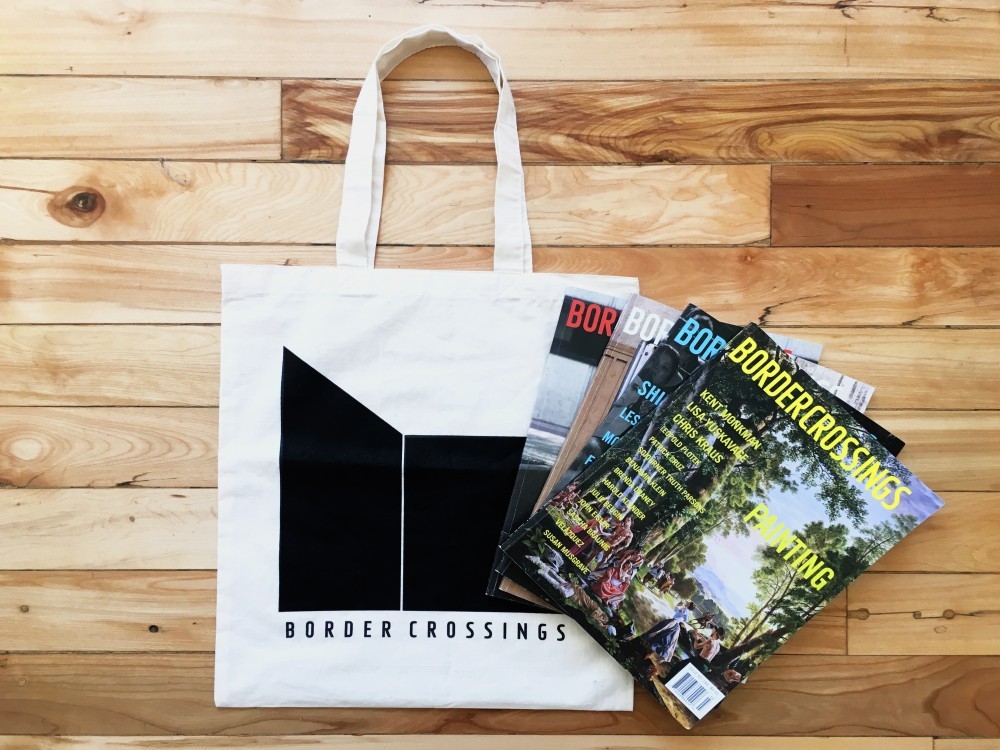 Border Crossings is recognized for the quality and clarity of its criticism and for the richness and insight of its interviews. Meeka Walsh's editorials are meditations that take the form of condensed essays on language, ideas, books, places and architectures. From the beginning, the magazine focused on the interview as a way of both informing and delighting our readers. The interviews, which consistently run 15 pages in the magazine and include a framing introduction, are conducted by Robert Enright and Meeka Walsh, and are regularly reprinted in artists' monographs and catalogues. Each issue also contains a lengthy review section, in which exhibitions, books, performances and events from around the world are treated to significant reviews.
Over the last 36 years, Border Crossings has published hundreds of in-depth interviews with a range of artists unequalled in any other contemporary art magazine; a partial list includes Dan Graham, Guy Maddin, Lynda Benglis, Rebecca Belmore, Jeff Wall, Nancy Spero, Marcel Dzama, Carolee Schneemann, Michael Snow, Lisa Yuskavage, Chris Kraus, Robert Frank, Charline von Heyl, Mike Nelson, Gillian Wearing, Steve Martin, Rodney Graham, Yoko Ono, Brian Jungen, John Waters, Mika Rottenberg, Tom Sachs, Wangechi Mutu, Harmony Korine, Sarah Anne Johnson, David Altmejd, Dana Schutz, Geoffrey Farmer, Neil Farber, Shirin Neshat, and very many others.
Consider opening the fall season with a brand new subscription to Border Crossings magazine! And, if you are already a subscriber, let us say a very sincere—Thank you!!
Subscribe now and receive a beautiful Border Crossings screen-printed tote, available in limited edition.