Vic Cicansky
What is a gardener's universe? Are its constellations made up of clustered globes of tomatoes and eggplants? Do black holes of compost suck up the sun's radiant energy and all manner of decomposing plant matter, concentrating it in their loamy depths?
This well describes the universe of Regina sculptor Victor Cicansky, who has spent his career proposing cabbages, armchairs, pantries, shacks and the working class as the figures around which our lives revolve. "The Gardener's Universe," curated by MacKenzie Art Gallery head curator Timothy Long and ceramics scholar Julia Krueger, is a cornucopia of earthy delights. Bringing together more than 100 objects created over 50 years, this retrospective traces Cicansky's aesthetic from the wonky, exuberant California funk vernacular he adopted while attending graduate school at UC Davis in the 1970s, to its refined expression in ceramic and bronze. His evolving aesthetic reflects his growing awareness of the fragility of the soil, the delicate dance of blossom and pollinator and the precarity of climate.
The lumpiness of funk gave way to exaggerated detail and sumptuous glazes in the 1980s and beyond, as he abandoned figures for a cast of vegetables. The ceramic sealers were a visual and textural feast for the senses, with their walls of knobbed ribs of corn, slumped orbs of Roma tomatoes, matted shreds of sauerkraut, which Cicansky presented as singular objects or grouped in root cellar and pantry shelf installations. The artist's lavish details exalt these life-giving veggies, each jar crowned by a sealer ring of gold, referencing the gold leaf halos that adorned the Romanian icons of the artist's childhood.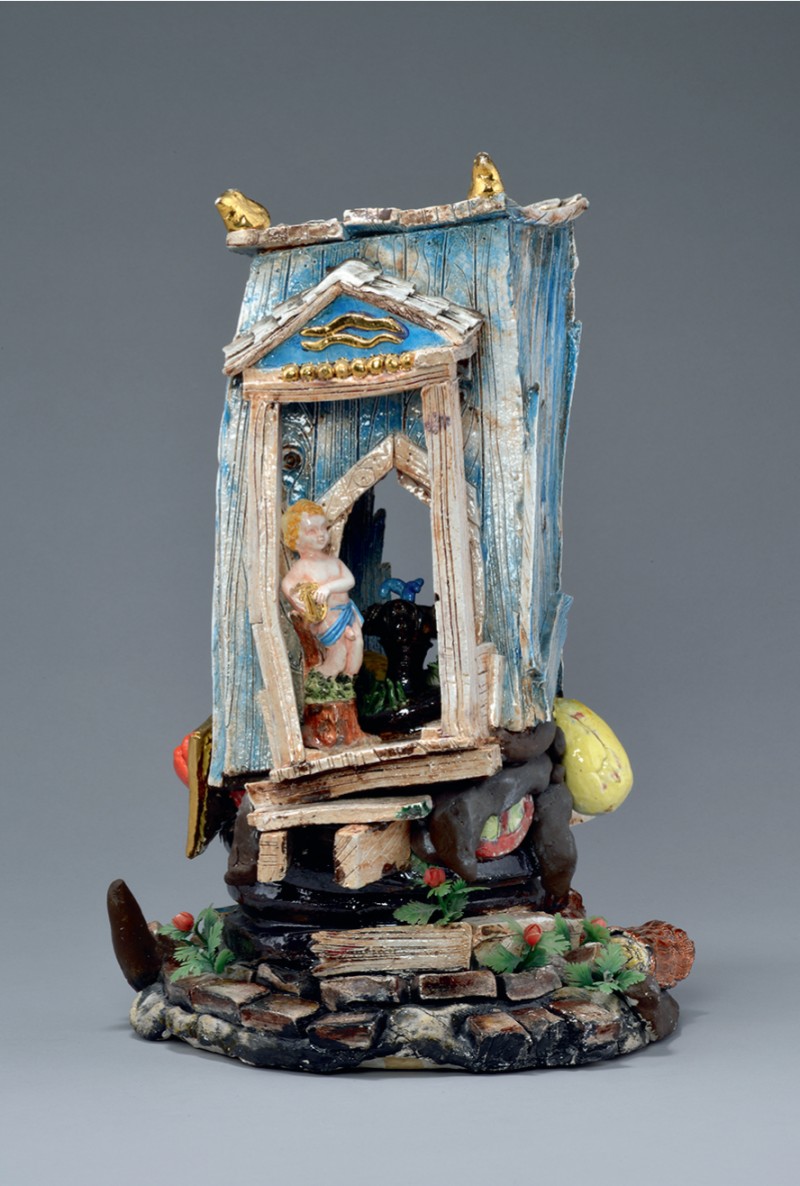 From grade nine dropout and teenaged outhouse builder, Cicansky made the leap to fine arts graduate student and in the process reaffirmed his commitment to the land and culture that had birthed him. He is unabashed in acknowledging that his practice is firmly rooted in the front-yard gardens of Garlic Flats, a wedge of land in Regina's Germantown hemmed in by train tracks on two sides. This Eastern European enclave of hand-built shacks, without running water or electricity, is the site of the primal scene of the artist's practice. At the opening of "The Gardener's Universe," he shared a formative memory with the hordes of well-wishers—of his Romanian grandmother scooping up a handful of earth in the spring and bringing it to her nose, inhaling deeply, assessing if the ground was ready for planting.
The coarse earthiness of his early, small-scale ceramic dioramas nearly eclipses the rest of this cosmos, crammed with many worlds' worth of champion vegetables, overstuffed armchairs, bags of clothes, gnarled trees heavy with unlikely fruit and glass sealers replicated in ceramic.
The subject of many of these pieces is that most taboo and reprobate of structures: the outhouse. It is reimagined as a tiny temple in Cicansky's 1973 Singing the Joys of an Agrarian Society; a golden-haired putto plucking a lute hovers in the doorway of a blue glazed ceramic outhouse perched atop a tower of earthenware turds, vegetables and logs, peppered with plastic flowers. A celebration of the disdained as, ultimately, desirable.
Another outhouse sculpture, redpainted and ramshackle, shelters an allegorical peepshow: a jackass pokes its head out of a hole in the biffy wall, while a laughing woman, nude except for a pair of utilitarian boots, embraces a giant pickle.
A Mountie in red serge, hand in his pants, emerges from another haphazardly constructed privy. The shingled roof becomes the rim of an oversized mug—imagine swigging your morning coffee from this rim!
This transgressive humour about waste is also present in 1974's This is the fountain you've been looking for all your life complete with mosquito bites. Constructed of clay mixed with fibreglass, Cicansky's medium of choice at this time, the blue and yellow bowl of the fountain is balanced on a sturdy tree stump with a spigot embedded in its side. It's as if Cicansky has decided to flush his entire body of work down the toilet: familiar icons such as a red VW bus, a naked pin-up girl, a shack meagrely furnished with a striped armchair and an old tire all circle the drain. Reappearing throughout the years, the armchair is always striped, Cicansky's wry joke about the abstract painting practices that dominated art schools at the time.
Moving from outhouses to shanties, Cicansky depicts the unwholesome pleasures of the poor. A man slumbers under a patchwork quilt and the watchful eye of an angel statue while his dream, Fragonard's The Happy Accidents of the Swing (Les Hasards heureux de l'escarpolette), is glazed upon the hovel's wall. A buffalo skull, some cabbages and jugs of hooch complete this picture, titled Cabbage Man with a Fading Dream—a meagre and lonely existence in which the Cabbage Man's only joy is the phantasm of rococo perversion. Another diorama, Moose Jaw Woman, overflows with ribald visual jokes. Crumbling walls allow viewers to peep at a woman, a cigar clamped between her curled lips, in a bathtub. Her nipples poke through the floating cap of suds while her hands lurk beneath the water, the reason for her grin.
Cicansky expressed a more ennobled vision of the proletariat in two public sculpture commissions in 1978 and 1981. The raw terracott maquettes for these huge murals, showing homely farmers with their bounty piled around them, alongside friezes of bakers, cashiers and construction workers surrounded by plates of French fries and overflowing ashtrays, ring an entire room in the gallery. This change in tone suggests that Cicansky, upon his return from California, had embraced Saskatchewan's socialist values. Indeed, he credits the establishment of the Saskatchewan Arts Board, the first granting agency for the arts in the country, for making Saskatchewan such fertile ground for ceramicists, including his cohorts David Gilhooly, Jack Sures, Marilyn Levine and Joe Fafard.
If Cicansky's garden is not quite a universe, it is undoubtedly his world. In conversation, and in his art production, it is the foremost topic. The artist filters Marxist ideas such as the alienation of people from the means of production through the lens of the garden: "If you ask kids where carrots come from, they answer that they come from plastic bags." Cicansky, however, understands where he comes from: "Running barefoot in the East End gumbo, it squeezes up between your toes, and then you realize that you can make something from it." His artwork is a tribute to the dirt from which we all spring.
There is one particular jar in the larder that strikes me as especially important to preserve for all time. It sits on a plinth among pickled eggs spiked with red peppers and a sealer full of beaver-gnawed sticks labelled "log jam." A yellowed curling banner affixed to a large pickle jar, its sides pitted and white, names it "snow of '82." Cicansky offers up an environmental warning in the guise of nostalgic ephemera: may need to preserve snow, to lay it away for the winter, more than we realize. ❚
"Victor Cicansky: The Gardener's Universe" was exhibited at the MacKenzie Art Gallery, Regina, from June 8 to October 23, 2019.
Sandee Moore is an artist and writer. She is a sessional lecturer at the University of Regina and produces a biweekly visual arts program for CJTR 91.3 FM Regina Community Radio, which is also available as a podcast at soundcloud.com/realpieceofart.