Susan Rothenberg
Two days after returning home from New York, I attended a chamber music concert featuring violinist James Ehnes, accompanied on piano by Andrew Armstrong. The evening program was drawn from Beethoven's 10 violin sonatas. For an encore they played an excerpt from the composer's Violin Sonata No. 5, Op. 24, more widely known as the "Spring Sonata." As I sat there listening to it, a mental image of Susan Rothenberg's painting Stone Angel came to mind, but in full disclosure, it was more than just an image, it was both a sensory and non-sensorial conflation of the music, and the paradoxically remote yet intimate sensibilities of this acclaimed American's artwork.
Reciting an anecdotal reflection on art isn't really out of line, since art, good art certainly, returns to you later, as it percolates in the mind and emotions well after having been seen or experienced. Susan Rothenberg's recent exhibition at Sperone Westwater in New York, her 12th at this gallery, featured new paintings and works on paper. Stone Angel, 2016–19, is a mid-size vertical painting whose central figure appears to be an Arab man, wearing a near full-length hooded overgarment—stoic and stationary, not unlike a stone statue. The colour composition is executed primarily in an off-white and light warm grey palette, loosely brushed over a thin, desaturated, rose-coloured ground, which infuses the composition with an ethereal glow. This transcendental light is contrasted with the vigorous gestural application and materiality of impasto paint at the figure's base, and the rendering of the under-shadow of the garment's hood. In the upper left corner is a delicate red-berried sprig from an adjacent bush or tree that appears, by imaginative association, as if to have been rather unashamedly plucked from a Puvis de Chavannes painting. A spring sonatina?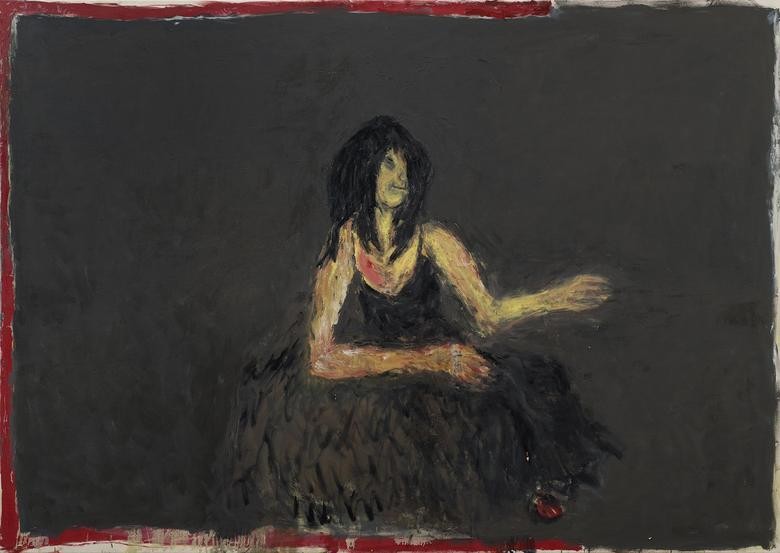 Stone Angel is, for want of a better analogy, the existential heart of the exhibition, inflecting all other drawings and paintings with its calm, self-contained, introspective yet quietly assertive symbolic mystery. And mysterious it is, as are a number of other works in the show, each seeming to embody a kind of catharsis that characterizes the subject, the expressive tenor of the composition and, ultimately, the audience's experience. How does she achieve this? In part, it's due to the artist's orchestration of the material and optical values of the paintings and drawings. Rothenberg has a tendency, guided by both instinct and a prolonged critical analysis, to rework her compositions, often extensively, editing out, adding changes in colour, form and line contours, bringing about an unfinished resolution to the artworks' meaning(s) and outward appearance. The results, purely from a pictorial standpoint, are often an abundance of pentimenti in varying degrees of visibility and erasure that articulate the principal subject and, by extension, the aesthetic and meaning of the entire composition. Buddha Monk, 2018–19, a mid-size, nearly square oil on canvas, is a case in point, as here we see a seated monkey-like figure situated in a yellowish colour field appearing to be engaged in a ritualistic sequence of multiple hand, arm, leg and foot movements, all individually described as simultaneous bodily actions.
Buddha Monk was seen along with a cast of characters in the exhibition that included rats, birds, a tree and people, of course—some full figures, others simply arms and hands, some holding circular bands or hoops. Hands are a prominent motif in Rothenberg's figurative oeuvre, and this show was no exception. All the works were, in the main, illustrative of her signature figure-ground contrast, a decontextualization of the primary visual subject, which I should say doesn't, at least pictorially, cast it adrift. On the contrary, it's actually more firmly entrenched in the compositional field. But knowing that our reading of her work is housed in speculation and inconclusiveness becomes part of the pleasure of the process. This, operating in tandem with tracking the artist's improvisational mark making, drawing, the scrappiness of her studio practice as evidenced in the gritty surfaces of her canvases and paper works, as well as her decisive approach to colour admixtures and their applications, truly makes for an entrancing experience. Yes, her work is foremost about painting and image making. It's a self-reflexive art founded in chance, accident, experiments, insights and experience both lived and imagined. Once encountered, the work produces a form of knowledge transfer that prompts new ways of seeing and thinking about art, about life, about the very contexts of our existence.
The decontextualized—or, more accurately, the recontextualizing— subject is no more evident than in the painting Pianist Playing Schubert, from 2019. This was the largest work in the show, at 64 x 91 inches. At a glance the painting raises simple questions: Where is the piano? Who is the pianist? The central dark-haired female figure, arms outstretched as if she could be playing a piano (but there is no piano), wears an elegant party dress, or hoop skirt, which has the appearance of being vintage Spanish or a Spanish-influenced design. Contextualizing this subject is, not unlike other subjects in Rothenberg's work, an open-ended dialectical process between audience and artwork, reliant on conjecture, the linguistic imaginary and the ever present state of nonassociative abstraction. By the latter I mean the material surface to include those areas that do not surrender an easy representational reading, such as the floating dark chocolate brown/black field in which the female subject is located, and the red border at three edges of the canvas. The dark colour field really appears to be floating, as it is set slightly in from the entire canvas perimeter and there would be, from a spatial standpoint, room in front of the woman for a piano.
To better understand this painting, visitors to the exhibition were fortunate to have the artist's graphite on paper sketch titled Study, 2019, located on an adjacent wall to the right. In the study the woman is playing a piano, the keys at least are quite evident; and the pianist is clearly in a state of musical reverie; the multiple pencil lines that transcribe her physicality seem to almost pull the music from the surrounding space into her material being to become one and the same. Therein lies a clue to at least some of the mystery, as we now recognize that the woman in the painting is in a state of rapture and that the expressive centre of this painting resides in that realization, independent of a piano. Susan Rothenberg's exhibitions never disappoint. Admirers of her work will be pleased to learn that she is having a major solo exhibition at the Hall Art Foundation | Schloss Derneburg Museum, in Holle, Germany. This exhibition opens in Spring 2021, and will be up for one year.
It is with great sadness that I must conclude this review with the acknowledgement that Susan Rothenberg passed away on May 18. She was a wonderful person, and a pioneering, innovative and influential artist. Her artistic legacy of deeply felt and wholly original paintings, drawings and prints will inspire art audiences and artists for evermore.
"Susan Rothenberg" was exhibited at Sperone Westwater, New York, from January 9 to February 29, 2020.
Gary Pearson is an artist and professor emeritus at UBC Okanagan, in Kelowna, BC.