Micah Lexier
Winnipeg-born Micah Lexier is an irrepressibly ambitious, ubiquitous presence in Toronto not only for his frequent exhibitions, but also for his curation, design and collaborative projects. Addressing this discursive career is "One, and Two, and More Than Two," whose title indicates the exhibition's three sections: "One," three independent works by Lexier; "Two," three works in which Lexier collaborated with three different writers; and "More than Two," an exhibition of 221 works by 101 Toronto artists that Lexier curated. "One" and "Two" form a survey exhibition curated by the new Power Plant director, Gaëtane Verna, which spans Lexier's 30-plus year career. Lexier's curated exhibition stresses but does not exclusively show emerging artists' work; in fact, the earliest work by the oldest exhibited artist, Michael Snow, 84, dates to 1961.
Those expecting a thesis on Toronto art from "More than Two" will be disappointed. Theory does not steer Lexier's picks. While he has grouped the exhibit's daunting inventory, which fills 30 custom-made vitrines, into seven straightforward categories including "process," "material," "shape," and "sticks," what best unites the work are the über-minimalist basic lines, dots, rectangles and circles. Also connecting the work is their sublimated colour: only the odd primary and green pierce an otherwise black, grey, beige and white scheme. The collective result is as evocative of Lexier's pared-down oeuvre as it is of other post-minimal and post-conceptual art that has filled many Toronto galleries in the past decade. Characteristic is Liza Eurich's Apart from Coming Apart, 2011, in which electrical tape forms a black abstract stripe over the two concrete bricks to which it adheres.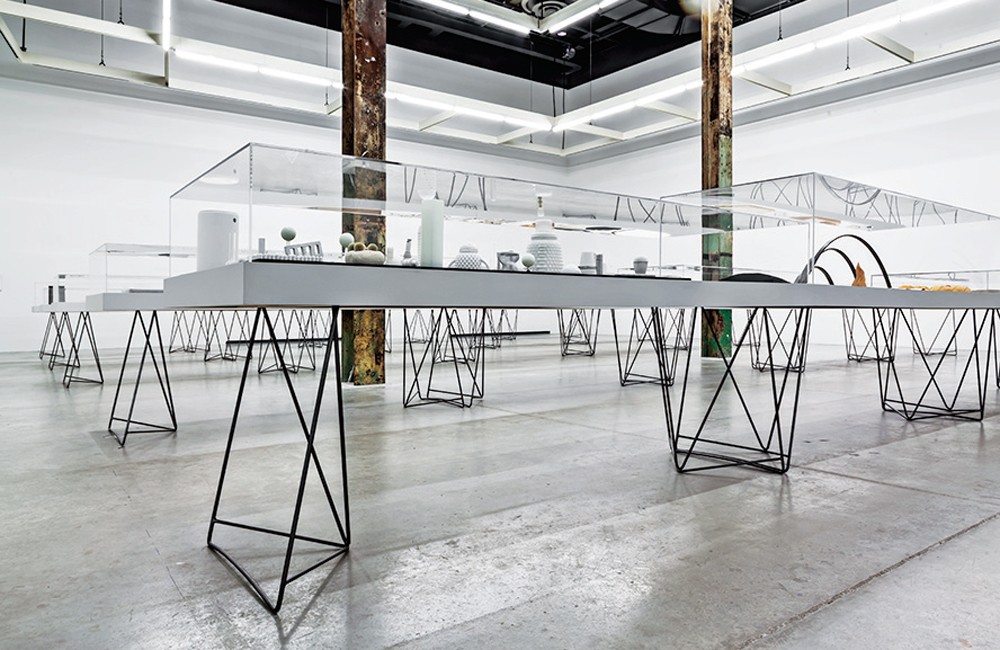 Beyond visual similarity, you may notice a significant conceptual linkage to the exhibited work that Lexier highlights in a short essay for the exhibition catalogue he designed: "the idea of becoming attuned to what a certain material or artwork wants to be." He has highlighted the transformative moment when material, form and process— not the artist—naturally lead an artwork from nascent concept to completion. As the subtitle of "More Than Two" implies: "Let it Make Itself." Notable amongst those works representing this sub-theme is White Things on a Black Thing, 2013, by VSVSVS (a seven-person art collective), a tableau of 40-some everyday objects, the majority altered to abstraction by, say, attaching a tiny ball to the tip of a funnel. They stress the artists' attunement to how an ordinary object can inspire compelling sculpture.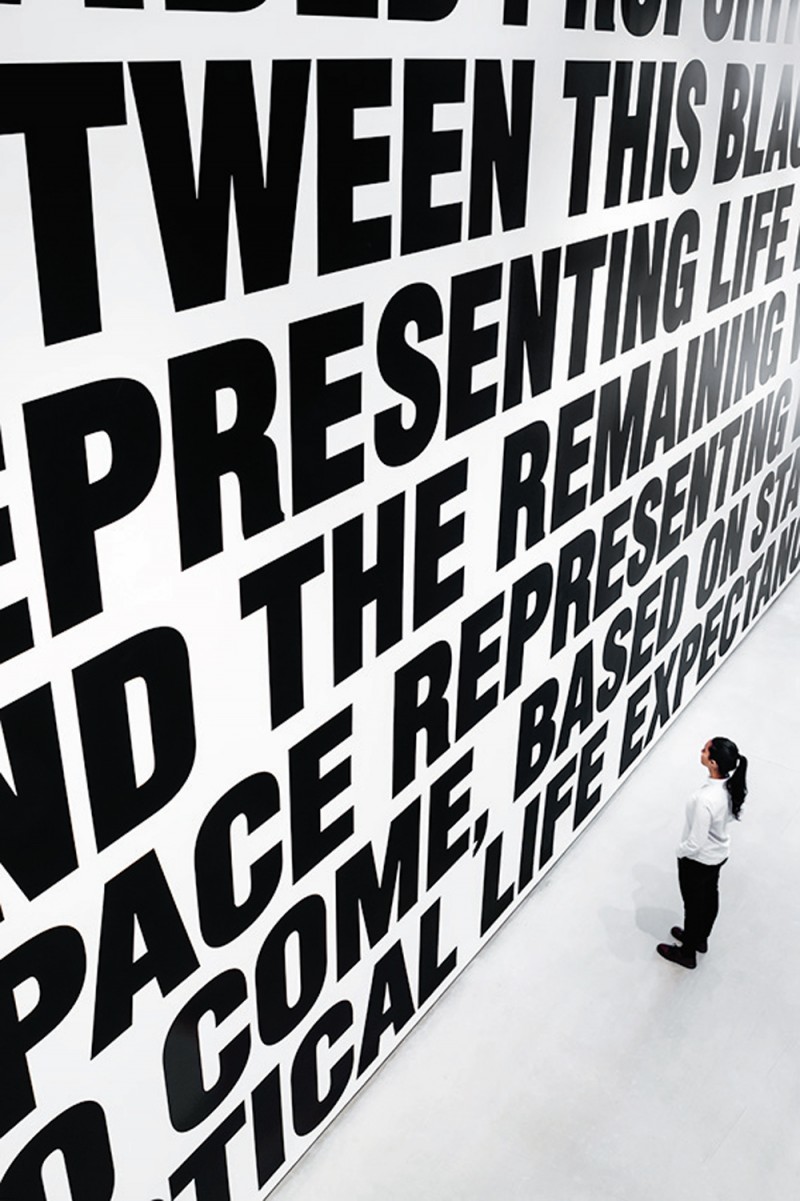 The projected video, This One, That One, 2013, reiterates those moments when simple forms become art. Close-ups of Lexier's hands show him arranging and rearranging objects—colourful marbles and white-bordered, green cardboard rectangles, for example—in an ongoing process of making and unmaking tiny ephemeral artworks. Working as a Drawing, 2012, shares this emphasis of process over end product. A large-scale installation of 470 of Lexier's letter-sized working sketches and plans, spanning over 30 years, stands bereft of any finished pieces to complement it. Many sketches are what those familiar with Lexier's work will recognize as motifs—arrows, numbers and, indeed, vitrines. But those unfamiliar with his work will experience little guidance or insight from simple diagrams that may, for instance, show where holes should be drilled in a series of beams. Much more transparent, Self-Portrait as a Wall Text, 1998/2013, bears an eponymous title matching the work's massive wall-covering text (24' x 40'), which explains that the amount of wall space the black type covers indicates Lexier's current age in proportion to the surrounding white wall space, which represents the estimated years he has left to live based on average life expectancy. Here, time, space and numbers form the basis of self-portraiture.
Numerical structure is likewise a key premise of Lexier's three collaborations. Consider Two Equal Texts, 2007: Lexier's text on the left side recounts his asking the poet Christian Bök to produce a text displayed on the right rearranging the left's letters and punctuation marks. For 1334 Words for 1334 Students, 2008, the enrolment at Mississauga's Cawthra Park Secondary School determines the length of a story by writer Colm Tóibín. The third is the striking I am the Coin, 2010, with its 20 thousand shimmering custom-minted coins. Each coin is imprinted with an alphabet letter forming novelist Derek McCormack's story, which is written from the viewpoint of an included coin. This omniscient narrator notes Lexier's childhood obsession with coin collecting and describes the piece's complex grid configuration. Reading the story by interacting with the installation is more chore than engaging challenge though: it must be read letter by letter, beginning on a coin halfway down the work.
Again, "One, and Two, and More Than Two" suffers periodic impenetrability. Elsewhere though, it raises crucial concerns that many if not all artists ponder: the artist's surrender to material, the significance of process, the use of structure to evince meaning and the fruits of collaboration. This is, then, more an artist's exhibition than an exhibition of art.
_"One, and Two, and More Than Two" was exhibited at The Power Plant, Toronto, from September 21 to January 14, 2013.
Earl Miller is an independent art writer and curator residing in Toronto._