Georg Baselitz
Two years ago the Gallerie dell'Accademia initiated a program—coinciding with each Venice Biennale—of showing modern art in its newly refurbished ground floor spaces. The idea is to examine the influence of traditional techniques on current practices. First came a widely acclaimed Philip Guston show, now Georg Baselitz follows.
I begin with a problem of presentation. There's little wall text or explanation, which contrasts strongly with the generally excellent work-by-work material on the permanent collection. So, to be fully informed, you must spend €135 ($200) on a catalogue hefty enough to challenge the flying visitor's luggage allowance. There isn't a "short guide," and you can't (as many galleries encourage) read the catalogue without buying it. There is a short film of Baselitz talking, but it was made in 2017 for another exhibition and doesn't relate to this show: Italy isn't mentioned.
This exhibition is not a survey show. There are four intimate rooms of drawings and small early paintings ("chamber music," says the show's curator, art historian Kosme de Barañano—I obtained a catalogue PDF from the sponsoring Gagosian Gallery) and three rooms of bigger paintings ("symphonies"), which home in on particular periods and concerns. Baselitz—who in Renaissance style changed his name from Hans-Georg Brono Kern in 1961 to become known by his place of origin, Deutschbaselitz—has spent plenty of time in Italy. He had residencies in the 1960s, and has had a studio at Imperia since 1987. But the impact on his art struck me as limited, having the curators stretch to maximize its significance. If the aim is to demonstrate in the context of a great collection of Italian Renaissance art that Baselitz—normally seen as influenced by artists such as Munch, de Kooning, Guston and the German expressionists—is at the same time taking forward lessons from Italy's heritage, the evidence presented is minimal.
One room contains drawings after old masters, some from Baselitz's late teens—unsurprisingly including some Italians; most from the mannerists: Pontormo, Rosso, Parmigianino. These paraphrases indicate interest but not a major engagement flowing directly into the work as tribute in the way of, say, Bacon with van Gogh. And none of the artists involved are held by the Accademia's collection. Contrast that with the current show of Sean Scully at London's National Gallery, where the Turner that inspired him is shown alongside related work.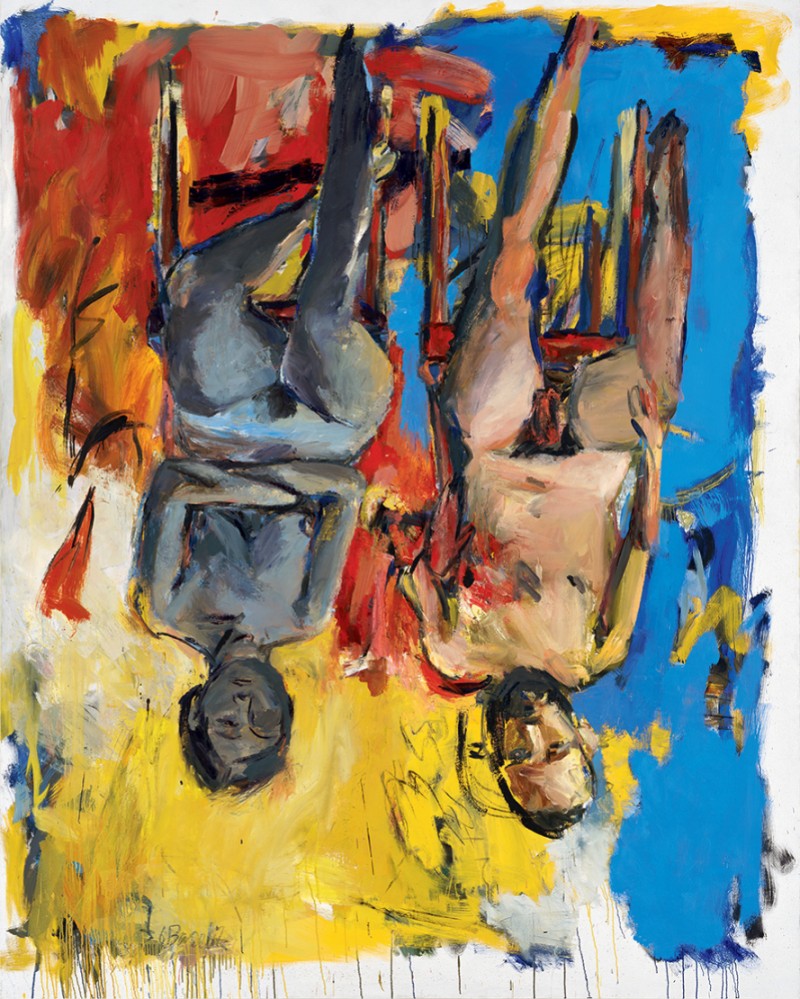 Another room aligns chiaroscuro woodcuts of the Renaissance— which use multiple blocks to create different tones—with Baselitz's own early woodcuts. That is the most persuasive link made. Baselitz is a fan who has purchased many Italian examples. Not only his own 1960s woodcuts shown here, but also his 1965–66 paintings of "New Types" and "Heroes," ironically titled monumental figures evoking his childhood memories of war and social breakdown, echoed in their graphic language. Something of the woodcuts also flows into the four roughly hewn sculptures included, which are very visibly made of cut wood. They have a pleasingly clunky presence.
But Baselitz is essentially a painter, and there is no particular connection to the Italian tradition made here. The established academic order may be his starting point, but his declared intention—made explicit in the handwritten 1961 manifesto included in the show—is to resist it. In the '60s he did that through subject and manner, but this show—and his reputation as a painter—concentrates on his most famous move: the inversion of the image, which he has now employed for 50 years. Baselitz paints with the canvas horizontal, from a photographic source reproduced upside down: he doesn't simply show a normally painted image the other way up. Is this more than an attention-gaining gimmick that succeeded and became a habit? There are two main reasons Baselitz has put forward for the strategy and its continuation.
First, it is, in his words, "the best way of emptying the content out of what one paints." The viewer will be led instead to concentrate on the paint as paint. This reason is unconvincing: there is anyway abstract content in any figurative painting of quality; it is still possible to see the inverted images as content, the more so as you get used to looking at them; and a move to abstraction would have achieved exactly that without the need to be distracted by a subject at all. Were this emptyingout the only justification, Baselitz's paintings ought to be judged as abstractions. I might then have compared them with the Helen Frankenthaler just across the city at the Palazzo Grimani—a match-up that wouldn't favour Baselitz, even though he has notoriously stated that "women can't paint."
Second, inversion is an oppositional move—Baselitz calls the upside-down portraits "demonstrations of absurdity"—which turns the system of representation on its head. "Not its themes," says de Barañano, "not figuration, but rather the system as a whole." The point is to reject the conventions of painting from within, to make paintings out of the traditional genres while avoiding both the abstract expressionist and pop norms that were dominant in the '60s. That may be linked to a desire to be a political outsider, too. Baselitz says, "Realism was linked to socialism while abstraction meant you supported capitalism." This reason is more compelling, but it is still potentially limiting in that Baselitz has made it his own convention for 50 years and counting. Just such a dismantling occurs, for example, in Picasso's or Picabia's work, but they continually reinvent their terms of rejection rather than replacing them with fixed approaches of their own.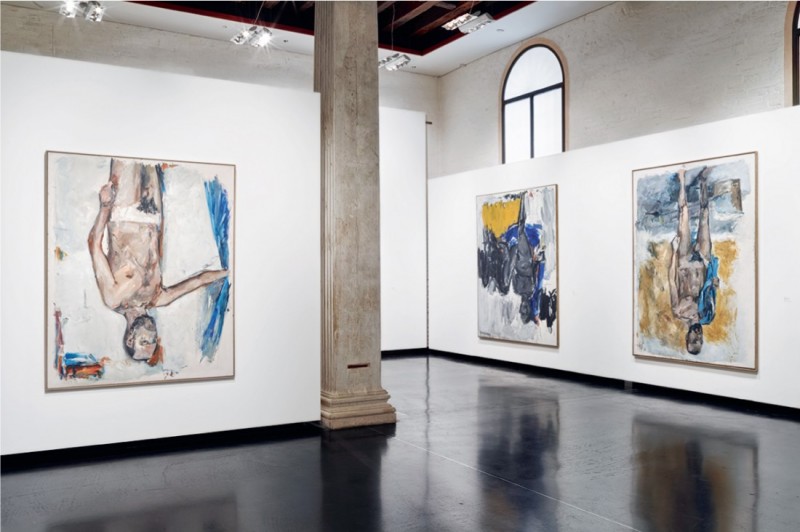 Either way, I felt something more was needed from Baselitz's painting. And, given that his subjects are straightforwardly diaristic, it's going to have to be how he depicts those subjects (if you hold that the subjects are still relevant despite the move) or how he paints, not what he paints or that he paints it upside down.
The show concentrates on three bodies of work. First, portraits, mostly from 1969, when Baselitz began the inversion, or shortly thereafter. Here, the new process can reasonably be taken as the main point. The second large room holds works from 2012 painted "in the negative"—by starting from a photographic print that is a colour negative. That was not, in itself, a new move—it had, for example, long been central to the practice of Indian painter TV Santosh and the Berlin collective Artists Anonymous—but it works well, introducing a black-keyed tonality that yields a further estrangement from naturalism, and suits the loose, dribbling application of paint typical of Baselitz in that decade. The third main room features nudes, with examples from the '80s in which the adoption of finger painting provides an additional distancing from tradition—and from the last few years, including two massive inversions the artist and his wife, Elke, made specifically for the show. Those 440-cm-high portrayals of bodies at 80 may be the best thing here: almost erotically deathly in their whitened approach to the ghostly. With these, the early "Heroes" and the sculptures, the content provides the drive fo Baselitz's style to be convincing. Perhaps he needs a subject after all. ❚
"Baselitz—Academy" was exhibited at the Gallerie dell'Accademia, Venice, from May 8 to September 8, 2019.
Paul Carey-Kent is a freelance art critic in Southampton, England, whose writings can be found at www.paulsartworld.blogspot.com.