"Future Possible: Art of Newfoundland & Labrador to 1949"
How do you begin to write an art history and what are the vital questions to ask? Which marks are most prominent in the visual culture of a particular place, and which are nearly invisible? What narratives exist and why; where the gaps and erasures?
Any first steps in this project must be brain-searingly complicated—navigating the tangled histories and cultures of a place like Newfoundland and Labrador, investigating its surviving visual output, then assembling a succinct and engaging overview. Curator Mireille Eagan has made a meaningful start with "Future Possible."
This is the first of two exhibitions, and it examines the art history of Newfoundland and Labrador up to March 31, 1949—the day before Confederation with Canada and a fault line in the history of this place. It takes as its central concept Guglielmo Marconi's belief that sound waves never entirely decay and that fragments of the past still resonate in the present. The title refers to the way comedian Andy Jones explains how Newfoundlanders speak about the future—Future Possible, Possibly Horrible.
Possibilities have long been projected onto this place from afar, given its geographic isolation and strategic and economic importance to Europe. The first section of the show, called "Idea and Reality," features archival images. The first European image of Newfoundland, painted by Dutch artist Gerard von Edema, circa 1700, was based only on descriptions written by others. The painting, Fishing Station, Placentia Bay, Newfoundland, was an advertisement, meant to encourage colonial settlement and exploitation of natural resources. More recently, a 1964 television clip entitled Three Trout to Dream About appeals to potential tourists using the same attraction, while contemporary Newfoundland and Labrador Tourism ads construct an idealized, impossibly colourful view of the province.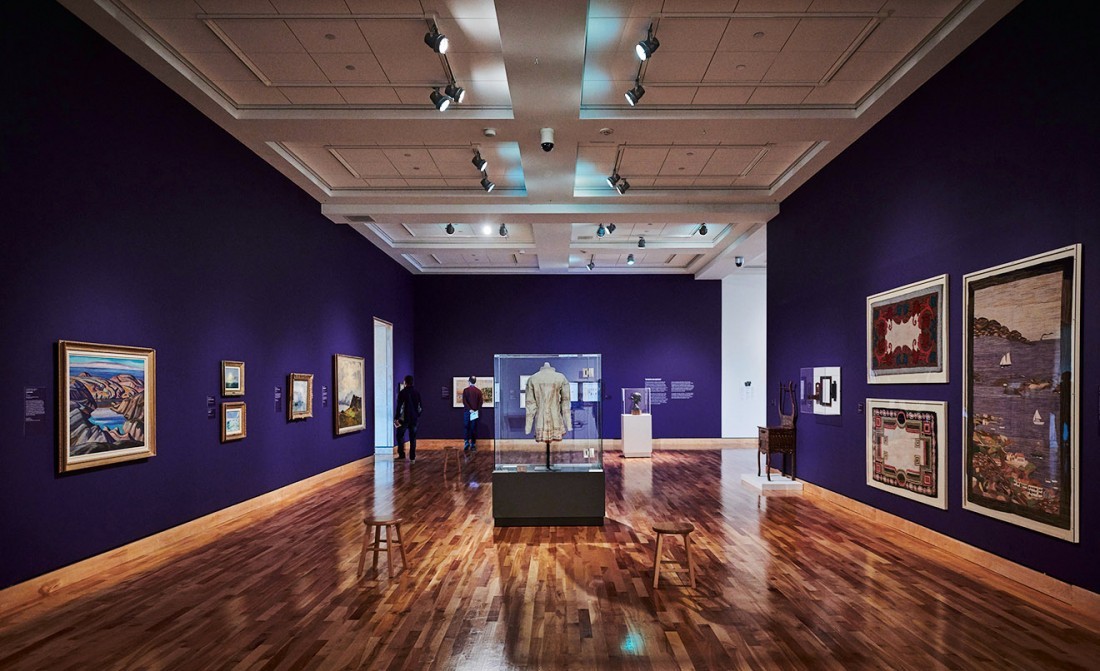 A contemporary work by Bushra Junaid highlights a little-known human aspect of these economic relationships. Two Pretty Girls… is a backlit photograph of two women in a sugar-cane field, their bodies superimposed with archival ads from the St. John's Telegram. Salt fish from Newfoundland fed slaves in the Caribbean, who produced rum and molasses sent for sale here. In Sisters, the artist and her sister pose in similar Victorian dress, exploring their embodiment of the transnational histories that brought them to the city where they were raised.
The section "What Does History Look Like?" is a towering salon-style grouping of portraits. Overwhelmingly white and male, and mostly framed in gold, these faces represent a certain segment of visual history. Merchants, military figures and politicians from as far back as at least 1610 are featured, as well as a handful of unnamed, elegantly dressed women. Joey Smallwood, however, who became the first premier of the province after negotiating confederation with Canada, is represented by ¬¬¬Bill Rose's interpretation of one of his official portraits—rendered entirely with stamps reading "Sold Out."
Canadian art critic Robert Ayre once dismissed the art history of Newfoundland and Labrador as being left to "outsiders and amateurs," the title of the next section, a narrowly Eurocentric idea that negates much of what had been made by people living in Newfoundland, as well as the art history of Labrador. The first part of this section features striking Beothuk pendants and figurative soapstone carvings from the Dorset Paleoeskimo period alongside objects made by settlers, such as a bedroom washstand, floor mats and a wall-mounted match holder.
The far wall is populated by a variety of landscape paintings, produced by itinerant artists as they began visiting the province and artists born here began to travel abroad for training. They are stunning, accomplished works, by artists including AY Jackson, Maurice Cullen, Margaret Campbell MacPherson and Rockwell Kent. But they are devoid of human figures—a stark contrast to the beautiful vernacular objects in the first part of the section.
In this part of the gallery, sounds that have been at the edge of your consciousness start to become clearer. There are screams and a gunshot. Behind a heavy black curtain, Rebecca Belmore's March 5, 1819 is installed. Video projections stretch to the ceiling on opposite sides of the gallery. As a viewer, you are placed in the snowy landscape where a woman is being chased. Sometimes she is running toward you and sometimes away. The sound of ragged breath and rapid footsteps crunching through snow fills the dark room. The man running with her is killed.
The placement of this work, out of sight but still permeating everything, reflects the role the event has played and continues to play in the cultures of this province. On March 5, 1819, Demasduit, a young Beothuk woman, was captured, renamed Mary March and brought to St. John's, where she died in 1820. Outside the gallery, a drawing by Shanawdithit, Demasduit's niece, is displayed under glass. It is a map that explains how her aunt was captured and her uncle Nonosabasut was killed that day, along with further information about her people and their location. It is one of a number of drawings Shanawdithit made after she, her mother and her sister, searching for food, encountered trappers and were captured. Shanawdithit was renamed Nancy April and worked as a household servant in St. John's until her death from tuberculosis in 1829. It is a remarkable piece of visual culture—the hand-drawn marks of a young woman, carefully detailing the deaths of her family and the decimation of her community.
It was long a popular belief that these two women were the last surviving Beothuk people. Certainly Joey Smallwood made the dubious claim that there were no Indigenous peoples in Newfoundland when it joined Canada in 1949. Demasduit's portrait, originally painted by Lady Hamilton, is an iconic image in the province. Though the subject's identity is often confused with Shanawdithit's, or generalized as "A Female Red Indian," her face has been reproduced and re-examined by numerous artists since her death. Half a dozen interpretations, made from 1806 to 2012, are displayed together in the section titled "Who is Looking?"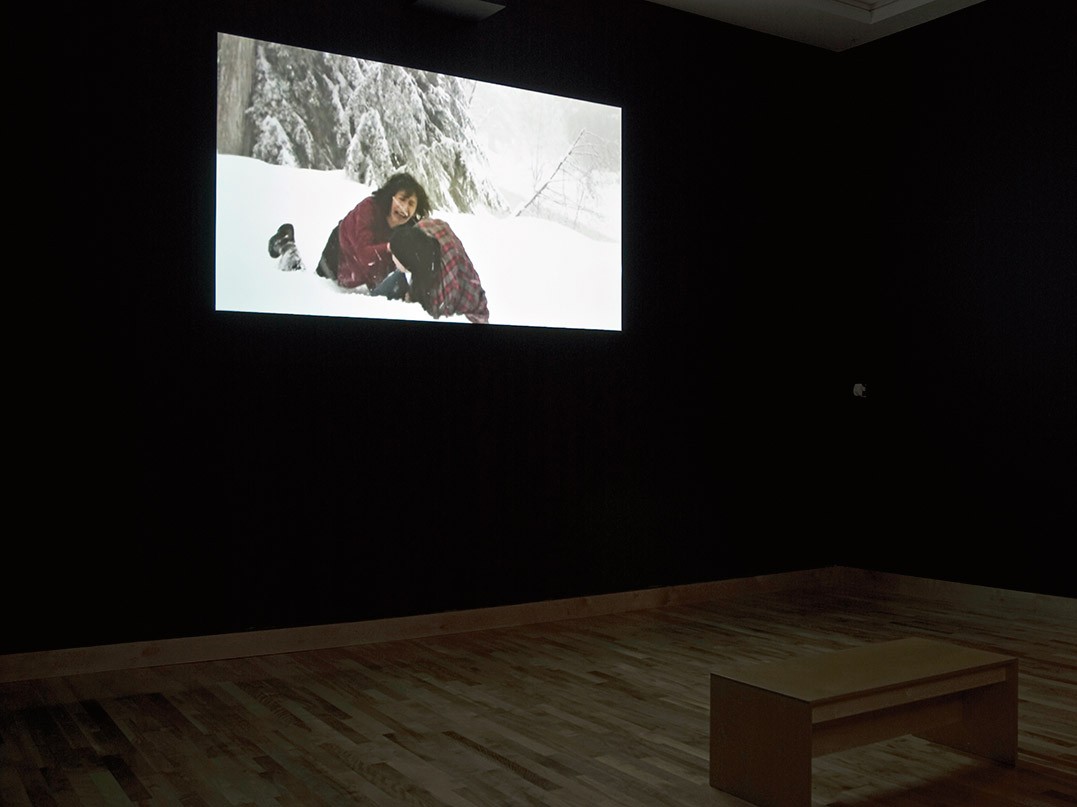 The final section of the show is the titular "Future Possible." Works by contemporary artists here examine Newfoundland and Labrador's past. Images by David Blackwood, Christopher Pratt and Pam Hall depict a fire at sea, the American military installation in Argentia and the local knowledge of fish harvester Eli Tucker. Josephina Kalleo's remarkable drawings record daily life in Labrador, and Navarana Igloliorte's videos reflect important experiences with Elders and others in her community. While each piece stands well on its own, the whole section is too broadly focused to make a strong curatorial point, especially considering the powerful historic and contemporary counterpoints that came before.
In her introductory text, Eagan describes "Future Possible" as "a starting point for further research and discussion." It is a thoughtful first foray into this vast project, examining some significant art histories through the lens of the power structures that produced and preserved them.
"Future Possible: Art of Newfoundland & Labrador to 1949" was exhibited at The Rooms, St. John's, Newfoundland, from May 12 to September 3, 2018.
Jennifer McVeigh is a writer and editor living in St. John's.