Erin Shirreff
It began with an art historical archive, or at least part of one. I use the term "part" here not because it is piecemeal or incomplete but because the documents in question are deliberately cut up into fragments. They are the parts of a larger, Western 20th-century whole. The resulting artworks are like puzzle pieces extracted from a modernist catalogue—geometric shapes and forms that constitute the lexicon of a past era. Grainy historical images taken out of their original context, blown up to unnatural sizes and reassembled into sleek glass vitrines become a new aesthetic vocabulary. Against the white walls of the gallery, they look like display cases, three-dimensional photo collages, or constructivist-inspired boxes with an uncanny air of placelessness.
Erin Shirreff's solo exhibition, "Midday dilemma," at Bradley Ertaskiran in Montreal is a visual delight of satisfying proportions. Situated in a former commercial laundry building from the early 1930s, the gallery occupies two floors of a restored 15,000-squarefoot industrial site in Le Sud-Ouest neighbourhood. Since its usage as a contemporary art space, the landmark has been renowned for its beautiful post-industrial trappings: large steel-framed windows, red brick façade, 20-foot ceilings, concrete floors, continuous views and unobstructed galleries for exhibiting artworks. With her controlled yet monumental use of sculpture and photography, her transformation of architectural scale, perception and mass into composite assemblages, Shirreff's work feels per fectly suited for the smooth, postmodern transformation of yesteryear's gritty raw factory settings.
Entering the single large gallery where most of the works in the exhibition are presented, the viewer is immediately confronted with the titular piece of the exhibition, Midday dilemma, 2022. Almost a square, at 73 inches by 71 inches, the wall-mounted glass box seems perfectly flat from a distance, like a large-scale digital photograph or even, perhaps, a painting. The geometric composition is dominated by a series of mustard yellow forms that move vertically across the centre of the work, like bright metal beams cutting a greyscale background. The rest of the image, a striking contrast of various shades of black, white and grey volumes, creates a surprisingly dense and dynamic arrangement. Thin, angular black lines cutting across the surface generate a sense of negative space, which furthers the piece's various dimensions. Midday dilemma evokes a modernist architectural drawing or design object; it is both sculptural and suggestively functional in its deployment of a clear system of relief, silhouette and outline.
From up close, Midday dilemma, like the rest of the works in the exhibition, takes on a new life. The viewer quickly becomes aware that each shape and line, which constitutes a neat and flat whole from afar, is a set of cut-outs, resting at an angle inside a glass casing. Viewed askance, the work is a pile of smooth parts, layers of profiles set one on top of each other. Throughout the exhibition, interspersed among these glass boxes, are archival black and white photographs slickly nailed to the wall, behind glass panes. These scenes from art anthologies published decades ago serve as the stimulus for Shirreff's work. By printing these smaller images on large sheets of aluminium, cutting them into irregular shapes and locating them within deep-set frames, the character of the original object becomes unrecognizable.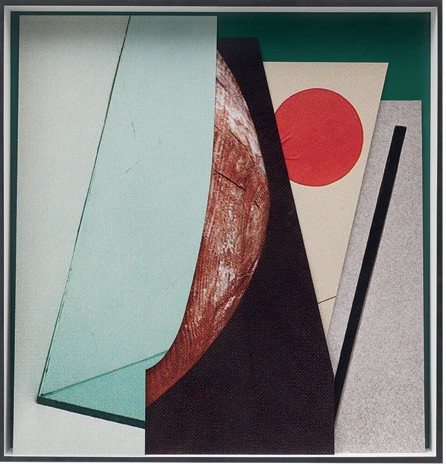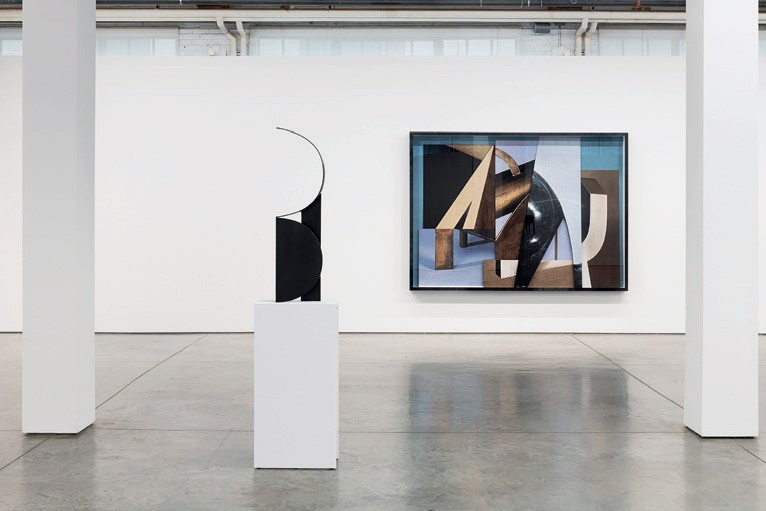 Old friend
, 2022, another work on view across the room, presents shadowy contrasts with dark red and metallic grey volumes holding the composition. The juxtaposed reds conjure a litany of possible sources of modernist public art installations, including close-ups of Claes Oldenburg's
Geometric Mouse
,
Scale X
, 1971; Alexander Calder's
Flamingo
, 1974; Mark di Suvero's
Iroquois
, 1983; or Roy Lichtenstein's
Barcelona Head
, 1992. In creating this visual, geometrically coded citational loop, Shirreff invites the viewer to question both the material and affective traits of her art historical archive. In doing so, she allows us to experience first-hand the appeal of dissecting and recontextualizing the iconicity, patina and nostalgia of an industrial era of grandiose artmaking that was deeply invested in transforming steel, concrete, wood and glass into titanic oeuvres of massive proportions. Not only does Shirreff's cropping of these moments in recent art history create new collages, but it also has the effect of shrinking the often phallocentric and immovable nature of a male-dominated modernity with its steel monuments eternally reaching for the sky.
This lightness, or absent the burden and weight of modernist materiality, is a recurring motif in the exhibition. Whether in the various glass vitrines, the smaller historical images or the two bronze sculptures from a body of work Shirreff began in 2019, there is a sense of buoyancy to the work, which is paradoxically grounded in earthly materials and industrial transformation. The two sculptures, Maquette (A.P. no. 10), 2019, and Maquette (double curve), 2022, both embody a delicate and fine quality more reminiscent of an ethereal presence or spectre rather than one of fixity or permanence. Maquette (A.P. no. 10) is especially inspiring with its bisecting triangular surfaces, which, depending on the viewer's positioning in the gallery, change the perspectives it engenders. It is in these slight but well-calculated shifts in sightlines, composition and structure that Shirreff's "Midday dilemma" produces its most incisive interactions with traditions of midcentury architecture, design and sculpture, through a varied and considerate representation of archives and images. ❚
"Midday dilemma" was exhibited at Bradley Ertaskiran, Montreal, from June 8, 2022, to July 27, 2022.
Didier Morelli is a FRQSC Postdoctoral Fellow in the department of art history at Concordia University. He holds a PhD in performance studies from Northwestern University (Chicago, Illinois).