Erica Eyres is best known for her obliquely disturbing films and drawings, but has lately branched out into equally odd ceramics. She's Winnipeg born (in 1980) and seems to channel some of the same skewed energies and disjunctures you get in Guy Maddin's films and in paintings by members of the Royal Art Lodge. She completed her art education in Glasgow, where she's now been based for 12 years, but still returns regularly to Winnipeg, saying nonetheless that she "didn't realize until recently how much it influences my aesthetic. The city has a kind of casual attitude about it yet inspires various forms of Surrealism. There are a lot of strange characters in Winnipeg who try to engage with you everywhere you go. So, for me, narrative is everywhere there—and visiting makes me recall past narratives."
Let's consider how past narratives feed into her work, starting with five recent short films from the 16 she has made in the last decade. They tend to hint at stories which are hard to pin down, and do so with a certain awkwardness which may arise naturally and which Eyres chooses not to edit out. She prefers to embrace an aesthetic which seems somewhat amateur and slightly off-kilter but is still visibly produced, more akin to bad TV or instructional videos than to the home products of the Internet. Eyres agrees she's inclined to that style, saying that "public access broadcasting in North America appeals to me; the idea that you're trying to make something look convincing, but at the same time failing. I am drawn to awkward subjects, but the result is something that just happens. I think it is genuinely the best I can do on my own without the assistance of a professional camera person or director of photography. Funding is an issue, but I suppose I also have some resistance to the idea of artists utilizing big film crews. There's something more honest, at least for me, about an artist presenting something they've done with a single camera."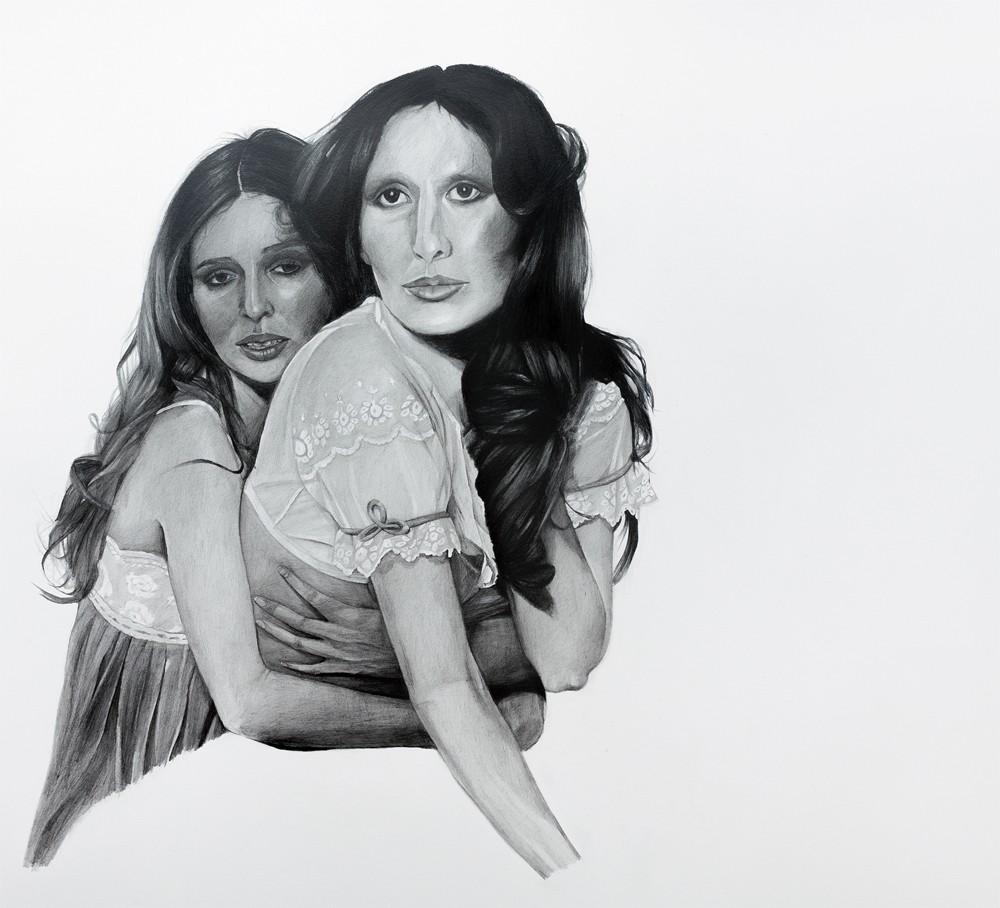 Erica Eyres, Sisters, 2013, pencil on paper, 106 x 131 cm. Courtesy the artist.
Some of those characteristics, together with the TV references, are at their most extreme in Pam's Dream, 2011, which remakes a full episode of the oil industry saga Dallas—with a cast of inexperienced Scottish child actors set against decidedly approximate backdrops. The 1986 original followed on from a season without one of the leading characters, Pam's husband Bobby, in it, as the actor, Patrick Duffy, had been killed off to enable him to pursue a film career. Ratings plunged without him, so he returned on the basis that his death had been nothing but a dream. "The ridiculousness, and the way the actor seemed trapped, appealed to me," says Eyres. And those aspects are emphasized by her choice of cast: "It was so difficult trying to manage all these children. They'd brag to me how good they were and how seriously they were taking it, then they'd say they hadn't been able to learn their lines, and they'd end up just reading off the ground. But it would have been too cute otherwise, and made it less ridiculous to have them talking about power and capitalism." As it is, "she goes on, the wigs and the costumes really highlight the absurdity of Dallas and I like the way the lines took on completely different intonations when delivered by the kids. Sometimes you can see that they can't stop themselves from laughing, which undermines the over-the-top melodrama of the original." And in the 'dream episode,' says Eyres, "Pam is a bit like Lewis Carrol's Alice, as she goes through this surreal journey only to wake up and find that everything is back to normal."
So one unreality undermines another in Eyres's remake, which exaggerates what we're likely to remember of Dallas: the over the top hairstyles, clothes, storylines and emotions. Except I wonder how much we really recall. What did we see at the time, what did we hear about, and what do we now merely assume to have been the case? Such doubts chip away at the questions of how we develop knowledge and understanding, and how it's corrupted by time. The Freudian themes of repression and the possibility of false memory underpin Pam's Dream.
…to continue reading Paul Carey-Kent's piece on Erica Eyres, purchase a copy of Issue 134.