MATTER Lecture: Wangechi Mutu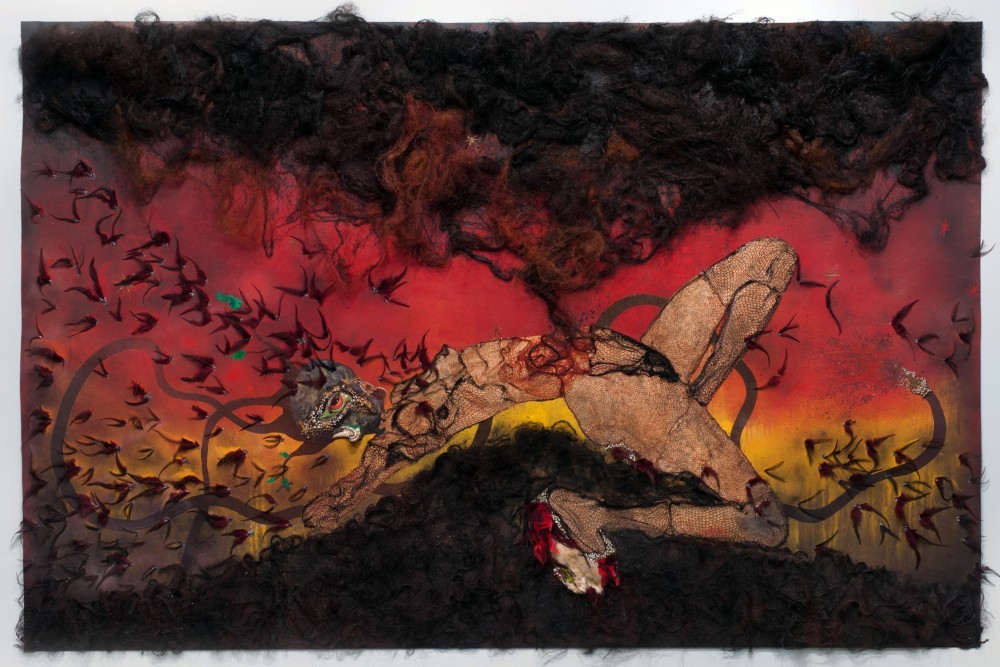 MATTER Lecture: Wangechi Mutu
Thursday, May 2nd, 2019 —7pm
Winnipeg Art Gallery, 300 Memorial Boulevard
Muriel Richardson Auditorium
FREE ADMISSION
Winnipeg, Thursday May 2nd, 2019: Border Crossings is pleased to present our next MATTER lecture with internationally acclaimed artist WANGECHI MUTU. The MATTER lecture series brings significant artists, curators, writers and cultural commentators from all across the globe to Winnipeg.
Born in Nairobi in 1972 and trained at Yale, from which she received her MFA in sculpture in 2000, Wangechi Mutu is one of the most distinguished artists of her generation. Over the years, her work has been centered on the practice of dissecting, reconstituting, and recontextualizing various ideas, images and materials, thus constructing new ways of looking at what we have already seen, or highlighting, what we have never actually looked at. In her paintings, Mutu has used collage as a way to make sense of her own experience as a woman who emigrated at a young age from her birth country Kenya, and had to describe and reconfigure herself within a population that was not familiar with her culture. Her method of meticulously slicing images apart and then restoring them to one whole arouses the consciousness of inherent alienation, and proposes the need of alternative identities to both withstand social norms and rewrite the rules that bind our imagination. An otherworldly and layered technique is present in her films, her performances, and her object works, where she ingeniously represents new versions of history, using tropes of mythology and anthropology to construct powerful female subjects. Female empowerment is the inspiration, the solution and the result of much of her work. In her three-dimensional work she portrays characters that have succumbed and succeeded, transformed and survived, and scrutinizes the inequalities of race and gender, which she also feels are inherently linked to environmental degradation. Using organic materials, metal and recycled objects, she references the mythology and classical artistic expressions of several African cultures, and delivers a compelling alternative to traditional modes of representation.
Her work has been the subject of numerous solo shows, including Wangechi Mutu: A Fantastic Journey, which traveled to the Brooklyn Museum, New York; Nasher Museum of Art, Durham, North Carolina; Museum of Contemporary Art North Miami; and Block Museum, Evanston, Illinois. Other solo exhibitions include those at SITE, Santa Fe; Museum of Contemporary Art, Sydney; Musée d'art contemporain de Montréal; Deutsche Guggenheim, Berlin; Wiels Center for Contemporary Art, Brussels; Art Gallery of Ontario, Toronto; Museum of Contemporary Art, San Diego; Kunsthalle Wien; and San Francisco Museum of Modern Art. Mutu is the recipient of Deutsche Bank's Artist of the Year award, the Louis Comfort Tiffany Foundation Grant, the Joan Mitchell Foundation Painters & Sculptors Award, and the American Federation of Arts' Leadership Award. Mutu's work will be featured in the upcoming 2019 Whitney Biennial.
MATTER featuring Wangechi Mutu will be held at 7:00 pm on Thursday, May 2nd, followed by an onstage conversation with Robert Enright at the Winnipeg Art Gallery, Muriel Richardson Auditorium, 300 Memorial Boulevard. Admission is FREE.
We gratefully acknowledge the support of Michael Nesbitt in presenting this MATTER series lecture.