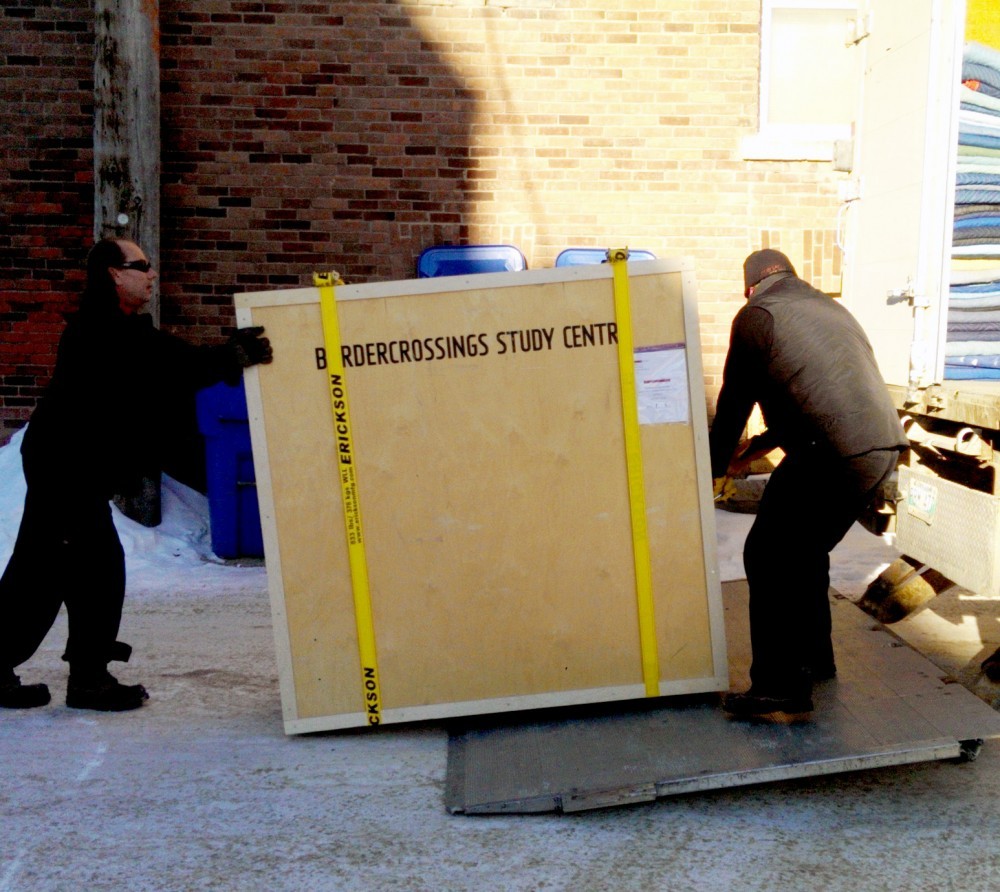 On the road again!
With the new year in full swing nearly before the fireworks have dissipated, the Border Crossings Study Centre will make its first anticipated stop at the Mendel Art Gallery in Saskatoon.
The Study Centre was initially conceived as a portable hybrid storage/reading unit, commissioned by Gallery One One One director Cliff Eyland in 2009 and designed by Border Crossings Board Chair and DIN Projects lead, architect Neil Minuk. Also designed by Minuk is Winnipeg's Plug In ICA, where the Study Centre was exhibited as part of the final leg of the My Winnipeg Project, having been exhibited at Maison Rouge previously, in both Paris and Sète.
As an engaging, living archive, the Study Centre is a catalyst for discourse, its contents correlated to the exhibition and public programme of its hosts. More than a vibrant collection of Border Crossings' publication history on contemporary art, the Centre is a condensed body of study, reference and enjoyment. The bookcase unit folds together becoming its own transportable crate housing the table components and six box stools, also designed by the architects. Alternately it opens up becoming a welcoming social space for readers to look at individual issues, refer to the extensive Index and talk about the material in the 132 issues of the magazine.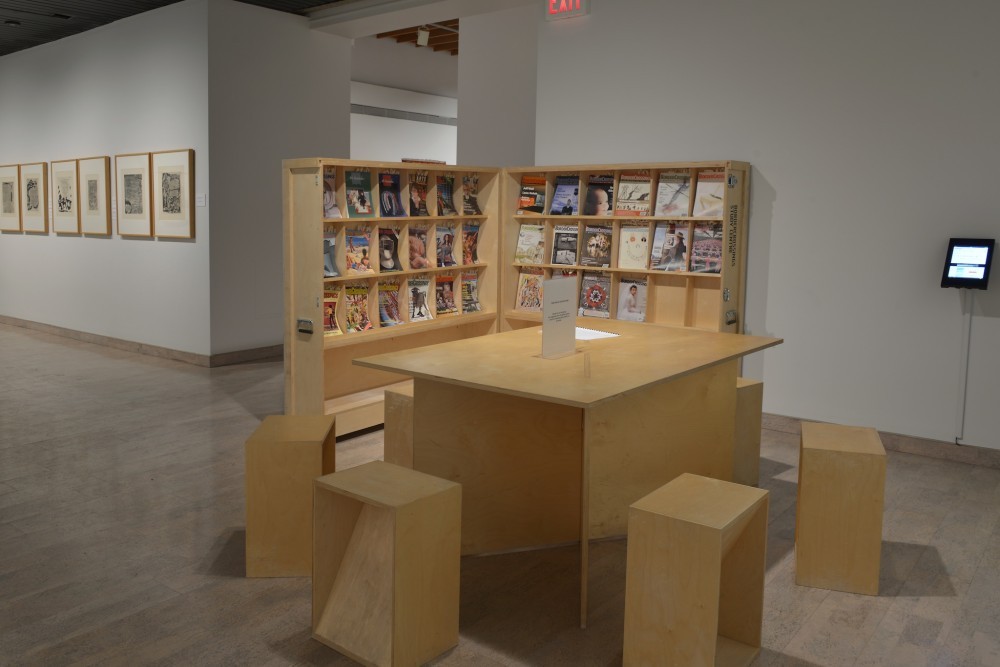 Border Crossings Study Center at the Mendel Art Gallery, January – March 2015. Saskatoon, Saskatchewan. With the retrospective nature of an archive the BCSC brings past art production into the present and speaks to the persistence of print and the way in which it continues to be accessible, malleable and endlessly recombinant. Reading and visual connections are enriched by the possibilities of the associations readers make in their own findings.
With great admiration for Aleksandr Rodchenko's prototype design for "The Reading Room of the USSR's Worker's Club" presented at the Exposition internationale des arts décoratifs et industriels modernes in Paris in 1925, what we have designed, and built, is a study centre that comes to the workers. It is a complete and portable unit which can be readily shipped, located in its current site, set in place and opened out, its contents ready for readers.
The necessary repairs from overseas and cross-Canada travels freshly completed, we're pleased to announce fine-art shipping company Total Transportation will be bringing us venue to venue.
So we begin an exciting year!
Come visit the BCSC at the Mendel, opening Friday, January 16 at 7pm.
For more information on the Study Centre, Border Crossings and for booking, contact:
Elyssa Stelman
Special Projects Director
projects@bordercrossingsmag.com
204.942.5778