Modelling, music and the multi-faceted, multi-functioning world of Sachs, as only Sachs can do.
Recently published in the New York Times' T-Magazine Art Matters section: "Grandmaster Sachs," an article detailing Tom Sachs's current exhibition at the Contemporary Austin museum. "Tom Sachs: Boombox Retrospective, 1999-2015," is on display until April 19, 2015. To read the full NYT article, click here.
In Issue No. 130 Remaking the Real, Border Crossings interviewed the artist. Read the conversation in full here.
"My program is very much about the ritual of the studio, which I'm always trying to amplify and which involves the ritual of building the thing and how it's used. You know: the coffee machine, the bar, the hangout, the round table, sex, cooking. I'm always thinking about those things and never about budget, although there is an intuition about what you can and can't afford to build."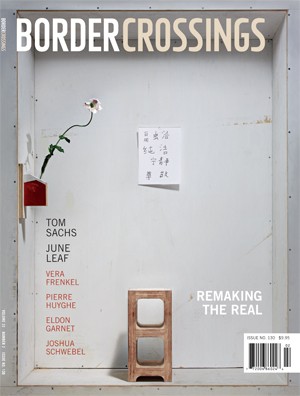 Border Crossings Issue 130 Remaking the Real