The Success of Failure: Divya Mehra
"For me, the concept comes before the medium," says Divya Mehra. The Winnipeg-based artist is explaining why her work takes so many forms. "I don't feel like I owe anything to any particular medium." In addition to her consistent use of photography and video, she has worked with sculpture, text, storefront signage, neon and skywriting. Much of her production focuses on the tensions that arise out of race, which she investigates with a brand of humour that can be outrageously campy and scathingly ironic. In her video, The Importance of Being Earnest, we see her in front of picturesque mountain views, fields of flowers and an illustrated unicorn, fetchingly brushing aside her hair as it blows in the romantic wind. Then 40 seconds in she begins to lip-synch to "A Whole New World," the saccharine song from Aladdin, and the background images change from childishly sweet to bloody and anguished. She's right when she mouths, "unbelievable sights, indescribable feelings;" the magic carpet ride has turned lethal. Mehra claims she has no instinct for acting, but her video performances strike the right balance of insouciance and absurdity. Her art is invariably direct in its form and message and while her investigations of racism and abusive power are complicated, her way of getting them across is effectively simple.
Mehra was chosen as one of five artists to contribute a 23-second video to the Art Breaks program. Art Breaks is an innovative video-art series broadcast on many MTV platforms for six months from November until April of 2013. Curated by Creative Time and MoMA PS1, the videos are a reincarnation of the 1985 series, which included contributions by Keith Haring, Jean-Michel Basquiat and Richard Prince. Mehra reprises the Prince video and uses the occasion to add another variation to her repertoire of wonderfully executed disappointments. "A general read across my work has to do with failure," she says, "It's a sentiment that a lot of people can relate to."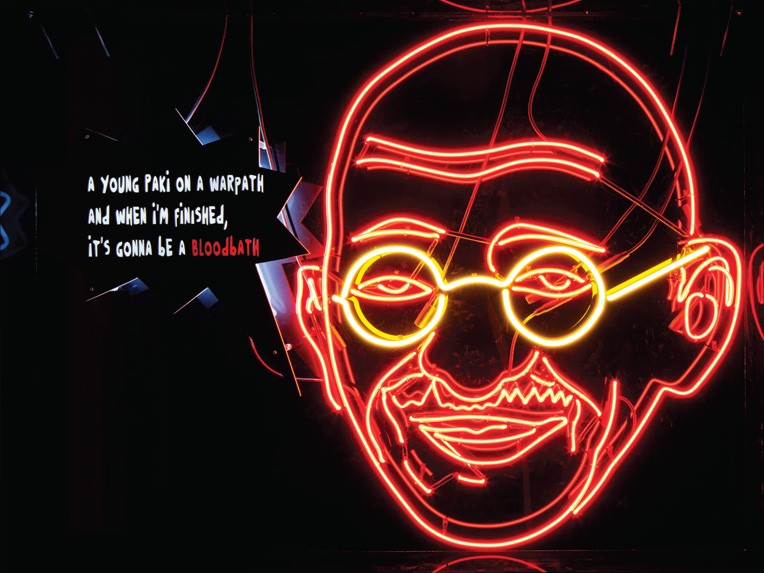 She makes failure attractive and her Art Break is particularly endearing. (The title of the piece is considerably less soft around the edges; it's called, On Tragedy (Did you hear the one about the Indian?). Mehra waits wide-eyed, expectant, even a touch impatient, for a soft ice cream cone she has ordered from an ice cream vendor parked outside the Guggenheim. When she finally gets it, the swirled ice cream is stacked so high that even before she utters a single word, it topples to the sidewalk with an evocative splat. It's almost slapstick, a form Mehra has used before and one she combines with a discreet dollop of Bollywood exaggeration. What is compelling about Mehra's videos is that while they touch on failure, they never fall into abjection. Nor are they ever evasive. In "A Whole New World" Aladdin sings, "don't you dare close your eyes," and Mehra's lip-synched response is, "a hundred-thousand things to see." She's already looking unabashedly in that direction and counting.