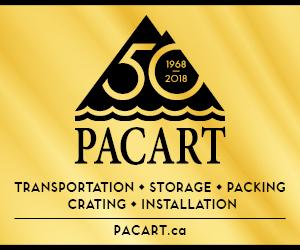 "The sources of the latest landscapes are places in which I think I've lived. It may be a fantasy, but because they're in my head, that's where it starts." David Alexander, an Okanogan-based artist, admits to a sense of landscape wanderlust; he has painted in Iceland, the Arctic, Scotland, Taos, New Mexico, in Saskatchewan where he lived for 23 years, and in British Columbia where he was born. He recognizes that his pursuit places him out of step in the current art world. "It's probably as passé as anything can get but the only reason I paint is so that I can continue making landscapes. I always have my head on the earth, no matter where I am."
Alexander has been painting seriously for almost 50 years and while occasionally side-tracked, he has always returned to landscape. He tells a story about being in his Saskatoon studio working with a friend: "It was a very boring day and we decided to pass the time making portraits of one another. When I finished he said, 'Oh look, it's me with a landscape in my face.' It comes to mind that you think with what you can do best."
These newest paintings are among the best he has done. In one landscape, the trees hover in space like abstract shapes; the painting is both chaotic and wilfully regimented. In another he includes a palette of brilliant blues and greens and reds that read as though he were a Fauve. "That's me being as brave as I can be in dealing with colour."
In any of his landscapes, the place makes an intense retinal register; Alexander doesn't just rely on what he knows, but he needs to see before he knows how to paint the landscape he is in. Painting is about looking and about knowing how other artists have looked as well.
David Alexander, Utitled, 2015, 78 x 96 inches.
He has never been reluctant to acknowledge the artists who have influenced his work: in Canada Jack Shadbolt, Emily Carr and David Milne (included among the recent paintings is a snowy landscape "in the Kootenays" that shows an unmistakable homage to Milne). For years, Alexander participated in the Emma Lake Artist Workshops in Northern Saskatchewan, led by prominent American painters and critics who were colour abstractionists. He took what he could from abstract painters like Kenneth Noland, Larry Poons and Stanley Boxer, but his inclination was to read their work through a different lens. "I always think that Friedel Dzubas and Helen Frankenthaler are landscape painters." In a particularly complex water and forest painting there is a section below the line established by a treefall that could have been painted by Hans Hofmann; in the trace of the reflective surface you can measure Alexander's instincts to make abstraction into a landscape.
Then in Skiing Online in Paradise he takes a different tack; we see a woman in an exotic landscape, dense with saturated colour, looking at a winter skier on her cell phone. It was painted in Hawaii and he was reminded of Gauguin in Paradise. Alexander locates himself in the specific tradition of landscape painting—"for me it is very vital"—and in the larger one of painting itself. "Painting," he says, adamant about its persistence, "will never go away." ❚