"The Imitation Game: Visual Culture in the Age of Artificial Intelligence"
For a long time, there has been enormous interest in introducing novel forms of art into the art world. Marcel Duchamp's readymades; artifacts from Africa, Oceania and Canada's Indigenous people; works employing appropriation of commercial commodities: this list goes on and on. About a decade ago art historian and curator Joachim Pissarro and I developed an analysis, eventually published in two books, discussing the implications of this process. We were interested in the distinction between artworld art and what we called "wild art," art from outside of the art world. Graffiti, tattoos and food art are important examples. And we asked: What is the difference in kind between wild art and art within the art world? This marvellous exhibition presents a form of wild art that we didn't consider, the art associated with artificial intelligence (AI) in visual culture from the 1950s to the present. So now the discussion can be taken further.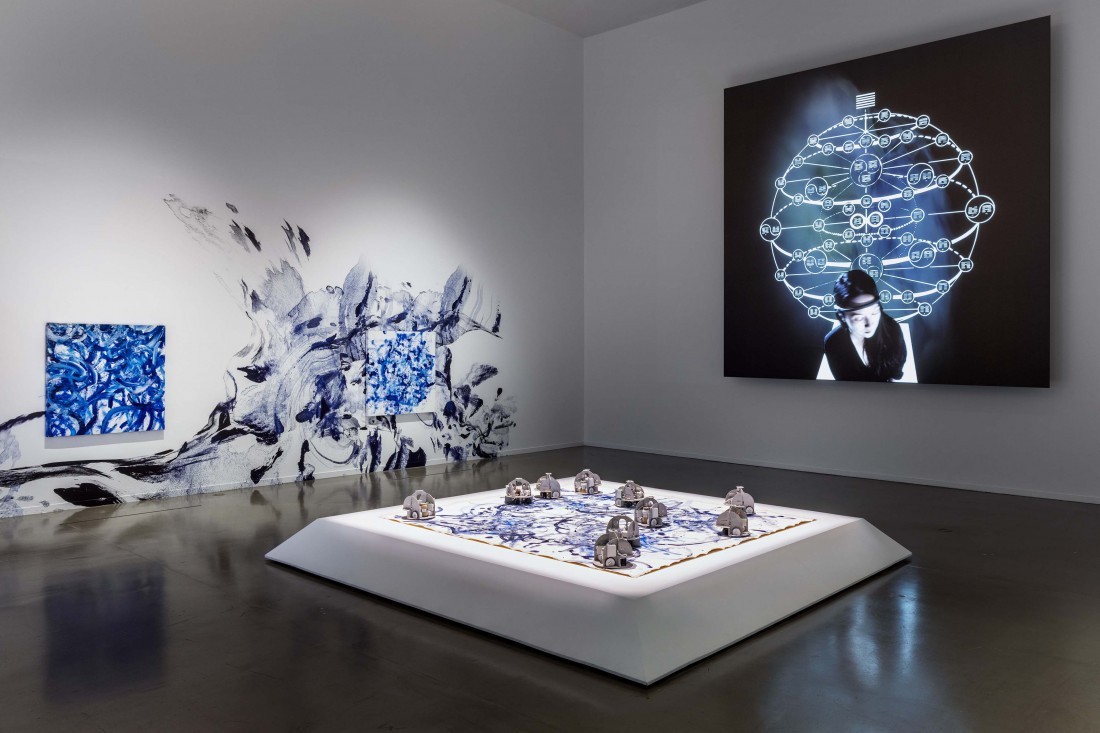 There is a lot to see here. There is a display of "twenty objects of wonder" presenting the history of AI. Norbert Wiener's Moth, 1949, is a mechanical animal made by the renowned MIT mathematician. Alan Turing's very influential "Turing Test," published in 1950, argued that if a sequence of questions did not permit determining whether the respondent was human or machine, then that machine was intelligent. Stanley Kubrick's 2001: A Space Odyssey, 1968, presented HAL, the computer that runs amuck and so has to be disconnected by the astronaut. And "Project Cybersyn" was a creation of Stafford Beer, a consultant to the newly elected Salvador Allende government, 1970 to 1973, who devised a plan to enable a dynamic, socialist-driven transformation of the Chilean economy. That project was destroyed when Allende was murdered in a coup. Other objects of wonder include graphic design programs, social robots, Zaha Hadid's architectural planning and the highly controversial facial recognition software. These wonders mostly are familiar; what's original and very suggestive here is gathering them together in an art museum. Also, there are artist projects. Patrick Pennefather answers the question: "What does AI sound like?" Sougwen Chung blurs the boundaries between non-human and human knowledge. Scott Eaton is interested in computer-generated images based upon the human body. And the Zombie Formalist learns your aesthetic and makes new geometric abstract compositions tailored specifically for you. More than most large exhibitions, "The Imitation Game" is something far more than the sum of its parts. What's challenging here is considering the implications of this body of art.
For a long time, I have led a double life, for even while I publish art criticism I work with the journal Leonardo, an MIT publication that specializes in presenting the relationship between visual art and science. Founded by a retired rocket scientist, the journal is named after Leonardo da Vinci to honour his pioneering fascination with visual art and technology. For decades the journal has published a great variety of visual artists, and research into art history and contemporary art. And early on, Rudolf Arnheim and EH Gombrich, renowned art historians with a special interest in scientific psychology, were involved with the journal. I say "double life" because I have always been surprised that there is relatively little ongoing contact between the bustling commercial art world and the concerns of technology-based art like the work in this show. There is, for example, very little overlap between the artists, exhibitions or research presented in Artforum, the most influential American journal, and Leonardo. One artist can stand for this difference, Maurits Cornelis Escher, who is much admired by computer people and Gombrich but never has had any place in the contemporary art world. Artists in the commercial world use computers to send PDFs and texts, but they are unlikely, in my experience, to pursue a serious interest in AI.

Why is there this distance between fields whose concerns seem so obviously related? Maybe the cause is a residual Kantian Romantic belief that artworks cannot be made following rules. And no doubt differences in taste are involved. When Pissarro and I worked out our account of wild art, we puzzled for a long time about these borderlines. Why, we asked, is there so much concern to defend always tentative and easily revised distinctions? When, for example, there are distinctions made between art-world art and graffiti, then surely it's obvious that these distinctions are readily reworked. Jean-Michel Basquiat has become an art-world star, while the graffiti artists he worked with (and was inspired by) do not belong in that world. But it's hard to identify some interesting difference between his concerns and those of graffiti artists.
It's unfortunate that the art world and the computer people don't talk to one another, for there is real potential overlap in the interests of artists and the scientific community. This large exemplary exhibition, which occupies a floor of the Vancouver Art Gallery, speaks to this situation in a way that deserves serious attention. It provides a superb introduction for the art world to the concerns of AI. And so it's appropriate that the very full catalogue is online. ❚
"The Imitation Game: Visual Culture in the Age of Artificial Intelligence" was exhibited at the Vancouver Art Gallery, Vancouver, from March 5, 2022, to October 23, 2022.
David Carrier's most recent books are Art Writing Online: The State of the Art World and Philosophical
Skepticism as the Subject of Art: Maria Bussmann's Drawings. His In Caravaggio's Shadow: Naples as a Work of Art is forthcoming.
On wild art, see David Carrier and Joachim Pissarro, Wild Art (London: Phaidon, 2013) and Aesthetics of the Margins/The Margins of Aesthetics: Wild Art Explained (Pennsylvania: Penn State University Press, 2018).