The Heart of Circus
Growing up in the French community of La Broquerie, Manitoba, Mélanie Rocan recalled, she was "surrounded by fields and nothing happening." Among the most memorable trips she took with her parents was to a summer fair and travelling carnival in Winnipeg called the Red River Exhibition: "Coming from a small town and going to the city was such an exciting moment for a child. On the drive in, you could see the lights from a distance." In "Le Spectacle [Lə Spɛktakl]," her most recent exhibition at Paul Petro Contemporary Art in Toronto, she has turned her childhood enchantment with the circus into an equivalent sensation for the viewer. One of the paintings, called Night Fair, provides that distanced, seductive perspective; another called Enter clinches the deal. The 23 paintings (the largest is 9.75 x 6.5 inches; the smallest is 5.75 x 4 inches) were painted in 2023 and all are acrylic on wood. Each one asks for and rewards close looking; Rocan's sense of detail and her ability to capture the essence and gestures of her small figures are remarkable.
Apart from the intensity of their rendering, most noticeable about these paintings is that all are women connected to the circus in some manner. This is, decidedly, a world without men. There are snake charmers, stilt walkers, tightrope cyclists, fire performers and trapeze artists. Rocan has sourced the images from old books and collections of antique French postcards she found in thrift stores, online and as stills from silent films.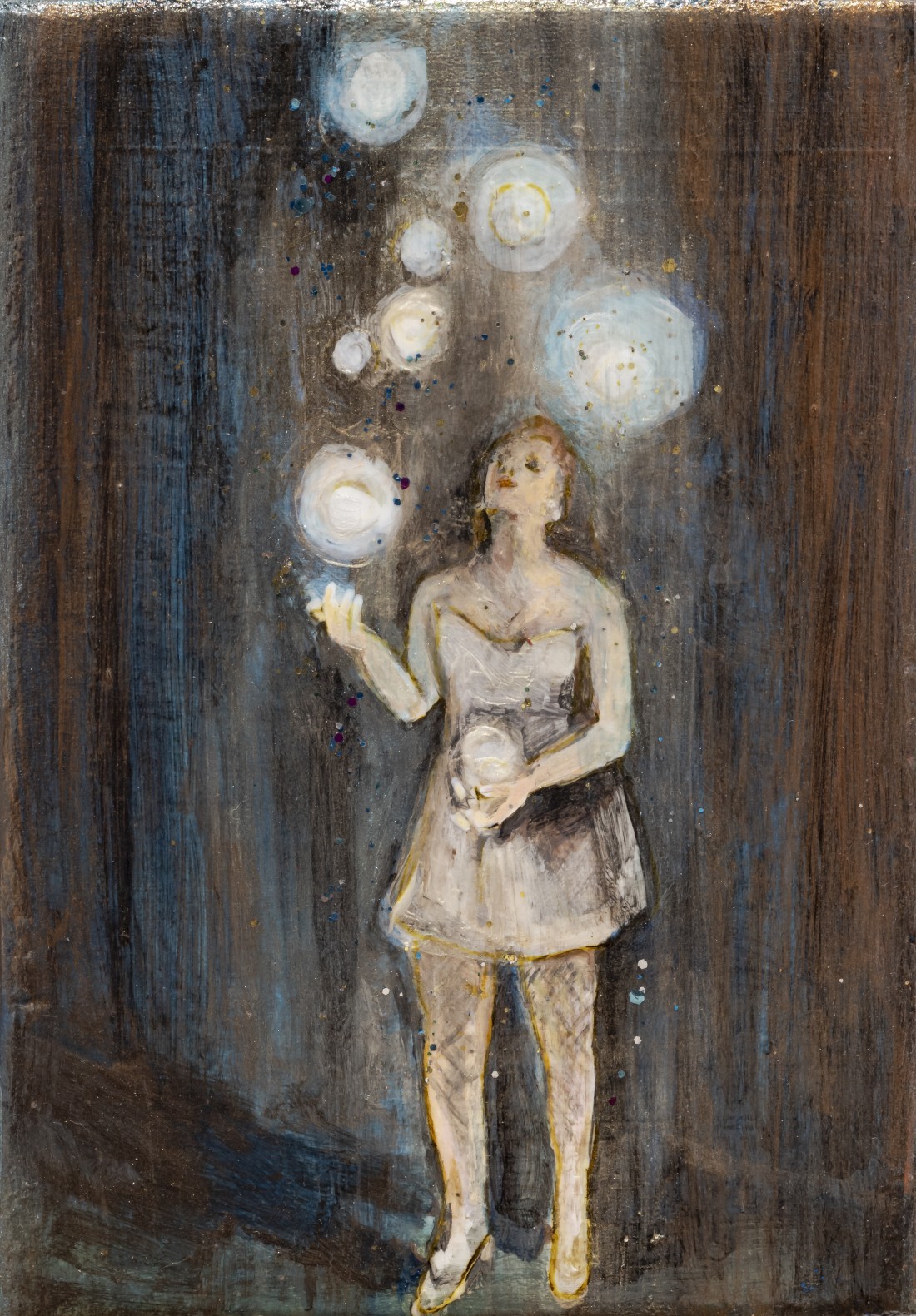 Without exception, the women show qualities of skill, courage, honesty and strength. The artist has managed to make the particular and narrow world of the circus, and the women who perform in it, stand in for the condition of women everywhere. The juggler in Juggling Light is slightly awkward, her costume is ill-fitting and her legs are too sturdy, but the balls she tosses in the air have become radiant floating orbs and she will never drop them. The aerialist in Hanging On is able to do only that; her manoeuvre is less about grace than grit. Rocan wants her characters to represent a sense of balance: "I see the roles of the tightrope walker and the flame-thrower as a metaphor for difficult situations and moments in life. They are vulnerable but they can deal with what life throws at them. Like the flame-thrower being in control of something so wild and dangerous. I think there's beauty in the danger of the darkness."
The circumstances these small women find themselves in have an effect on their being and their being has an effect on us. Nothing this small should be as powerful as are these paintings.
The achievement of "Le Spectacle [Lə Spɛktakl]" is embodied in Swinging Over the Milky Way. Not only is the trapeze artist hovering above the celestial constellation of stars in which she swings with such grace, but the straightness of her arms and the elongation of her legs show she is reaching for more. Her poise and beauty are an act of faith to make, and are an act of hope to see. Her being alone lifts the quotidian into the transcendent. "Le Spectacle [Lə Spɛktakl]" is a body of work you never want to leave and are never likely to forget. ❚