The Grand Synthesizer
Gordon Smith and the Tradition of Painting
If Gordon Smith is not the oldest working artist in Canada, he is certainly the most driven. On this early summer afternoon, a week away from his 95th birthday, he is in his West Vancouver studio painting—just as he is every day of his life. Sitting now in a wheelchair, and with the help of one of his assistants, Dallie Laurente, he has just blocked out the forms for a big, expressive new canvas, a patch of West Coast landscape, both general and particular. As if viewed from above, it depicts a portion of rocky beach covered with detritus: an abandoned buoy, a shredded length of rope, scraps of plastic, battered bits of driftwood. Bordered by tangled vegetation, the scene is full of the natural energy and cultural incident that compel Smith's eye, although he insists that he is giving up representational painting. He repeats that intention three times, like a mantra, and then indicates a crowd of recently completed canvasses, leaning against the far wall. They are big, brushy, American-style abstractions, some in brilliant whites and blues, others in creamy hues lightly streaked with burnt umber and yellow ochre. "I like to be surprised by painting," he says. "I like ugly paintings—the ones I have to work at looking at."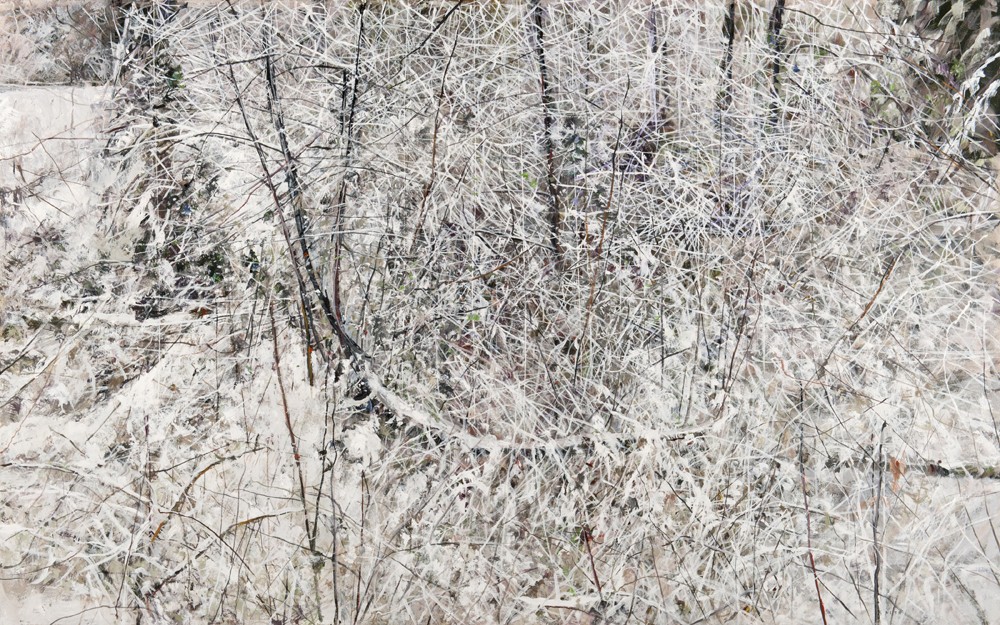 Although ugliness does not really apply, Smith recalls looking at JMW Turner's art while on sabbatical in England in 1960, an experience that led, that same year, to the production of one of the finest paintings of his career, Nancledra. An atmospheric composition of smudgy forms and scumbled hues, it is vaguely suggestive of a hillock on a beach or perhaps the prow of a boat emerging from a sand-coloured fog. And indeed, there is a Turneresque quality to the new monochromatic works in Smith's studio, the sense again of sunlight filtered through clouds or mist. In their all-over abstraction, however, no form is evoked, no wedges of colour can be assembled into an image. Smith has slopped up his brushwork and dirtied down his pigments, undermining our inclination to lock him into the lyrical, landscape-based abstraction with which he has—for so long—been associated. Still, whether his paintings take off from the landscape subject or originate in pure abstraction, Smith remains the leading proponent of West Coast Modernism. His long life has simply reinforced his position, as have his conviction and accomplishment. And although he has created work of considerable technical and formal skill in an array of mediums and disciplines, including printmaking, sculpture, collage, assemblage and photography, he is most strongly identified as a painter.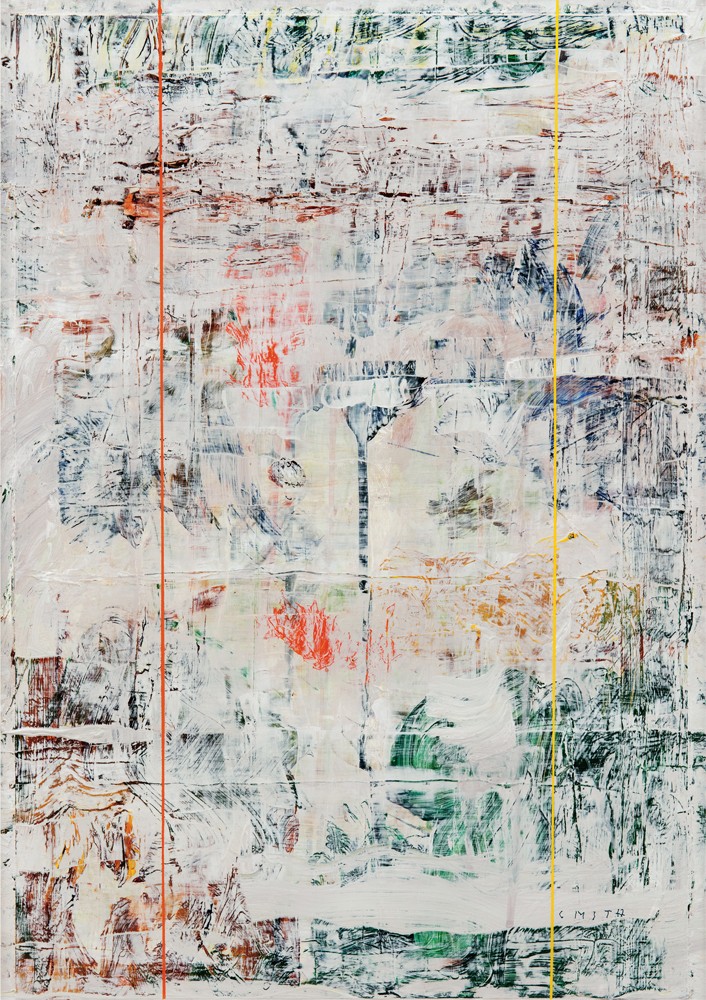 Most of the new works in Smith's studio are earmarked for an exhibition at the Equinox Gallery in Vancouver this fall. (The success of this event is something of a fait accompli: Smith's shows repeatedly sell out.) Also due this fall: a scholarly monograph, co-produced by Equinox and Black Dog Publishing in London, England, titled Gordon Smith: Don't Look Back, with an illustrious list of contributors: Ian Thom, Ian Wallace, Roald Nasgaard, Daina Augaitis and Gordon Smith. The new book promises to pick up where Gordon Smith: The Act of Painting left off in 1997. That handsome publication accompanied Smith's retrospective exhibition at the Vancouver Art Gallery, and Ian Thom's essay, particularly, stands as the most comprehensive and scholarly investigation of Smith's work to date. Thom's observations and analyses are hung on a detailed biographical framework, one that comprehends Smith's birth in England in 1919, his early exposure to the great museums and galleries of London, his immigration to Canada with his mother and brother in 1933, his enrolment at the Winnipeg School of Art in 1937, his brief tenure as a commercial artist (drawing men's long underwear for the Eaton's catalogue for $4 a week), his travel by bus to San Francisco in 1939 and exposure there to Duchamp's Nude Descending a Staircase and other mind-expanding examples of modernist art, his marriage to social worker Marion Fleming in 1941, and his subsequent military posting overseas.
Because my visit to Smith's studio takes place soon after the 70th anniversary of the D-Day landings, the artist is thinking about the Second World War. He does not talk, however, about his own military service with the Princess Patricia's Canadian Light Infantry, nor about being seriously wounded in 1943 during the Sicilian campaign, but about the Canadian war artists he encountered and befriended. "There was Charles Comfort, Will Ogilvie—who was probably the best one—and Lawren Harris, Jr., who had been teaching at Sackville," Smith says. "Will Ogilvie and I were stationed together in Scotland. No one knows anything about him. He was terrific. And he was the only one who got the OBE [Officer of the British Empire], of all the Canadian war artists." Off-duty, Smith and Ogilvie sketched together, the older artist advising the younger on how to bust out of the constraints of the English watercolour tradition in which he had been schooled. Smith was not himself an official war artist; he was an intelligence officer who made topographical drawings and maps, including those that guided his comrades as they landed on the beaches of Sicily.
Again, as so often happens when attempting to talk to Gordon Smith about his long and protean career, he redirects the conversation towards other artists—friends, teachers, influences. He recalls his instructors in Winnipeg—LL FitzGerald and WJ Phillips, and talks about Lawren Harris's kindness and generosity to younger artists. That would be the senior Harris, of Group of Seven fame, who presided over the post-war visual art scene in Vancouver, where Smith settled with Marion in 1944. "I met all these wonderful people after the war—Molly and Bruno Bobak and Ron Thom, Peter Aspell, Arthur Erickson, Jim McDonald—and Jack [Shadbolt], of course. We all met at the old Vancouver School of Art, when Mr. [Prof. Charles H] Scott was the principal. That was a great time in my life. They were all so bloody good. I looked up to them all—they were my mentors." Smith studied painting with Shadbolt, a tough and demanding teacher and contrarian who became a lifelong friend, and drawing with BC Binning. "What I learned from Bert [Binning] was, just because you draw and paint, that doesn't make you an artist. Bert introduced me to Le Corbusier and the Bauhaus, all the great designers of the time." He adds, emphatically, "I stood on the shoulders of these giants."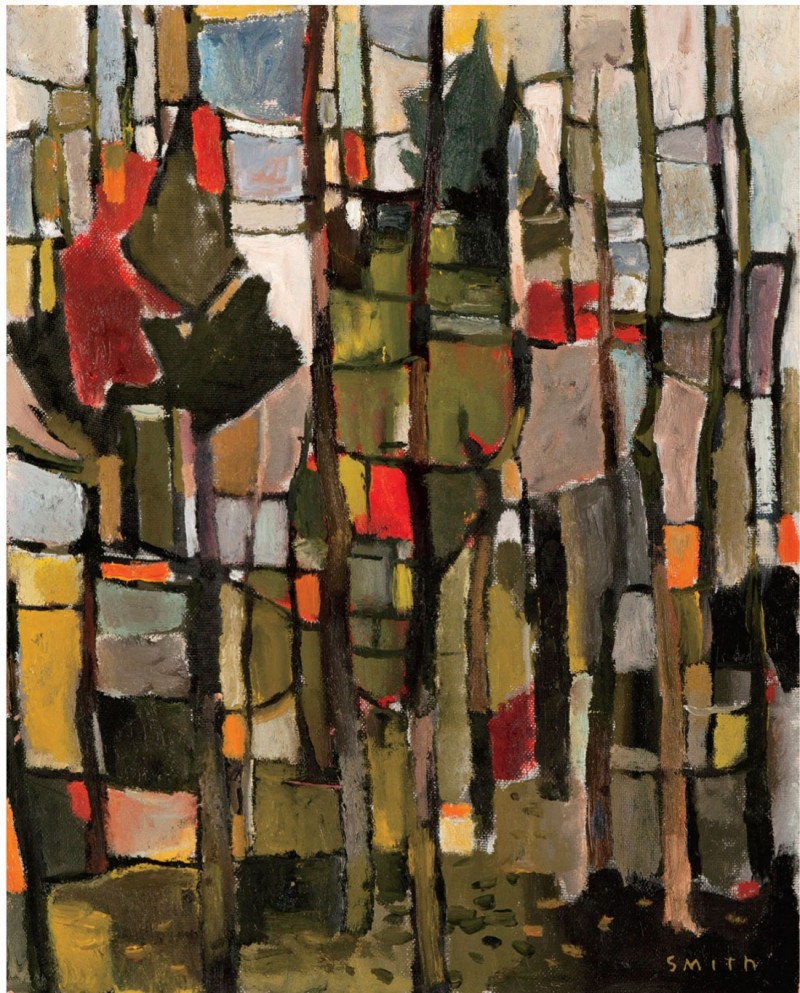 Many have stood on his shoulders since: Smith taught generations of students, first at the VSA and then, from 1956 until 1982, in the Faculty of Education at the University of British Columbia. Over the decades, he also gave courses in Victoria, Nanaimo, Banff, Calgary, Whitehorse, Waterloo, London (Ontario), Sackville and Halifax, all the time maintaining an active painting practice. Unlike many artists who are drawn into academe resentfully, merely to pay the rent, Smith was a devoted and generous instructor who firmly believed that if you didn't like a job, you wouldn't do it well. He liked teaching. He is also esteemed in his community for his ongoing patronage of the arts, his support of extracurricular art-education programs, and his encouragement of young and emerging artists. As Augaitis points out in her interview with Smith, his entire career has been characterized by an enlightened pedagogy; as well as teaching education students how to teach art to school children, he was a life-long learner—before that phrase was invented. He continues to look at contemporary and historic art, avidly and appreciatively, and even now will fly off to New York or London to take in an exhibition that interests him. On the wall of his painting studio is an assemblage of found objects—sticks, stones, china shards, fragments of antique clay pipes—gathered from the banks of the Thames. Smith created it, with Dallie Laurente's help, after seeing a Kurt Schwitters show in London a couple of years ago. It doesn't look like a Schwitters work, though. It looks like a Gordon Smith.
Through decades of interviews with journalists, Smith has described himself as being "a hundred artists deep," again alluding to the many forms and styles that have shaped his art-making. "Picasso said that good artists borrow and great artists steal," he says. "Well, I'm not a great artist, but I do steal." Yet where Smith construes theft, critics and curators see an ability to synthesize a multitude of influences into a visual lexicon that is distinctly his. With equal self-deprecation, he deplores the way his art has swung back and forth between abstraction and representation, through painterly chance and formal control, unfettered brushwork and powerful connection to the West Coast landscape. During certain periods of creative production, he has claimed as his own the towering trees and dense undergrowth of the temperate rainforest; using a naturalistic palette shadowed with existential blacks and browns, he has also depicted cascading streams, still reflecting ponds, rocky beaches, bare branches and deep drifts of snow. And yet widely admired as this landscape-based work is, Smith seems to think it is somehow inferior to the pure abstractions. "Too pretty, too easy," he said in 2009, about a series of paintings based on criss-crossing strands of sea grass. He seems to regret, somehow, his early English influences, which ranged from the Romanticism of William Blake and Samuel Palmer to the Modernism of Graham Sutherland and Ben Nicholson.
In 1951, Smith took a summer painting course from Elmer Bischoff at the California School of Fine Arts, an experience that was both physically and aesthetically liberating. Bischoff introduced Smith to the practice—as opposed to the theory—of action painting, instructing him to work with big, sloppy brushes and cheap house paint on canvasses placed flat on the floor. The process was revelatory. For the first time, Smith says, he had the sense not of painting a landscape or figure or still life, but of "painting a painting." As legend has it, however, when Smith brought his tough, black canvasses back to Vancouver, their public reception was less than positive. He reports that he retreated somewhat from their darkness, boldness and all-over abstraction. "I didn't have enough confidence in myself to go on with it," he told Thom. Smith destroyed the first black paintings (throughout his career, he has painted over or burned an unknown number of works) and turned to a more structured form of semi-abstraction, one descended from European Modernism. His compositions were based on dark trees and branches stripped bare by winter; in some of this work, the thick, black outlines have evolved into rectilinear forms and geometric grids overlaid on the landscape subject. Although it is often alleged that Smith did not return to "pure painting" until the mid-1990s, he certainly explored a number of approaches to abstraction, working through many combinations of loose geometrical forms, faceted and partitioned colours and expressive brushwork during the 1950s and '60s. In the late 1960s he took a post-painterly turn, creating hard-edge paintings, prints and architectural components. Although critically well received at the time, they look now like an odd blip in his otherwise expressive oeuvre.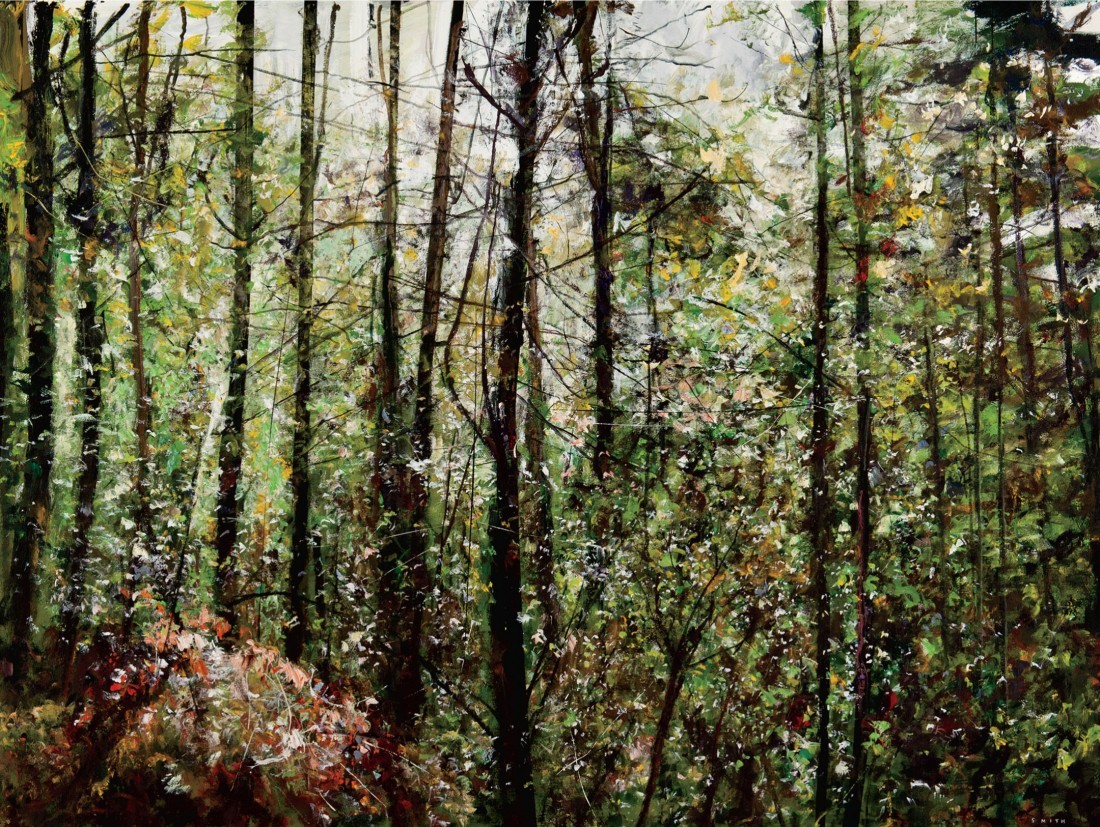 Legend and self-deprecation aside, it did take Smith a few decades to get back to big, dark, all-over abstractions—colour fields, really—that were concertedly about the materiality of the medium and the unstructured action of the brush, the arm and the psyche. In the late 1980s following a trip to Haida Gwaii, he created a body of energetically painterly works whose soaring verticalities, deep, mossy greens, and moody shadows are not about likeness but rather about place. They speak to the wild heart of the rainforest, evoking Emily Carr's presence and precedence without in any way mimicking her form or style. They also represent an interesting shift of perspective for Smith, one that enabled him to shut out what had been a troubling horizon line while also engaging in big, arm's-length gestures.
Following the rainforest works, Smith took on a body of white paintings whose determining metaphor is that of aged and graffiti-covered walls. They're very process-directed works, their surface built up, scraped down, and deeply scored, then augmented by stencilled numbers and letters. Stronger, in my view, are his Black Paintings, executed between 1990 and 1995. Their sombre and uncompromising palette—black flecked with khaki, blood red and burnt umber—along with their collaged Arte Povera elements and unsettling bits of text, reveal both a modernist painter in his prime and what looks like a project of painful remembrance. Despite their occasional splashes and bars of vivid colour, the blackness of these paintings, executed on old army tarpaulins complete with seams and rivets, and the words stencilled on them, referenced to code names for invasions and locations, suggest the grief and loss of his war experience. When we've spoken of this work in the past, however, Smith has been adamant that they should be neither sentimentalized nor personalized. He has described how he revelled in the physical act of creating them, smearing house paint, enamel, tar, even asphalt across their rumpled surfaces. But he has also written and spoken about the friends and comrades he lost in battle and the tears he has shed over them.
Again during the past decade, as somehow conflated in his studio now, Smith has oscillated between impressionistic landscapes—slender trees dappled with sunlight and spring foliage, Monet-inspired lily ponds, complex networks of branches and bushes against stretches of snowy white—and tough, dark and occasionally unnerving abstractions. As if in apology, he says how much pleasure he derives from drawing likenesses. As if in resolute opposition, he says how determined he is to pursue pure painting. Then he changes the subject entirely, extolling his friend Douglas Coupland's exhibition at the Vancouver Art Gallery, pulling out a series of small sketchbooks which he has filled with notes and drawings during overseas flights, showing me photographs of two big painting commissions he's recently completed (one for Canada House in London), then ushering me out the door. "Good bye, Robin, goodbye, don't be late," he says, thanking me for my time, telling me I do a wonderful job, wondering about the usefulness of our interview. "Did that help you?" he asks, then adds, "It helped me." ❚
Robin Laurence is a Vancouver-based writer, curator and Contributing Editor to Border Crossings.