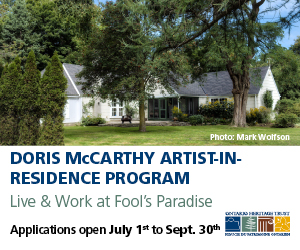 Vancouver-based photographer, videographer and bookmaker Ho Tam is committed to the idea of a picture democracy. In his recent exhibition at Winnipeg's Platform Centre for Photographic Art, he brought along only a quarter of the 400 images he had taken for a series called "Posers." He usually installs this work in a grid, but the configuration of the gallery encouraged him to play with different scales and arrangements. "I saw the potential of the space and I went all out. I have all these projects in which people are the subjects and this wall shows everybody without any hierarchy. It is a democratization, some sort of people's wall."
Ho Tam, Kelly Salon, from Hotam #7: Haircut 100, 2015.
He describes himself as an "experimental documentarian" who pays close attention to the everyday life around him. That openness to the quotidian has resulted in a compelling range of work. In his "Ghost" series he took a collection of photographs of his deceased partner from 40 years ago and reproduced them as colourized negatives in a benign and haunting kind of psychedelic and tributary Surrealism. In his series of altered magazine covers he appropriated the logos and masthead design of mainstream publications, like Time, Vanity Fair, Vogue, Playboy and Interview, and substituted images on their covers that stand in ironic and humorous counterpoint to the content we would expect to find there. His version of Popular Science, with its bloodied male leg, looks like the director of a slasher film got to do a Robert Gober installation. The image on Brides shows a man with his arms around a tree. He is either a tree-hugger or a tree-humper; taking equal inspiration from David Suzuki and Harmony Korine. "I don't have a fixed idea of how people read the images," Ho Tam says, "I guess I'm just an instigator of meaning. I'm trying to mix something up and let people decide on their own."
In one of the magazines he took the design of Life and placed at its centre a wizened, sand-infested red bell pepper found on a beach. If the image is a measure of what the magazine's title advertises, then it has become a dried up existence. But Ho Tam has put Life magazine and its signature photo essays to another and more tidy use. The "Hair Salon" photographs (which also became one of his hotam books called Haircut 100) were taken in New York's Chinatown. The images were shot in colour but it has been removed, so the resulting black and white photographs take on an intense, theatrical cast. Ho Tam first documented hair salons in 1998 in an analogue video, but two years ago, again in New York, he decided to shift formats from video to book. "The whole project just took me a few days because I knew exactly where the places were and I was obsessive in taking the pictures. I liked the look of those picture magazines in the '50s and '60s, so I tried to imitate that style when I did the images for the book." His shifting from one medium to another is typical of the flexibility of a practice in which one kind of image crosses over into another. In the dominion of his pictures, he continues to keep every thing, and every one, democratic.❚
Installation view, "Ho Tam Cover to Cover," 2016, Platform Centre for Photographic + Digital Arts, Winnipeg.