Suzy Lake
Gamesmanship—the exploitation of weakness through strategy rather than brute force alone—is older than chess, but the game has its origins in that approach. Initially a prestigious pastime in India during the 6th century, and called the "game of kings" in its origin-variation Chaturanga, by the end of the 10th century chess had spread to Persia and then to Europe. Marcel Duchamp, who had a lifetime passion for chess and used chess motifs in many works, stated in a 1964 film interview that the pieces move, interact, destroy each other. This aspect lends itself to cinema moments, with chess foreshadowing sacrifice or a coming struggle. A classic example is 2001: A Space Odyssey as Dave plays chess with HAL the computer. Other films' devices, through metaphor and analogy, can announce a protagonist's strategy, or be used as a prop to underscore terse dialogue between characters.
Over a near 50-year career, Suzy Lake has employed many cinematic devices in her photography, but during a visit to the British Museum, she became intrigued with the 12th-century Lewis Chess Piece Collection, carved from walrus ivory and named because the pieces were discovered on Lewis, an island of the Scottish Outer Hebrides, in 1831. They are considered the most complete medieval chess set extant. (There are competing theories of their origin, but the British Museum proposes that the pieces were made in Trondheim, now modern-day Norway.) Suzy Lake was inspired to use them as a metaphor and set out to orchestrate and enact a metatext for global, political gamesmanship today. In Shakespearean coinage, "the game is afoot." Like Duchamp, who had said, "chess is a school of silence," silent enactment is a hallmark of Lake's formative work such as ImPositions, 1978, and Are You Talking to Me?, 1979, and her more recent "Extended Breathing" works, 2009–2014. "Game Theory and Global Gamesmanship" is the first project by Lake to have a historical setting and the first where she shares the photographic stage with inanimate objects.
Her attention was drawn particularly to the carving of the queen, depicted with hand to cheek, in which she saw a range of possible emotional readings—grief, despair, patience, disapproval or surprise over what is lost—and to the queen's positioning amongst the medieval oligarchs—the "power pieces." In medieval chess, the queen was limited to one move; in essence, a "pawn." By the end of the 15th century, as the game developed, the queen had become the most powerful piece. Lake also chose to animate the pawns, to become their stand-in. She said, "I chose to photograph myself as pawns [with expressions] ranging from passive to hysterical. I sewed a simple twelfth-century commoner's dress with shawl to wear, but extended the reference with contemporary sweaters." In the photograph Authority Relations, 2019, the row of pawns of the multiplied Lake obscures the "power pieces." In one of the poses, she holds a handkerchief, echoing Rogier van der Weyden's c.1435 depiction of Mary of Clopas in his painting of the Deposition, grieving as Christ's body is taken down from the cross. In the photograph Pawn, isolated from the game and board setting, Lake has inverted her 2014 Performing Haute Couture, in which she is wearing a Comme des Garçons two-piece suit. Curator of the AGO's "Introducing Suzy Lake," 2015, Georgiana Uhlyarik wrote that Lake was able to demonstrate and inhabit commerce, fashion, desire and influence. The term "pawn" entered and has remained in our vocabulary, signifying willing and unwitting sacrifice for some "greater good"; pawns can protect the strongest and the weakest piece, now the king, but they cannot win a game alone.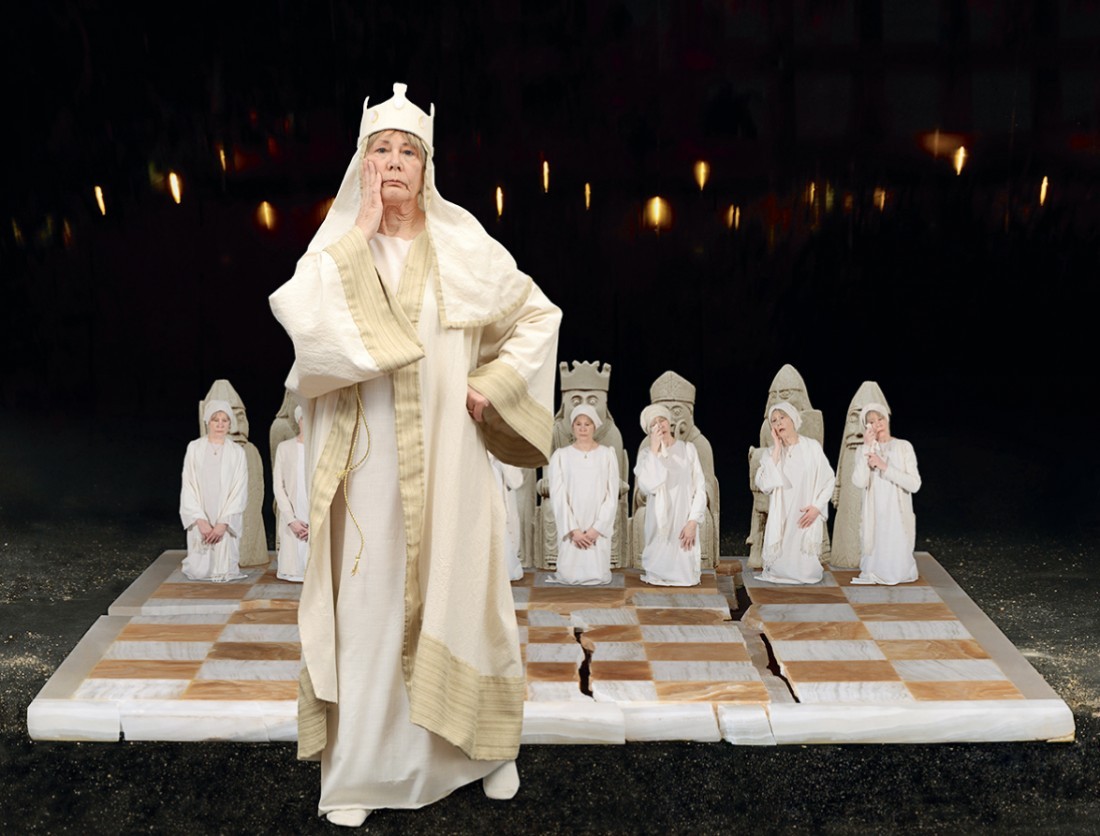 True to her career-long exploration of complex social issues and identity, Lake brings chess and its gamesmanship into a contemporary global context. She had previously used chess as a metaphor in her 1986 project "Authority is an Attribute Part II," made in collaboration with, and in support of, the Teme-Augama Anishinaabe land claims struggles. One photograph shows two men dressed in suits, standing at the edge of the woods with a chessboard set on a table between them. As curator and lecturer Helena Reckitt had written, the Teme-Augama Anishinaabe people "were viewed as pawns in a chess game—whose voice [as Lake noted in correspondence to Reckitt] 'was tricked or overlooked at every turn.'"
Paradoxically, chess can be played as a zero-sum game: sacrificing equal pieces with the opponent, or deliberately playing for a draw. Both strategies are employed in war and politics. Chess doesn't engage collateral damage but gamesmanship does. In choosing to identify with the queen's despair, Lake stated, "I am sickened by the recent resurrection of elitist nationalism, racism, anti-feminism and homophobia triggered by money/power policies." The medieval dramaturgy of Lake's "Gamesmanship" project is a departure from the minimal or ordinary settings that have come to characterize her work, but her sense of class consciousness and political advocacy remains steadfast: she wrote, "The game board in my photographs is literally broken." ❚
"Game Theory and Global Gamesmanship" was exhibited at Georgia Scherman Projects, Toronto, from September 6 to October 12, 2019.
Ihor Holubizky is an art historian currently based in Canada. He received his PhD in art history from the University of Queensland, Australia