Riding on the &
The Continuous Work of IAIN BAXTER&
In 2011 the artist Iain Baxter officially registered the trademark "&" with the Intellectual Property Office of Industry Canada. The registration number TMA803,289 meant that he could legally attach the ampersand to his name. Iain Baxter became IAIN BAXTER&. It was a sensible, even inevitable transformation because from the beginning he has been an "and" kind of artist, the embodiment of living under the sign of the additive conjunction. As he happily declares, he is the &MAN.
The word "and" is a congenial part of speech because it insists that whatever comes after it will establish a connection between at least two things, and in all likelihood many more. That is how IAIN BAXTER& understands the world; it is a place in which his function as an artist is to engage in an ongoing process of making connections among ideas, objects and people. The range of things he has brought together is exceptional. In 1965–66 he produced a series of clever appropriations, including B_agged Rothko_ and Pneumatic Judd (inflated vinyl and cotton flock), Slip Cover for Donald Judd (fabric over plywood) and Extended Noland (in which a series of velvet ribbons creep out like coloured spider legs from a hard-edged striped canvas). In Bagged Place, his first installation at the UBC Fine Arts Gallery in 1966, he covered in plastic the contents of a four-room apartment (in 2013 he would reprise this early installation in London, England, when he wrapped an entire flat above Raven Row and called it Rebecca's Bagged Place).
In 1966 he and his then wife, Ingrid Baxter, combined art and business when they established the N.E. Thing Co., a two-member organization that could by its own definition do anything it wanted. By 1969 they took their tongue-in-cheque company and transformed Ottawa's National Gallery of Canada into a corporate office. In 1977 they opened EYE SCREAM, a restaurant with an artful menu (it included a Still-Life Salad at $2.25 and Scallops Renoir at $7.95) and table settings that drifted into the meta-category; on a plate you read the word "plate."
NETCO's partnership ended in divorce after 12 years but IAIN continued making work independently. There is much in his more than 60-year-long practice to support his self-described claim as a maximalist unconstrained by what categories of art were supposed to look like. His multivalent practice was encouraged by an art community in the late '60s and early '70s Vancouver that was influenced by a widespread interdisciplinarity in which artists crossed aesthetic and social boundaries. It was an atmosphere that suited BAXTER&'s personality; his conversion to Zen and the encouragement to "live in the moment," along with a temperament inclined to find connections between things, meant that anything was possible. That sense of unlimited making led him to early experiments with vacuum-formed plastic sculptures and transparencies in light boxes, and to designing inflatable clothes called "wearables" that turned models into sculptural objects. He also organized a monopoly game to be played with real money in the York University Branch of the Toronto Dominion Bank in 1973, and he collected the contents of Animal Preserve, no. 2, 1999, in which 600 colourful plush toys were stuffed in mason jars filled with distilled water. This series is one of many in which he draws our attention to issues around ecological sustainability. One of his most direct works on this subject is a sculpture called Zero Emissions, 2008, in which 10 taxidermied animals are placed like trophies on top of automobile exhaust pipes. It stands with Bruce Nauman's Carousel and Animal Pyramid, both from the late '90s, as a devastating representation of the way we destroy nature rather than preserving it. But BAXTER& is equally adept at bringing humour and wit to the art table. In a 2006 exhibition in Rennes, France, called "IAINBAXTER&: &wichtime," he multi-purposed oversized versions of the iconic French baguette as table legs, an umbrella, a golf club, a surfboard and parts of the human body that stick out. It's as if Pinocchio ends up auditioning for a role in a porn film.
BAXTER&'s painting practice has also had a tendency to augment the material nature of the art form. In Paint Into Earth, 1966–68, he poured paint into the ground in performing an early, modest earthwork and has since painted on every surface and object he could find, including TV sets, books and metal boxes. He was discovering connections between painting and sculpture, just as he had explored links between sculpture and installation and between business and art. His andness provided him with complete mobility.
His sense of engagement is especially prevalent in his use of language. "I like to play around with phrases and turn things upside down and inside out," he says in the following interview. It explains his attraction to the pun as a language form because it both disrupts and deepens meaning. The pun's doubling underlines that something is always more than, and different from, what it appears to be. Even his simplest N.E. Thing Co. button moves in two directions. "Art is all over" is either a way to celebrate art's ubiquity or to mourn its passing. His game is to compare linguistic mythologies; if he were a poet, you would have to call him Learned Kōan. Six years from now, in August of 2026, he will have to renew his ampersand registration, which will have expired. It is official proof that the world according to IAIN BAXTER& is a connected one in which the &ing never ends & the ending always ands. The following interview was conducted by phone to IAIN BAXTER&'s home in Windsor, Ontario, on May 1, 2020. Border Crossings would like to thank Judy Ciccaglione from the TrépanierBaer Gallery for her considerable help in securing images to accompany the interview.
Border Crossings: It's clear from photographs that the outdoors and athletics were a major part of your upbringing as a kid. Did art play any role in that process?
IAIN BAXTER&: Not particularly. It was more about a healthy level of competition, which, if you get it, is a bug that can help you later on. You want to make something happen. I enjoyed art in school, but there was nothing super-outstanding about what I was doing. In high school woodworking class we would make an ashtray and a little chair. But it was athletics that was big with me, trackand- field and skiing.
Where did the interest in science and particularly zoology come in?
It came mainly from being out in nature. I worked in Banff during the summers and skied competitively there in the winter, so when I first went to the University of Idaho, I thought I'd go into forestry. After a year I realized it involved quite a bit of math, which wasn't my strongest suit, so I switched to biology and zoology.
Is that when you become the great rodent capturer? At one point you had done 250 or 300 drawings of mice.
Mice and squirrels. Professor Earl Larrison was the main guy in the zoology department at the University of Idaho and he liked my drawings. He was a writer, and he asked if I wanted to illustrate the birds, mammals and reptiles for his book on the wildlife of the Rocky Mountains. So I took a chance and jumped into it. He was doing studies in southern Idaho and Utah, and I went with him as a summer student. We were trapping mice in fields because we wanted to gauge their population. We'd cut them open to see what they were eating, and the information we compiled would help the foresters decide whether they should initiate rodent eradication.
Did you basically teach yourself to draw?
Yes. The drawing came out of doing the lab specimens. A lot of those animals were done by taking a stylus to a scratch board and scratching back into the plaster. It came quite easily and I got pretty good at it. Once I started doing animal drawings, I went over to the art department because one of the electives was a watercolour class. I thought I was going to become the next Audubon and there was a Canadian self-taught artist, Fenwick Lansdowne, who I thought was great. I would go to the library and look up artists who were into nature and drawing and that's how I came across Mark Tobey and Morris Graves. I particularly liked Graves's atmospheric animal paintings, where the animals had calligraphic auras and the birds were bathed in ethereal light. He was into Zen and that's why I became involved with Buddhism. Around the same time I got into Alan Watts big time. He had a radio program out of San Francisco and I taped all his lectures on Zen and bought his books. He was writing about nirvana and kōans and those things tied back into my interest in Graves.
Your enthusiasms tend to be all-encompassing. There is Graves and Watts and then you become interested in Giorgio Morandi's still life painting and that makes you ask what material you would use if you were doing contemporary still lifes. What it indicates is the adaptable way that you deal with influence.
I have this ability to like everything and to see what it's about by looking into its core. That's why it's easy for me to adapt things. The way I looked at Morandi was that he was a kind of Zen monk. Like I always do, I read everything I could find. I realized how crazy he was; he would have his favourite 25 bottles and he would rearrange them in different combinations. You can tell from the way I talk about artists that my art schooling wasn't conventional.
Is it true that you gained your understanding of art from looking at art slides?
Pretty well. I went to Washington State to get my MFA, which is only nine miles from the University of Idaho. I had a master's degree in education, a bachelor of science; I'd gone to Japan on a Japanese government scholarship, had my first one-person exhibition in Kyoto; and my watercolours had been included in shows back in North America. When I applied to WSU for my master's, they let me in, but they realized that I had no art history. So my job was to show the slides to undergraduate art classes and then put them away. I would hear the professor talking about them and that was how I learned about art history. I also think that the interest I developed in light boxes later on came from the work I had done with slides and transparencies.
The other major influence on you was Marshall McLuhan. How did that come about?
When I got my first job at the University of British Columbia in 1964, McLuhan was at the zenith of his career and he was on everybody's mind. We were also doing things about him at the university; Tak Tanabe, Arthur Erickson and I set up a multimedia happening called "The Medium Is the Message" for the Festival of Contemporary Arts in Vancouver in 1965. I began to think about his idea that everything we do is information. There is practical information, like getting up and making coffee, but there are also more sensitive kinds of information, like culture and the arts. I was interested in whether or not there was any difference between them.
In your reading of McLuhan, did you take away anything that you could use in your own life?
For sure. He talked about information rubbing against other information, and I started to read him through my background in ecology and the total universe. I didn't realize then that I was starting to build towards an eco-sensitivity to everything.
In the '60s and early '70s, Vancouver showed a strong inclination towards interdisciplinarity. In 1967 Eric Metcalfe, Glenn Lewis and Jack Shadbolt start Intermedia; FILE and General Idea are around; so are Michael Morris, Vincent Trasov and Gary Lee-Nova. Everybody is working in this area where the arts are infiltrating one into the other.
I think I did drop in at the right moment. There is a period in different cities where artists get along and then when their careers get going, they start protecting their area. But a sense of collegiality was happening at that time, and we all helped build a great attitude in Vancouver towards that interdisciplinarity. We were all pushing because we thought Toronto regarded itself as so big time. A similar thing was happening across Canada through the Canada Council. David Silcox, one of Canada's cultural icons and the council's first arts officer, visited and met artists from all areas of the country to foster a spirit of networking in the visual arts. But it was the McLuhan influence that captured all of us. Even older guys like Jack Shadbolt were open to what was going on.
You start the N.E. Thing Co. in 1966 as "an umbrella under which all sorts of things could happen." Was the original impulse to give you complete freedom to make whatever you wanted in whatever medium you wanted to make it?
Absolutely. Because I came into the art world through the back door, the whole thing was like a Hail Mary pass; I just caught it and went for the goal line. I kept wondering, what does it mean to be an artist? and at the time the corporate world was part of our consciousness. I was riffing with language and seeing all these company names, like AT&T, IBM, J.C. Penny and Xerox, so I thought, why not have a company as an artist? If I want to do anything, I'll call it the "anything company" and since I like to play with language, if you say my name, IAIN, it sounds like EN, so I reversed it to make N.E. The key was getting lawyers to set it up so that it would have a ring of authenticity. When you have incorporation papers, you have to stipulate what it is you do, so we would say, "We make art of all kinds." Interestingly, at the Sorbonne in 2008, Yann Toma started Art & Flux as a research project to connect art, economy and society, and, along with another researcher, Rose Marie Barrientos, designated me the Godfather of Art & Flux.
The slogan of the company, "I wonder what would happen if …," was an imaginatively speculative one. In Indigenous culture, "What if?" is the Trickster's question. It's a kind of disruption. Was that disruptive attitude one that the N.E. Thing Company embraced?
I didn't know about the Indigenous connection then, but it is one I would totally embrace today. Right now we have no idea what the world will be like, so we're living in a big time "what if?" moment.
I admire your reliance on the serendipitous. When you began to play with the anagrammatic possibilities of AND & DNA, you realized that the word "and" is the foundation of language.
Epiphanies happen when you work with the ampersand. I was thinking about the word "and" and all of a sudden I thought, DNA. To make my neon piece all I had to do was turn the D and the N backwards because you don't have to do anything to the A. It reads both ways because life and the world are a circle. So there are all these repetitions that happen. It's also about being totally sensitive to sustainability and the eco world and seeing us all as interconnected. If you don't have ands, then all the ideas just fly away. I have come to realize the POWER of &, and a lot of my work recognizes that our whole life is one giant ampersand, and when we pass away it will be some other and that I don't even know about. So it gives me great peace of mind that we're just riding on the and. I look at everything as an ongoing collage, and I never know when a confusing pattern will happen. I am always trying to upset stuff in a healthy way, so I've been working through the dictionary and finding words that have an "and" in the middle and then I'll do my own dictionary by substituting an ampersand in place of the three letters. It opens up so many crazy areas. Serendipity is definitely a driving force in my life.
Here's a simple example of your play with language: the phrase "Art is all over." It addresses the ubiquitous presence of art and it also imagines the end of art. So built into the declaration is an inherent contradiction, which you turn into a button.
I think it comes from the kōans in Zen philosophy. There is a famous story about the monk who is expected to give a lecture in Kyoto. He reaches into the sleeve of his kimono, pulls out this tiny reed flute, blows one note and then he walks off stage. That's what life is all about. We all make one note. I like the fact that we live in ambiguity. The other thing I've recognized is McLuhan's humorous turn of phrase. Everything about us is funny; I have broken my neck and I have had prostate cancer and a quadruple bypass and I'm still here. So when I pass away, it will just be another and. That's why I did the & tattoos on my hands; hand has an "and" in it. I try to make life be about fun. I'm not a writer, but I like to play around with phrases and turn things upside down and inside out.
Did your naming and play with language move easily from art to business when you picked NETCO as your company name?
In the late '60s it allowed me to go to the CBC and say, I want to run some ads, and they would say, well, who are you? and I would say, I'm a consulting company. If you use the word "consulting" you can pretty much do anything. So I did a show in Edmonton and I bought some radio and TV time. And "company" is a neat word because it is about a gathering, or hugging; it's about a group of people with similar feelings or thoughts. NETCO allowed me to look at the corporate world and wonder what it was. I had met the girlfriend of the president of Labatt's, she was a Toronto designer named Ingrid Weger, and we hung out. I was looking for work, so I said, why don't you see if Sid will hire me and I'll come and work in the corporation? And she did and he did. He gave me a VP office and I went to all the board meetings and I was a burr under the saddle of a big corporation. While I was at Labatt's in 1983, I ran companion ads in the Toronto Star and another one of my favourite words, "chance," serendipitously became part of my life. I met Louise Chance, and we're pushing 37 years of taking chances and playing with the POWER of & along our way.
So you go to the International Data Processing Conference in 1970, and in 1972 you actually take out a membership in the Vancouver Board of Trade so that you can attend trade fairs.
Well, all you had to do was pay a small fee. The Data Processing Conference was a lot of fun. We had a booth and I made a stop sign that said "GO" as well as a backdrop in the form of a giant, inflated, early computer card. I cut the letters RUG and laid them down as our carpet and some of my friends put on the inflated fashion dresses I made and walked around the audience, handing out our brochure. People liked what I was doing so much that they asked me to give a spontaneous talk to the convention.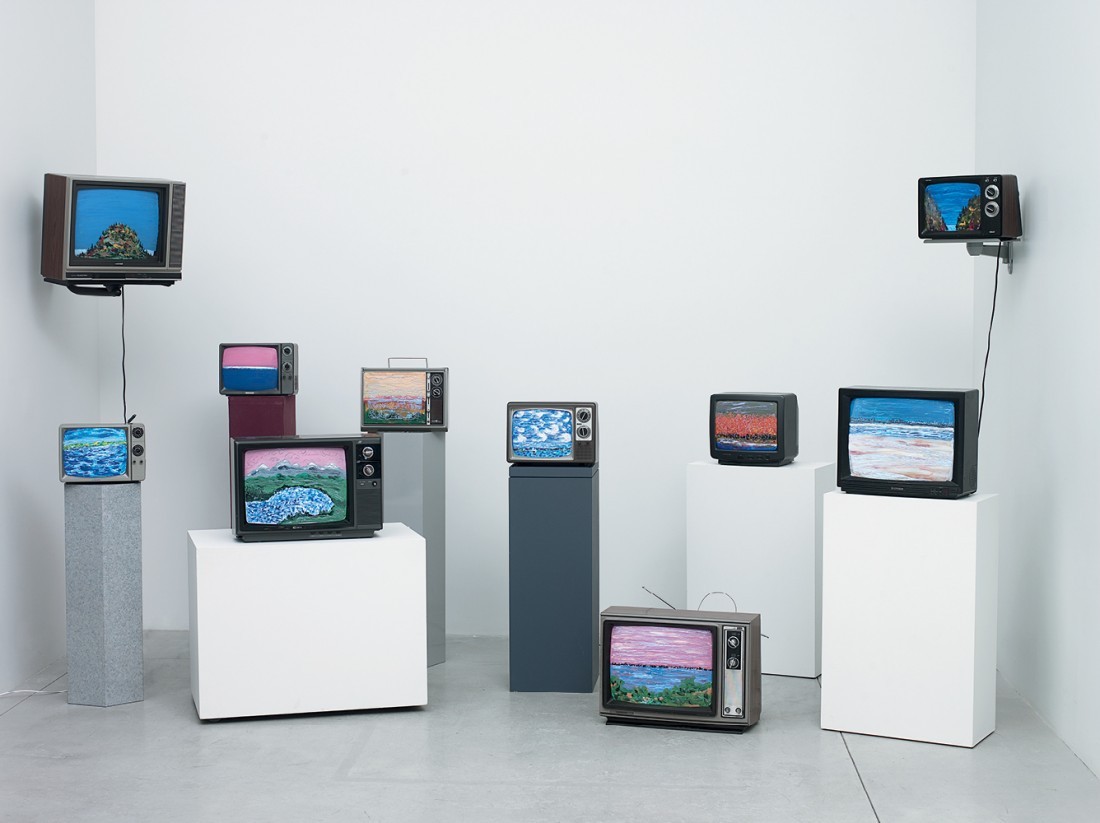 I don't want to sound insulting, but what were you telling people when you went to these conventions?
I was talking about McLuhan's ideas and trying to persuade them that culture should be a major ingredient in their corporate lives. If it were up to me, I would take half of our defence budget and give it to culture because when everybody is gone, the only thing you know about a country is its culture.
…to continue reading the interview with IAIN BAXTER&, order a copy of Issue #154 here, or Subscribe today.