Rashid Johnson
At night, luminous white lines can be seen through the glass, suspended within an ambiguous volume and latched onto the building's robust columns. The constituent parts of that volume blend with each other, merging into the cavernous darkness. Positioned prominently inside the eastern glazed corner of the National Gallery of Canada (NGC), near Louise Bourgeois's giant spider, the visible fragments of Rashid Johnson's installation, Capsule, beckon, hinting at the work's contours.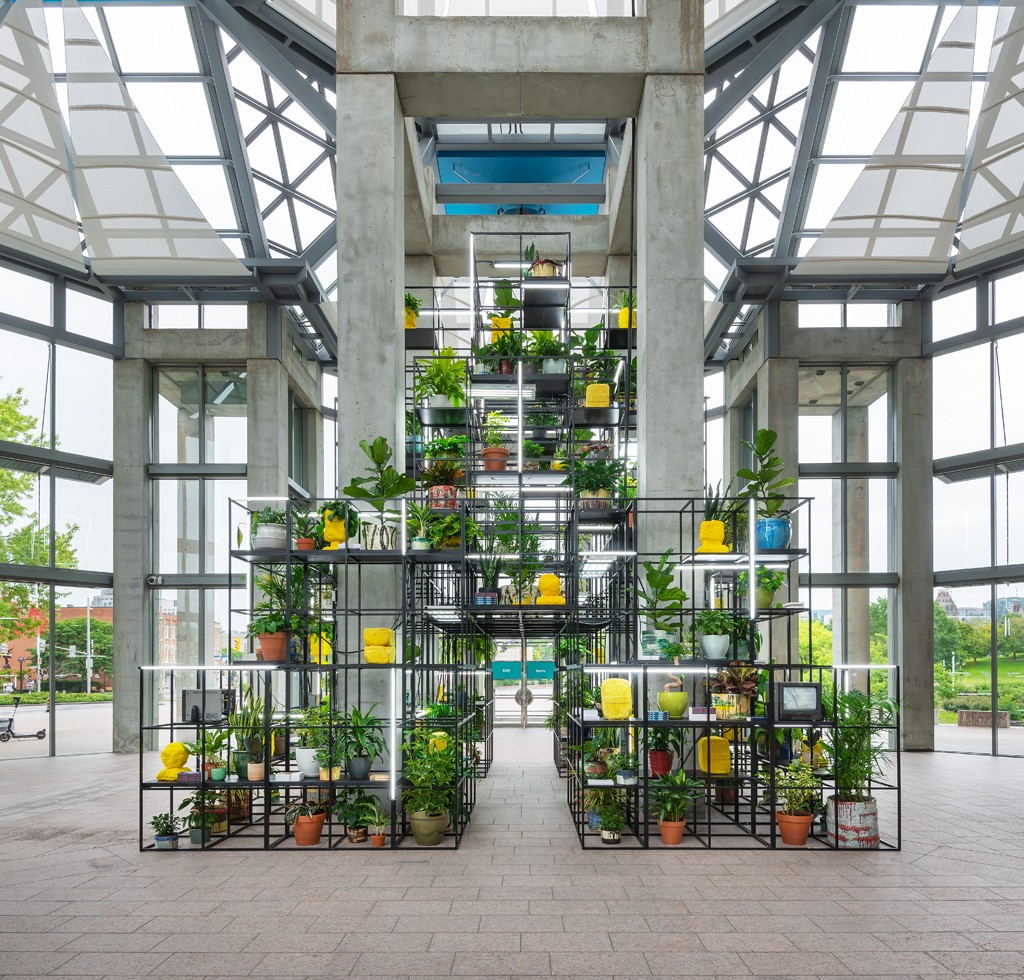 Lamps, a combination of fluorescent tubes and grow lights, affirm the presence of an entity that shows itself differently during the day. As the viewer approaches the installation from the building's interior, the lamps recede in the bright sunlight, intermingling with a three-dimensional black grid structure. Emerging from a low-ceilinged passage, the viewer confronts a staggering, roughly pyramidal latticework within which a variety of objects nestle, most visibly many potted plants, with exuberant foliage breaking out of the orderly scaffold-like geometry. The plants are predominantly tropical, referencing southern geographies, with all that these conjure, specifically for Johnson and the African American community.
The viewer moves around what seems to be a new take on the Hanging Gardens of Babylon, encountering other objects or referents. Numerous books are strewn across the verdant structure, including Song of Solomon by Toni Morrison, The Souls of Black Folk by WEB Du Bois, and A Thousand Plateaus by Gilles Deleuze and Félix Guattari—publications that contributed to the artist's intellectual formation. Large chunks of shea butter, standing up like Rosetta stones, are dispersed, evoking materials of symbolic significance for Johnson. At ground level, there's a rolled-up rug; old television monitors are seen here and there, and some store-bought terracotta and glazed pots house a number of the plants.
The installation, from outside, comes across as a hollowed-out, skeletal mastaba; from inside, a permeable shelter through which visitors can walk. It is an artwork within which are embedded some of Johnson's other artworks, including handmade ceramic pots and sculptural objects reminiscent of busts, which add rich texture and colour, particularly bright yellow, enlivening the blacks, greens and the more earthy and muted colours in-between. The monitors display videos produced by the artist, featuring African American dancers performing in open landscapes not as lush as the vegetation surrounding the screens. Drumbeats, indecipherable rhythmic chants, a trumpet, a piano and a soft, wafting flute melody permeate the space.
Johnson assembled a dematerialized structure in which anecdotal objects are suspended: a monument of sorts celebrating his life journey, relationship to family and community and the landscapes within which these unfold. This bricolage equally constitutes an informal repository of memories and concerns, referencing his autobiography but also the specificity of African American history. Far from didactic or conclusive, Johnson's construction points to plural, and at times contradictory, ideas, events and objects—leaving the door wide open for visitors to engage, interpret and arrive at divergent understandings of the temporality and spatiality that moulds our individual and collective identities.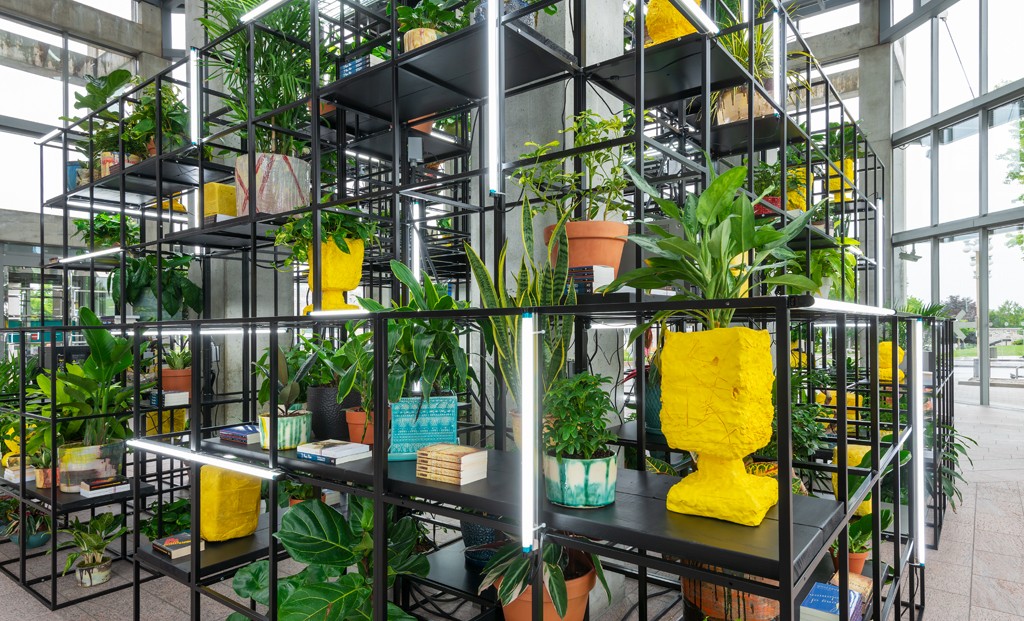 Commissioned in 2020, when institutions rushed to demonstrate their purported support for racialized artists in the aftermath of the Black Lives Matter movement, Johnson's is one of a few works by artists of African descent that suddenly appeared at the NGC. The institution continues to embrace antiquated Eurocentric museological frameworks, with the saving grace being the increasing presence of historical and contemporary Indigenous art. Aside from this new, and long overdue, engagement— which still falls woefully short of proportionately representing Canada's rich and diverse populations—the introduction of Johnson's installation at the NGC raises vital questions about representations of minority communities. Is the work of thoughtful racialized artists being co-opted by the establishment? Are institutions simply ameliorating the occasional public outcries, while avoiding a radical and necessary transformation of existing policies or outdated curatorial methodologies in order to genuinely expand and diversify their holdings? Is it good enough to try to reform through a piecemeal, reactionary approach?
The subversive power of Johnson's work lies precisely in its inherent resistance to the reductive, dominant gaze of tokenizing institutions that try to possess not only the work but everything it stands for, while maintaining power, placating underrepresented audiences and benefiting from public funding. Although it honours his life journey, making reference to the past and present of his community, the installation acts as an anti-monument. It towers above the visitor and flirts with the architectural scale of the building, but it is also a fragile, porous and ambivalent form. It wraps itself around the architecture, adapts to its setting but refuses to abide by its rules. The size of the grid echoes the footprint of the building's columns, yet contrasts their imposing solidity with a delicate web. And, while it may be a "capsule," this is not a neat container: it is an exploded, living, breathing, growing ecosystem—a subtly changing vessel, which defies static readings.
Johnson brings into sharp relief the incommensurability between conventional art forms and attempts at representing the experiences of historically and currently oppressed communities. Nothing on its own would have been sufficient: not the sculptural elements, readymades, books, videos, sound, or plants, and certainly not the structure that holds them all together. The artist insists on asserting his presence by introducing all of these things and occupying considerable space but the seriality of the objects used, as well as the grid matrix, imply that this is only a partial selection of a much larger constellation. Johnson offers just the tip of an iceberg and appears to be aware of the daunting and intractable task of capturing the fundamental complexity of a human life, by attempting to make that partially and momentarily intelligible.
The installation thwarts institutional gesturing at the inclusion of routinely marginalized artists and communities, frustrating demands for tangible affirmations of otherwise conservative curatorial and collecting practices. Instead, Johnson's work—a beguiling provocation—mesmerizes day and night, luring viewers into reflecting on the inherent heterogeneities, the unfathomable opacities and the elusive paradoxes that exist in every attempt at representing the pain, struggles and world views of his community. He suggests that any depictions of his biography shall remain as entangled, as layered and as perplexing as the installation. The work's generosity stems from the uncertainties it embraces and from its refusal to meet expectations or desires for simple and easy representations. ❚
Capsule is exhibited at the National Gallery of Canada, Ottawa, from July 16, 2021, to November 13, 2022.
Amin Alsaden is a curator, educator and scholar of modern and contemporary art and architecture, whose work focuses on transnational solidarities and exchanges across cultural boundaries.