"Out of Control: The Concrete Art of Skateboarding"
Billed as an "intersection between contemporary art and skateboarding," "Out of Control: The Concrete Art of Skateboarding" features 19 local, national and international artists working in a range of media. As expected, a number of these works picture skaters, their gear and the surfaces they come in contact with; but the better part of the exhibition is less literal, comprised of associative actions that, had skateboarding not been invented, might have manifested in other forms, such as playing chicken in freeway traffic or urban field hospitals for wounded birds. To suggest that skateboarding covers the range of human experience (from violence to kindness) makes a case for its relevance. But is this show, as the kids say, relevant?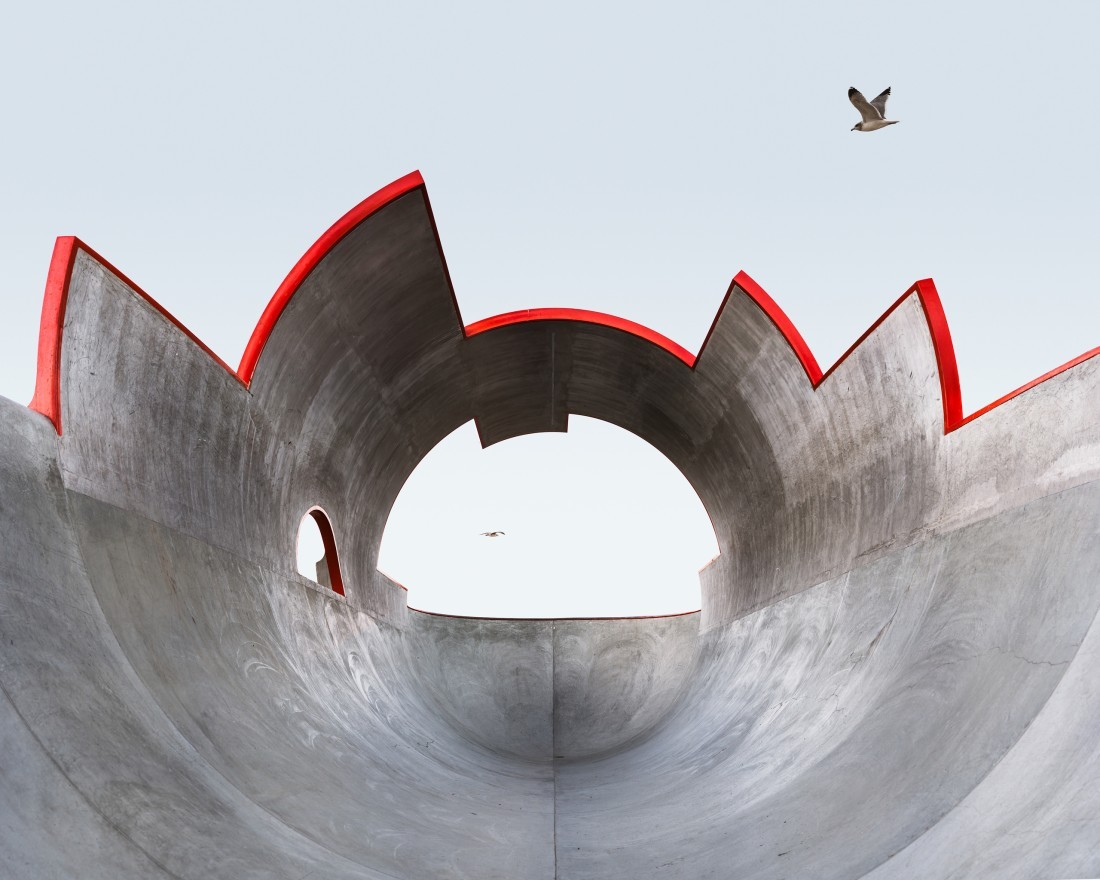 Even before entering the museum, the visitor sees in the Audain's lower concrete exterior a smorgasbord of riffing stations, sites of intercourse between board and building. Never mind that skateboarding is illegal in Whistler (outside the prison of its municipal skate park), the temptation remains; and nowhere are the consequences more present than in the museum lobby, where 40plus used skateboards lie in a coffin-length Plexiglas vitrine. Selected Skateboards, n.d., is attributed to the "Collection of Robert Moser," but this "collection" could just as easily belong to the local RCMP's impoundment program. We're not inside the exhibition and already we are primed for propositions.
Apart from Bracken Hanuse Corlett's The Drop, 2022, a looping animated video that links the Haida peoples' creation myth (the artist's mother is Haida) to skateboarding's dialectic of injury and recovery— much of the exhibition's first room is devoted to formal works. Here, Amir Zaki's 2018 Concrete Vessel photos highlight the shapes skate parks take, returning them to us less as sites of pleasure than as staging grounds for pain, if not torture. Cameron Kerr's Marble Barriers, 2005, supply a similar inversion, reproducing civic traffic dividers, the kind skaters trick on, but in a material associated with grandeur, the high life. The largest picture in the room, Karin Bubaš's Woman in Orange with Skateboard, 2021, features a skater at the edge of an empty parking lot, her face hidden as she stares at three bare trees. Is her presence, à la Caspar David Friedrich, one of antisocial individualism, or an alienation bordering on fear?
At the opposite end of the room, Antisocial Skateboard Shop owner, artist, skater and activist Michelle Pezel repurposed a narrow corridor from the previous exhibition into a community-inclusive installation that is anything but antisocial, which of course is the diffident point. Pezel's installation, with its posters, paintings, photos and objects, segues nicely to the next room, much of it devoted to Mikaela Kautzky's wallworks and video tent installation. Kautzky is a memory artist whose Playing House, 2022, is built from elements drawn from her childhood and her travels, a reflective environment that allows us to reimagine Bubaš's subject: not as a unilateral figure in the landscape but as a gatherer and sharer.
The works on the other side of these walls would be something of a letdown if they were not integral to—and illustrative of—guest curator Patrik Andersson's sensuous tracing of the formal into the relational, as demonstrated in the first two rooms. Linked by the sine wave undulations of Raymond Boisjoly's beer can wall drawing (the appropriately titled return of signs, 2022), this contiguous over-the-wall space is bracketed not only by beer cans but by anagrams as well. Andrew Kent's The Year Punk Broke, 2019, is a double-track horizontal row of 12 hand-drawn texts derived from letters that make up the work's title, while Raphaël Zarka's Paving Space—Regular Score, W9M1, 2022, is a reconfigurable "skater-friendly" sculpture comprised of Douglas fir modules. Though both works enact singular approaches to a particular surface (with variable results each time), it is Samuel Roy-Bois's Black Mountain, 2021, photo series—beer cans atop a burnt stick beside a dirt road—that reminds us why beer is there for the waiting, but also—and again—of Bubaš's skater.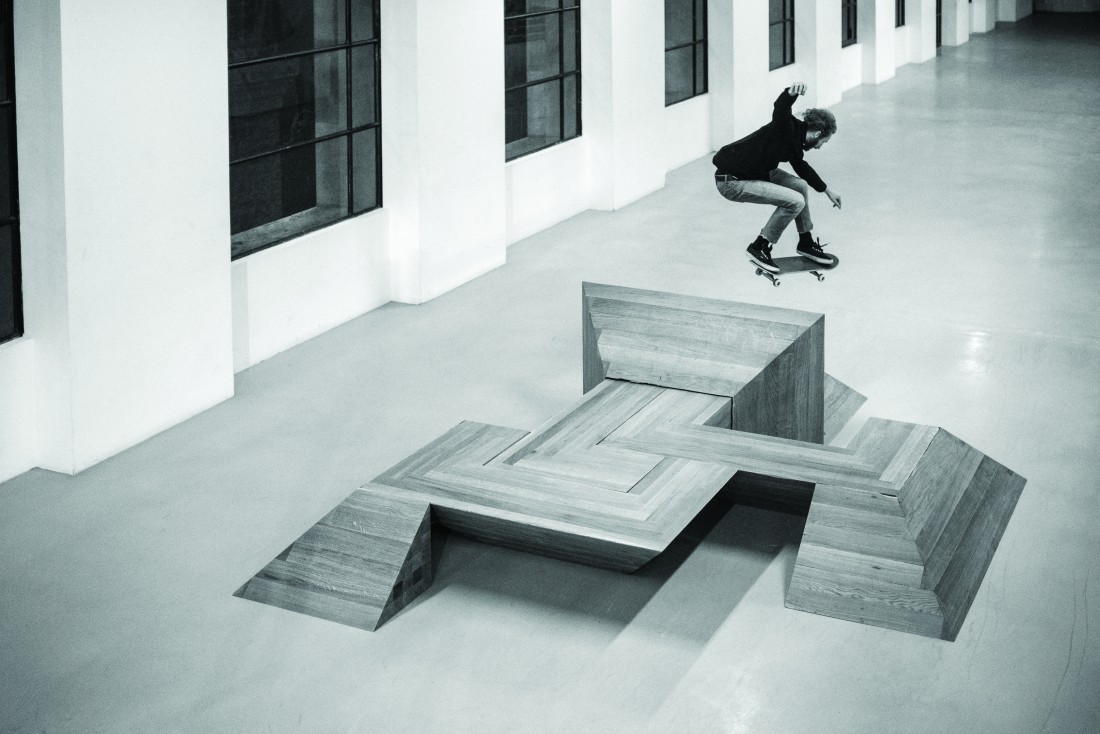 The final section of the exhibition (upstairs) is another bracketed space, this time based on a classical opposition. At one end, Alex Morrison's Housewrecker, 2002, is a five-channel messy bedroom installation where a mostly male audience watches as male skaters apply their board-as-stylus urban critique to interior domestic space. At the picture window end, Apollonians Christian Huizenga and Hannah Dubois lead restorative community-based projects (documentation of a rail car halfpipe, for example, in the case of the former; video and lightbox photos of young women skaters for the latter). As in Greek myth, both ends are related (Dionysus and Apollo are siblings). As in Nietzsche, elements of both are required in each of us. Unfortunately for art, what appears relevant today is that we continue to insist on one and not the other. ❚
"Out of Control: The Concrete Art of Skateboarding" was exhibited at Audain Art Museum, Whistler, from September 17, 2022, to January 28, 2023.
Michael Turner is a jalopy of complicated provenance stuck in the unceded stolen territories of the Musqueam, Squamish and Tsleil-Waututh nations