"Our Happy Life: Architecture and Well-Being"
Is happiness a fiction? Reflecting on "Our Happy Life: Architecture and Well-Being in the Age of Emotional Capitalism," an important new exhibition at the Canadian Centre for Architecture, we might be inclined to think so, even if the exhibition is one allegedly in pursuit of that most august of ghosts.
Laudably, this show highlights the form, image and construction of our built environment through sundry ephemeral and emotional conditions. Architecture itself seems caught between archaic notions of happiness and the exigencies of positive psychology. "Our Happy Life" (the inclusion of a question mark seems called for) is yet another in a long line of wonderful state-ofthe- art didactic exhibitions mounted there. Deconstructing its central preoccupation has interesting ramifications for how we live, now.
The exhibition offers an admirable, tripartite focus on the new spatial models afforded by the measurement of happiness, including illuminating the implicit political project behind data collection, the concept of social space and the inbred emotionalism of the real estate market. The curators happily refer to the exhibition as a narrative "antimanual" that explores and interprets recent paradigms reshaping our perception of space and place.
According to curator Francesco Garutti, architecture finds itself caught between the aforementioned rock and hard place, happiness rankings and the Real. He acerbically asks if the real places for the "production of space" today are no longer architecture offices but well-being datacollection outfits. Garutti argues that after the 2008 financial crash, the so-called happiness industry really took off comprising government initiatives, economic indices and city rankings—and largely co-opted contemporary life. Sundry world leaders declared that indices such as GDP were not sufficient to assess the ratio of a society's well-being—thus, the exhibition's tiered exploration of how a new "science of happiness" may be affecting the built world. As Garutti notes in his catalogue essay, the state only pretends to participate in the advancement of collective well-being, since it has always yielded this power to the market.
The Hungarian-American psychologist Mihaly Csikszentmihalyi studied people during a state of consciousness called "flow experience" wherein they experienced something like nirvana: true contentment. This state is distinct from happiness as it is ordinarily understood and transpires in the course of creative acts. He insists that flow requires cultivation through facing high-level challenges that must be met.
He argued that the best moments in our lives are by no means passive moments, but dynamic ones, in which one must flex one's mental capabilities to make something new. The experience of flow has been likened to Zhuang Zhou's description of the exemplary skill set achieved by Daoist sages such as carpenter P'ien and butcher Ting. The former would presumably find a full measure of bliss by "going along with the Dao" of the tree rings when harvesting the wood necessary to build a house.
It seems clear that the notion of flow, as Csikszentmihalyi understands it, is a worthy and more humane substitute for happiness, particularly since this exhibition, with its concern for dissecting our shared reality, had a decidedly "Welcome to my Dystopia" vibe with its attention on not only our new market realities but the threat to privacy by invasive online data-collection trolls and a radical reduction in off-line interpersonal contacts. In effect, the so-called happiness agenda, as a strategy of control, requires some corrective surgery.
Garutti suggests that we are witnessing a radical change to the discipline of architecture with the hegemony of ranking, which has had an immense influence in the definition as to what constitutes a tenable design project. The show looks closely at how and why the principles and the communication systems of the project of happiness have taken root in architectural thinking.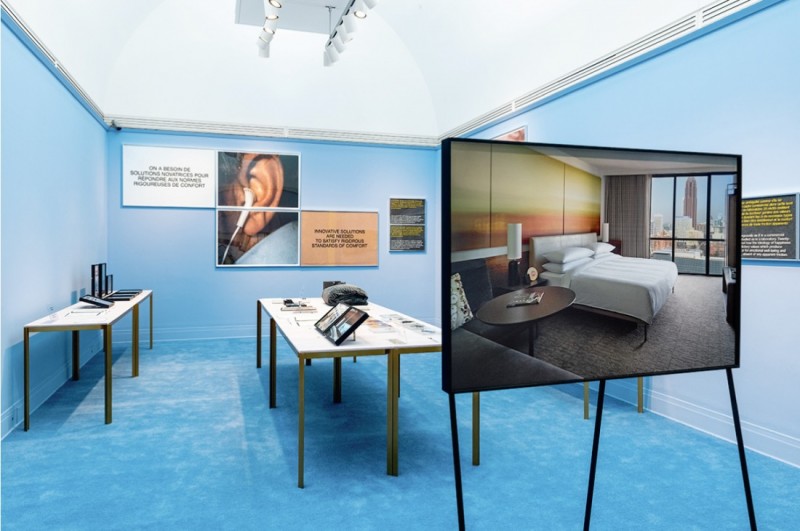 The show incisively asks how happiness surveys and less transparent mechanisms of control influence city planning and architectural practice. Those happiness surveys have, according to him, produced what Garutti calls "emotional capitalism." But if emotional capitalism empowers all the dreams that money can buy, it may not in fact buy the ultimate dream: happiness.
The exhibition specifies a chronological moment—the 10 years between 2008 and 2018. Interestingly, Csikszentmihalyi's book Flow: The Psychology of Optimal Experience was published almost 20 years earlier. I note that Csikszentmihalyi's Experience Sampling Study (a.k.a. Beeper Study) was a striking way to make happiness a measurable phenomenon. A number of teens were given beepers that beeped at random times in the course of a day. The overseers asked that participants note their thoughts and feelings when they heard the beeps. While most of the responses noted unhappiness, most respondents were more positive when faced with an interesting challenge, reminding us that happiness is not a static state or a steady state. However, flow understood as control on the inside of consciousness entails a discernible uptick. Unsurprisingly, this Hungarian psychologist comes to a conclusion not unlike what all good schoolchildren learn in their time: happiness, or what passes for it, comes from within.
Perhaps, as Russian visionary film director Andrei Tarkovsky held, and I am sure that many practising architects would aver, "happiness" is not the right word. The bustling serenity economy, serviced by datacollection regimens and survey bots,cannot underwrite individual well being. The discipline of architecture increasingly dilates on material experiences and associated emotions. We should be mindful of Tarkovsky's warning that the issue of happiness does not exist for him simply because happiness as such does not exist. ❚
"Our Happy Life: Architecture and Well-Being in the Age of Emotional Capitalism" was exhibited at the Canadian Centre for Architecture, Montreal, from May 8 to October 13, 2019.
James D Campbell is a writer and curator in Montreal, and is a frequent contributor to Border Crossings.