New Museum Triennial: " Soft Water Hard Stone"
"Soft Water Hard Stone" is the fifth edition of the Triennial at the New Museum in the Bowery, Lower East Side, Manhattan. This exhibition has always been known for showcasing a variety of talented emerging and early mid-career artists, and this current version has held to that practice. Forty artists are included, showing a vast range of projects on the second, third and fourth floors of the museum, creating an action-packed sight and sound environment. At times the installation of all these works comes close to overwhelming the spaces they are set into, and bleeding the presence of one work too much into the periphery of its neighbours to be effective, but the nature of the show and the quality of the works bring it all together as we acclimatize to the exhibition and its content.
Progressive political messaging, liberal values and critical theory, particularly clustering around identity, equity and environmentalism, are at the forefront of the curatorial decisions here, and the artists' thematic concerns. The show is dynamic in being unafraid to mix (literally and figuratively) louder, more expressive and openly emotive offerings with artwork that is quieter, more calculated, often more minimalist and conceptual. There are also many works that are carefully handmade and craft-based abutting the territories of industrially produced and high-tech pieces. Despite the broad and heterogeneous visual goings-on (and sometimes because of it), the viewer is enveloped by a sense of unity of purpose, driven by an explicitly ethical core point of view. The title of the show, "Soft Water Hard Stone," is drawn from a Brazilian proverb that has similar echoes in the wisdom literatures of many cultures, and refers to the power of long-term action and the force of quiet and unnoticed resilience, from the human to the geological.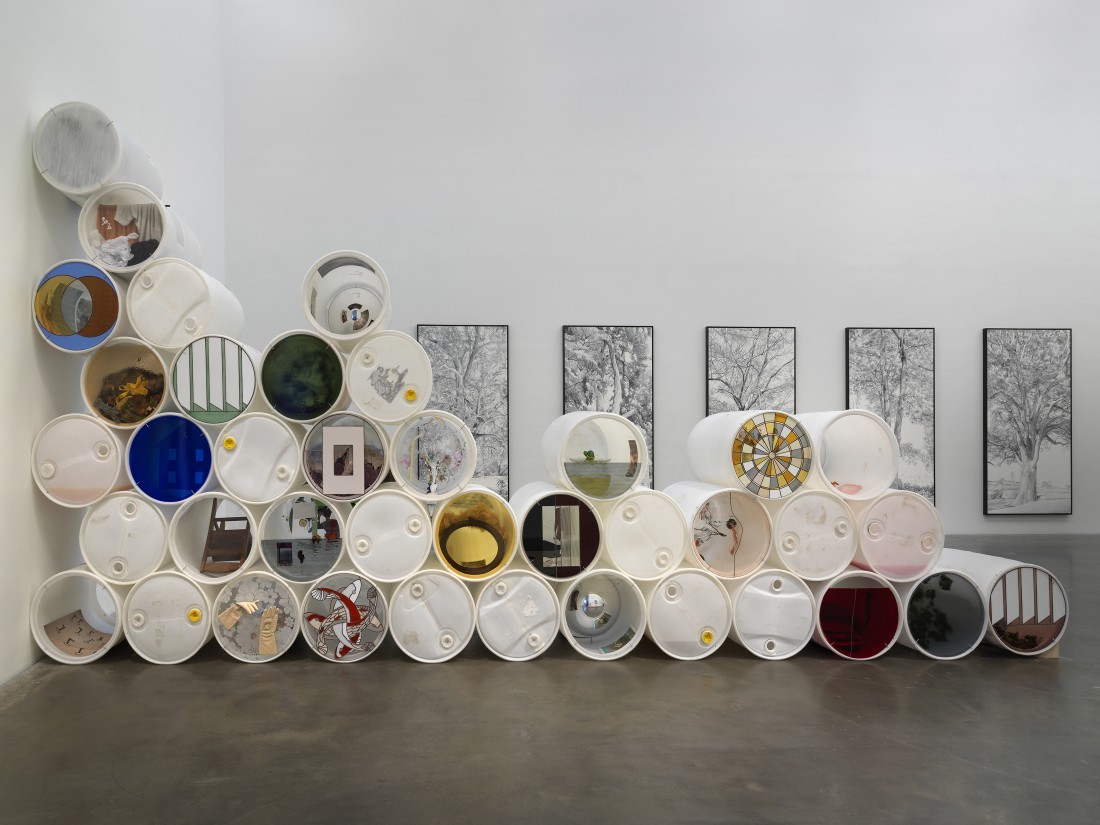 The exhibition's team of curators who brought together its many strands is large and broadbased: Margot Norton, Allen and Lola Goldring, Jamillah James, Jeanette Bisschops, and Bernardo Mosqueira. The artists represent a worldwide range of diverse voices and panoramic stylistic diversity as well. It wouldn't be possible to catalogue all of their presentations, and might not even make sense to do so—a better way to approach understanding the effect of the show is to note a few projects that have some characteristic or emblematic aspects of the whole. A partial list of some compelling projects follows.
Yukon-based multidisciplinary artist Jeneen Frei Njootli created a piece that is present throughout the space and permeates the exhibition, but is semi-hidden in plain sight. Titled Fighting for the title not to be pending, which physically consists of their weight in beads, it is hidden in nooks and crannies around the perimeter of the space on all three floors. It engages the melancholy as well as the recuperative, and potentially the immanent, aspects of the relationship that Indigenous people have to the land in North America, and by implication elsewhere. The beads are visually beautiful and haunting but also project a hopeful presence of something that cannot be denied or eliminated. A seven-panel oil painting on linen by Baltimore-based artist Cynthia Daignault, entitled As I Lay Dying (after the William Faulkner novel), is beautifully painted in white and black, in strokes of virtually all the same shape and size, creating a surface with an effective, droning flow. Most of what we see in the paintings are large trees—it's only in a few details that we can grasp the larger meaning and narrative present—a few pieces of 19th-century cannon and some southern buildings of that period. The trees are "Witness Trees" of the American civil war, and in some cases were used in lynchings. They in general "witnessed" the events of that massive conflict. The work as a whole has a ghostly quality, tied to memory and equally affected by erasures of time and circumstance, as well as the indelible aspects of traumatic events and divided national identities.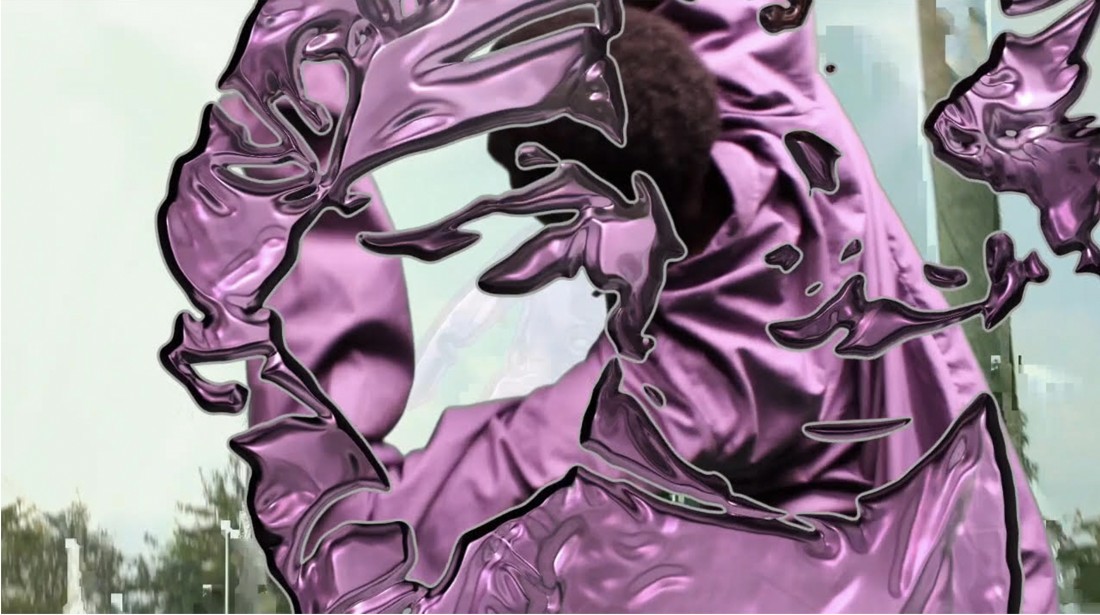 The Argentinian sculptor Gabriel Chaile produced a massive piece called Mamá Luchona, which he conceived as the image of the "mother" of all his other works. Based on a form found in pre-colonial Argentinian Cóndor Huasi ceramics, its enormous presence makes reference to various objects, figures and ideas as an expression of longstanding, anti-colonial resistance. It is intended to represent the living agency of this very old and still ongoing cultural legacy. Congolese multidisciplinary artist Sandra Mujinga's piece Pervasive Light is a three-channel video installed alone in a darkened room, radiating a powerful soundtrack (composed by Mujinga) and flashing with light and vibrant colour. A Black individual of otherwise ambiguous identity, wearing a cloak and refusing to meet the gaze of the viewer, moves purposefully around, continually disappearing and reappearing from their surroundings, becoming invisible and then emerging yet again from within the charged atmosphere. Mujinga expresses her experience of Black identity as something that, while it must account for and resist marginalization, is capable of harnessing the ability to disappear as an empowered gesture, a feat of the imagination.
Haig Aivazian's disorienting but engrossing video All of Your Stars Are but Dust on My Shoes deals with the current situation in Lebanon, the artist's home country—in particular, it is concerned with the impact of surveillance and new technologies on the tragic political and social reality at hand. Making use of found and personally taken footage, Aivazian builds a melancholy, broken narrative that seems to mirror the situation he both investigates and expresses. New York-based Canadian artist Ambera Wellmann's massive painting Strobe is a tour de force work, and a deliberate runthrough of the history of her own imagery and technique, exploring and almost cataloguing her aesthetic language, while bringing all of its parts together into a disparate but coherent whole. In the centre of the canvas is a familiar image from her past—the kitchen sink, beautifully painted and with a little despairing figure (recalling Michelangelo's Last Judgement) sitting on the edge. The sink visually composes the multitudinous goings-on while comically seeming to admit "I threw in the kitchen sink." We do get a strobe-like effect looking at the painting, our eyes flitting from section to section.
Toronto's Nadia Belerique's large sculptural piece HOLDINGS is largely made of commercial plastic barrels but amounts to a cabinet of curiosities once you approach and look. Recalling stained glass windows and toy store displays, altars and family history, it is both funny and a little sad in asking us to consider the interconnectedness of our economic and emotional lives. Nickola Pottinger, of Kingston, Jamaica, exhibited three wallmounted works that meet at the junction of painting and sculpture. They are made from paper pulp and raw pigments with oil pastel and have a strong collage element as well. They are simple objects to look at at first but carry a moving emotional charge. Hiding and revealing imagery, while remaining basically abstract, these works beckon us in and keep us looking for more meanings, which seem to be proffered but not explained. ❚
"Soft Water Hard Stone" was exhibited at the New Museum, New York, from October 28, 2021, to January 23, 2022.
Benjamin Klein is a Brooklyn- and Montreal-based artist and writer, and co-director of McBride Contemporain in Montreal.