Heesoo Kwon
I have followed Bay area-based Heesoo Kwon's work for the last year and have become deeply engaged with her growing oeuvre. Her latest exhibition with the always innovative Blinkers Gallery in Winnipeg is another prime example of the scope of her vision and capabilities. Skilfully curated by Luther Konadu, the exhibition is an immersion into her concept of a utopian feminist religion known as "Leymusoom." It carries the viewer through a range of media that interact to create different vehicles of communication and modes of perception. A mini-retrospective, in a way, which features a new video work. The collection gives a digestible insight into her immense, multidisciplinary practice.
The gallery space exists in darkness, setting a tone of mystery. A glowing lenticular light box with images of her ancestors on a beach sets the stage for a very personal journey. I found myself pulled towards folklorish tapestries akin to ceremony and worship, weaving a thread to Korean shamanism and folklore, which Kwon nods to throughout her practice. A glowing screen pulls me into a viewing room where video pieces are presented, highlighting Kwon's newest video, Leymusoom Is Holding Us. Perhaps the crown of the show, a transcendent progression of 3D avatars of her ancestors unfolds in this work. Shown as young nude women, they lie and move in serene repose with the Leymusoom deity. Here, notions of the male gaze are refreshingly absent in a celebration of divine feminine energy. They gently but powerfully occupy spaces in the urban environment over which they tower. The Leymusoom deity, a reptile-like humanoid, transforms into a liquid state of clear energy, winding and moulting ancestors in a metamorphosis. This transformation touched something deep within me, perhaps a visualization of awakening into an autonomy of being. All of Kwon's videos invite us to immersive worlds where Leymusoom reclaims and guides ancestors through this process of moulting. I have learned this is a spiritual freeing, a transformation away from patriarchal oppression to becoming new beings in her utopian metaverse. These works are gateways to her world. A place inside, where you could walk but for the barrier of a screen.

Searching further, I found 3D printed sculptures of nude bodies in various poses, supported by stretching pillars bathed in glowing blue light. They indicate birthing and ascension beyond the static sculptural confines. The 3D printing offers a dialogue with both future technologies and art history, touching back to classical and Renaissance Western works. I experience them in a duality of systemic tension and supportive movement. I have come to learn that these are physical representations of the avatars in her video work, ascending while moulting, becoming versions of Leymusoom. They are small and simple, yet their presentation with its lit glow in the darkness creates an urgent power.
Finally I cast my gaze on two more lenticular light boxes placed in conversation with the sculptures. They glow starkly, shifting to show the emergence of Leymusoom within her childhood memories. Evolved out of digitally manipulated childhood photos from her "Premolt" series, they create an origin story. This guides my mind to consider why the banners, the sculpture work, the lenticular and video work have arisen in their different forms of conveyance and engagement.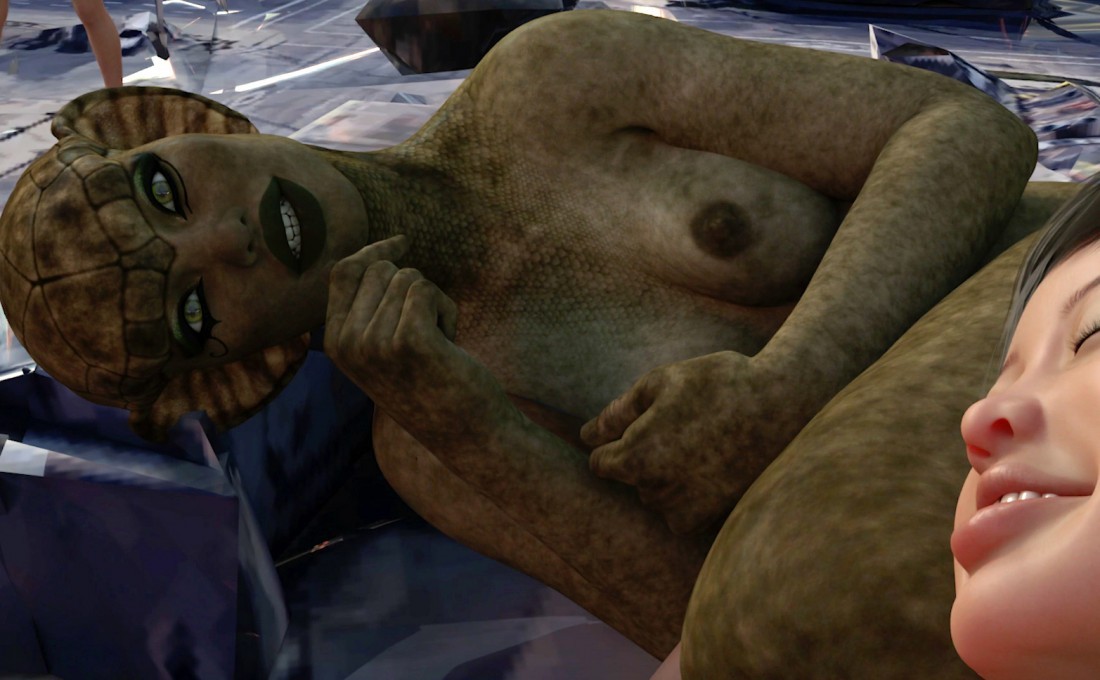 The physical work existing in relation to the video work calls upon parallels of our experience, allowing us to perceive her underlying concept of Leymusoom through different senses. The sculptures evoke the physicality of change, of letting go, of the pain and pleasure we viscerally experience through life's shifts arising through spiritual growth. The tapestries convey ideas of expansion, of stretching out, liberation and worship, presented almost as an iconic ancient signifier from a shaman. The pieces remind me of shrines or temples and other religious sites. They bring me to imagine the process of submitting ourselves to these totems, allowing Kwon to bring us through her ritual and the work it incurs, to come face to face with Leymusoom, or our own conception of greater powers, awakening to a non-hierarchical universe of utopian energy, love and community.
This in turn leads me to reflect further with the photo works as a pretext or origin story for the mythology, a peek into frozen glimpses of the spirit world interacting in Kwon's actual tangible memory. They set a tone for the larger narrative, existing as both bookends and preludes. Thus I feel more equipped to return to the video work, which takes us through a bending of time and space. The work shows us the ability to believe in transformation into something greater than the patriarchal world of violence and imbalance we are faced with every day. Not to mention—the video animation is utterly beautiful, mysterious, also fun and deeply loving, with its writhing serpentine forms, mysteriously eerie environments and rubble-strewn, multicoloured, cosmic urban wastelands. The conversation among all the various works in the exhibition leads me to both feel and honour changes in my own personhood. I can imagine that it is meant to lead us to realize changes we desire to embark on in ourselves. We're reminded that our physical being may be only a plane of existence for our spiritual being, and forces and powers beyond our vision are always at work inside and around us. Great mythology often comes from the unexplainable, tied into notions of relatability moving towards the unknown, and I receive this in droves from Kwon's work. I appreciate that the latest video instalment, which has made a leap in technical and aesthetic prowess, feels like a grand awakening of love to which the journey of all the other work inevitably points. It lets us take a moment to bask in the beautiful energy of Kwon's visualized utopian queer feminist power centre. ❚
"Leymusoom Is Holding Us" was exhibited at Blinkers Gallery, Winnipeg, from March 4, 2022, to April 22, 2022.
John Felix Arnold is an artist and writer living in Brooklyn, NY. He is a Duke University Visiting Artist in Residence and a Foundation for Contemporary Arts grant recipient, has shown with SFMOMA, recently premiered his new collaborative interdisciplinary series "Echoes" at the Nasher Museum of Art and is a regular contributor to the online arts publication Coastal Post. http://johnfelixarnoldiii.com.