"Greater Toronto Art 2021"
We were already aware , before COVID, of a cluster of crises developing on multiple fronts—including environmental catastrophe and intolerable power inequities within racial, gender and economic realms. Lockdowns either exaggerated these or gave pause to reflect on their gravity. In response to the question posed by the Museum of Contemporary Art (MOCA) to 21 artists and art collectives—" What seems most urgent to you now?"—a flurry of answers surfaced. This lively conversation roams across three floors in the museum's first triennial survey of Toronto artists, "Greater Toronto Art 2021 (GTA21)."
"Greater Toronto Area" is the official designation for Toronto and its surrounding municipalities. "GTA21" is MOCA's response to its promise to support local artists. The result, though, is troubled, as a number of included artists have minimal connections to the region. This can be justified, perhaps, if "GTA" signifies a global nomadic citizenry with more fluid relations to national borders and identities. Indeed, many of the artists here do engage with related concerns—of diasporic identity, migration and racial and ethnic power relations.
"GTA21"'s three curators—Daisy Desrosiers, Rui Mateus Amaral and November Paynter—engaged virtually with artists throughout the lockdown, then grouped the 32 resultant works—many of them commissioned— within three themes: Ambivalence, Inheritance and Mutation. But, like the migratory artists themselves, the works often slide across thematic realms.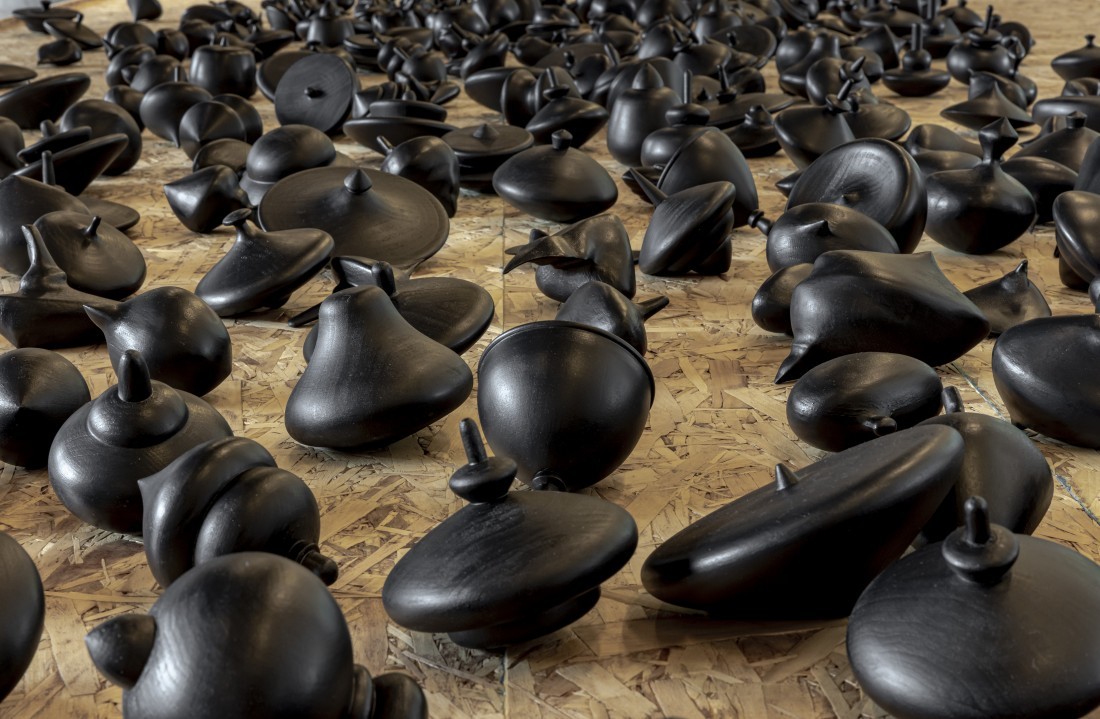 The museum's main floor and reception area presented the more interactive pieces under the thematic umbrella "Ambivalence." Here, visitors could play with an array of black wooden tops on a platform. Broken Circle, 2021, by Ghazaleh Avarzamani, showed perfectly shaped tops that spin while the misshapen ones, produced from photographs of shadows of the spinnable tops, malfunction, reflecting, perhaps, our current imbalanced and precarious condition.
The strongest works—conceptually, aesthetically and technically— reside on the second floor, under the theme "Inheritance." Pamela Phatsimo Sunstrum's installation, Dynasty, 2021, is captivating with its expansive scale, complex form and subject and its beauty. Sunstrum employed the building's massive mushroom pillars to frame her multi-panelled painting. Its larger central panels, depicting tropical dioramic landscapes and strong women figures, are surrounded and overlaid with small sections, variously hanging or mounted on movable frames, showing enlarged details of the central imagery and organic, decorative patterns. The delicate tracery in pastel pinks and blues, with repeated allusions to mythological landscapes and Renaissance perspective, suggests a long drift across time and geography.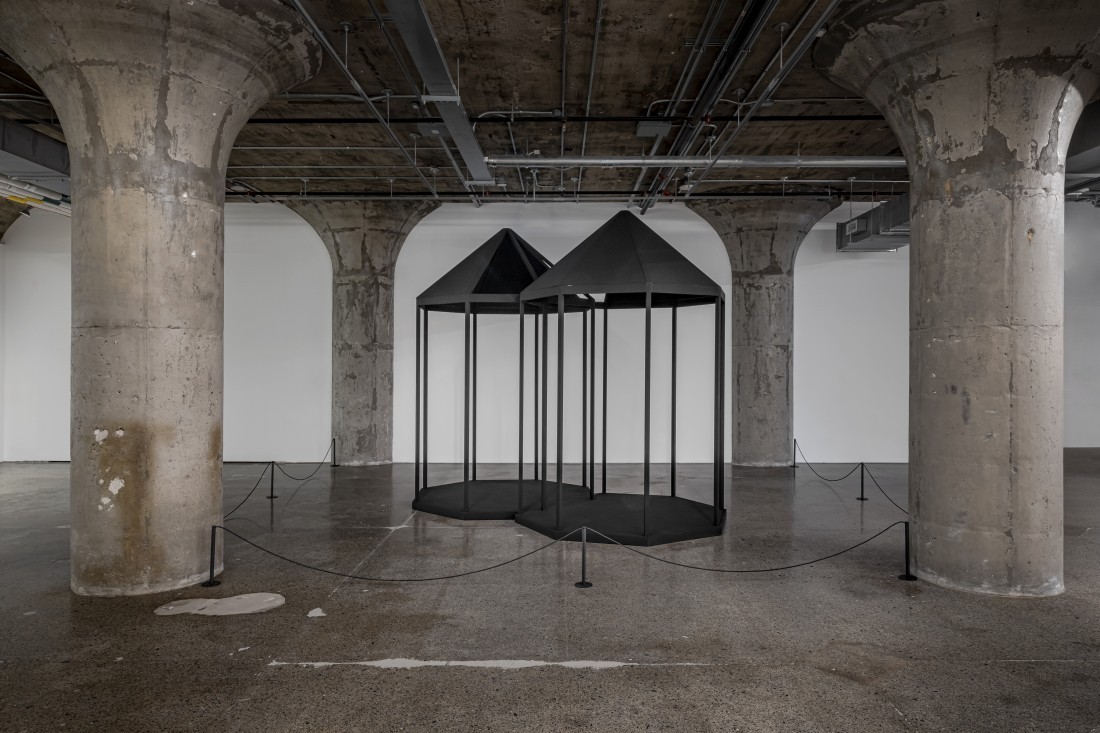 Tony Romano's Between the Lilies and the Birds, 2021, is a collection of sculpted forms, made from diverse found objects and materials that revisit our aesthetic inheritance. A pair of large figures holding a wheel suggest idealized ancient Greek sculpture. Patched together with fragments of clay pipe and cement, bereft of functional limbs, they mark a tension between progress and its inevitable underside of vulnerability, abjection and decay. The word "Sad" is scrawled beneath the downturned mouth of a theatrically tragic, rough plaster mask. An upturned chair as modern misericord (medieval choir seats that hid subversive imagery on their undersides) reveals a carved image of a naked woman riding a pig. A line of 30 watercolours of the artist's face, Self-Portrait, 2020, poignantly coupled with the sculptural group, underscored Romano's contribution as self-examination.
Alexa Hatanaka and Ashoona Ashoona's work, Uummatima tillirninga, I can feel my heart beat, 2021, reflects Hatanaka's interest in artmaking as a vehicle for developing community connections. Here, the Japanese-Canadian artist collaborated with Ashoona, in Kinngait, Nunavut, to produce a large mural, pieced together from hundreds of sumi-inked block prints on washi paper. The sprawling map charts the route across the Northwest Passage between Japan and Nunavut. This is a tracing of the artists' historic and aesthetic connections, and of the importance of family legacy, particularly through their grandmothers, whose portraits frame the map.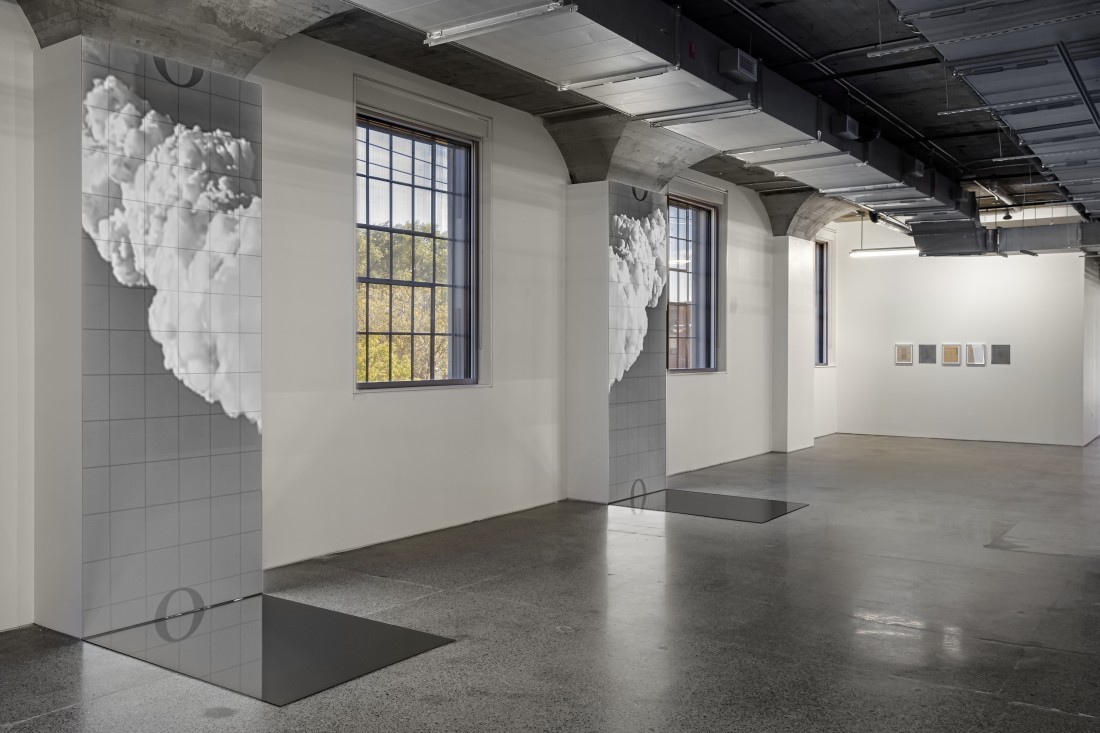 In her stunning installation, O (for various skies), 2021, Jesse Chun also integrates the building's architecture by projecting paired videos onto two pilasters. Chun contrasts Western and Eastern perspectives on the natural world, weaving text from documents outlining US plans to militarize the moon with imagery and sounds of Korean women performing a moon dance. Through fragmentation, the erasure of words (Chun's "unlanguaging") and the overlay of ethereal music, Chun annuls the documents' aggressive intent and rewrites our relation to the moon. On one panel, cloud and water imagery and text scroll slowly upward; on the other, the same content upside down and backward increases indecipherability. At the base of each screen lies a large square mirror that reflects the complex industrial ceiling and the video above, making it seem as though it is scrolling down into the floor and including, as well, the viewer's own reflection. Opening up perception in this way makes space for gentler relations with the natural world.
On the third floor, themed "Mutation," Sahar Te's Listening Attends, 2021, is a formidable dark presence—a Toyota Tacoma truck, snugly encased in black satin, emitting the sounds of slow rhythmic breathing. The artist had observed, in Iran, a more menacing version; mounted with loudspeakers, it barked out propaganda and controlled crowds. Here, subdued and softened by its black veil, it invites intimacy.
Jennifer Rose Sciarrino carved stone into smooth, translucent and anthropomorphic bodies, held maternally within organically shaped metal mesh baskets. In cocooned embrace, Huddled Sigh, 2021, suggests symbiosis and emergent states of being. Kareem-Anthony Ferreira collaged unstretched canvas with found paper and textiles, then painted scenes produced by Photoshopping together details from multiple snapshots of his Trinidadian family. Their big colours, shapes and patterns enfolded intimate and nostalgic family memories. Through the rough aesthetics of the video Surface Rites, 2021, by Parastoo Anoushahpour, Faraz Anoushahpour and Ryan Ferko, diverse fragments merge to make links among uranium mining, Indigenous communities, settler colonialism, suburbia, the dairy industry and public art.
There is an unmistakable excitement in the curators' thematic vision and the artists' responses here that, echoing the faint strains of hope in the air, suggests a tentative narrative of renewal. From anxious uncertainty, these artists collectively break down the old monuments and ideologies and favour the dispersed fragment, and, engaging strategies of unlearning or, in Chun's terminology, "unlanguaging," they begin the careful work of reconstructing new ways of being. ❚
"Greater Toronto Art 2021" is currently exhibited at the Museum of Contemporary Art, Toronto, Ontario, from September 29, 2021, to January 30, 2022.
Jill Glessing, based in Toronto, works in writing and visual art, and teaches academic courses on art history and history of photography at Ryerson University.