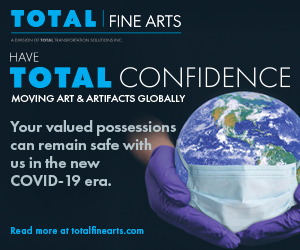 Sophie Jodoin draws on, and through, her life. The Montreal artist is a virtuoso drawer who has, for the last 25 years, produced bodies of work, most often Conté on Mylar, that have carefully delineated the intensities of the human condition. Much of her work has used the body as its subject, culminating in an exhibition at Battat Contemporary in 2011 called "I felt a cleaving in my mind." The title for the show was also a scan of the inside of her head. The body had become too loaded and so she effected what she called "its voluntary absence. I had done a lot of melodramatic and violent work and I didn't want to do that anymore." In its place, she settled on an array of more neutral subjects that included "an architecture of buildings and furniture and bedsheets and domestic objects of all kinds."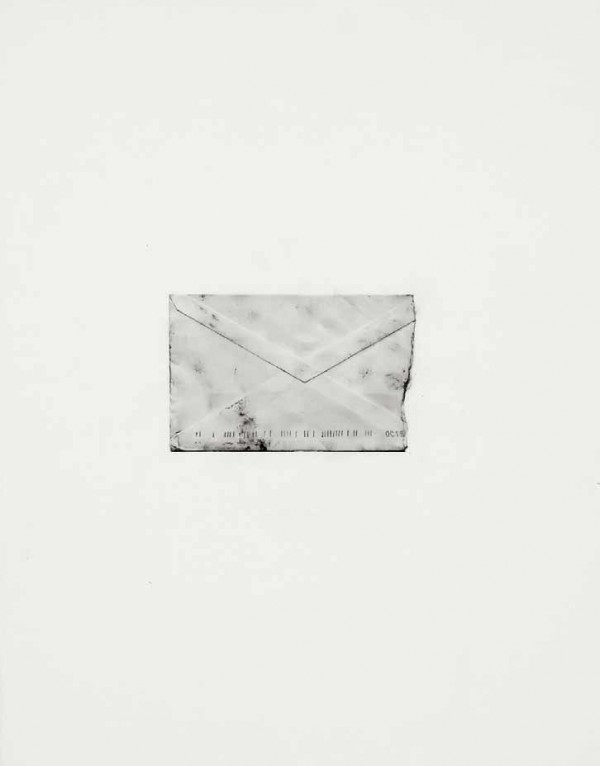 Sophie Jodoin, Letter 5, 2013, Conté on Mylar, 14 x 11 inches. Photograph: Éliane Excoffier.
This new work combined the intimacy of her subject matter with her formal instincts, and the results were both captivating and generative. It seemed to give permission to recognize that her personal life could also become material for drawing. The most recent manifestation of that sourcing is the "Open Letters" series, a set of 11 envelopes drawn with Jodoin's characteristic exactitude and exhibited at Calgary's Newzones in the fall. Viewers are not entirely sure what it is they're looking at; "people think they are photographs and I want to play on that confusion; is it a collage, a photograph, a digital print, is it a serigraph?" The series included envelopes of her own and broadened out to contributions from friends and even envelopes found on the street. The only limit she accepted was that the backs had to be free of any kind of writing. They are slightly scaled down from actual size and Jodoin renders them with all their imperfections, including staining, tears and wrinkles.

Interestingly enough, the condition of the envelopes made Jodoin aware of their connection to the body. "_Letter 2_ was resting on my work table, where I have jars of gesso and ink, and it got wet. That is what gave those wrinkles, a kind of scar. They become like leather and the fine skin you see on the hands of older people."  
Jodoin is adamant that even though the letters have an autobiographical element, they are not about self-portraiture. Their openness is an invitation to the viewer. "It is about being able to offer them to anyone to take for themselves. I don't see them as drawings so much. I see them as notes; I see this as a diary, as writing more than drawing. As their name suggests, they are open letters that anyone can re-appropriate and investigate."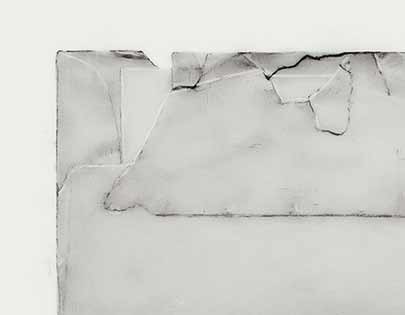 Sophie Jodoin, Letter 1 (detail), 2013.
The drawing world Jodoin entered to do the "Open Letters" series was private and unrepeatable. "They are so delicate and detailed that you get into a trance. I did them consecutively over two intense weeks and if I tried to draw them tomorrow, I wouldn't know how to do it." There is an additional poignancy to their uniqueness. Jodoin feels she is drawing "the last remnants of something. They represent the loss of a gesture, of a way in which we used to communicate. The new generation has never even written a letter, so for them it is not even nostalgia. The letter is a relic."