Figuring Forms
When Arlene Shechet decided to call her current exhibition of porcelain sculpture at The Frick in New York "No Simple Matter," she was underlining two things about her attitude towards art-making. "I was using matter as both idea and material. The word is commonly used in both ways and I like that slippage," Shechet says. "The other thing is our culture views porcelain as a simplistic, frilly material and I wanted to have the show address the fact that it is much deeper and more complex than that."
"No Simple Matter" is no simple installation. Shechet chose 100 porcelain works from the Arnhold Collection and then mixed in 16 of her own sculptures. The result is an exhilarating mash-up of the historical and the contemporary, installed in the Portico Gallery. "The gallery is really an extension of the garden, so I decided to curate the collection based on Meissen works that had either forms or painting related to the natural world. I curated my own works in relation to that as well." Even though the inside and the outside are so closely aligned in the Portico, Shechet felt there were ways to enhance that connection. "I put the clear tables in front of the windows rather than the thick, heavy pedestals that were there before in order to create an unimpeded visual stream. I designed all the furnishings and wall coverings to make the Portico feel more continuous with The Frick's character as a house museum."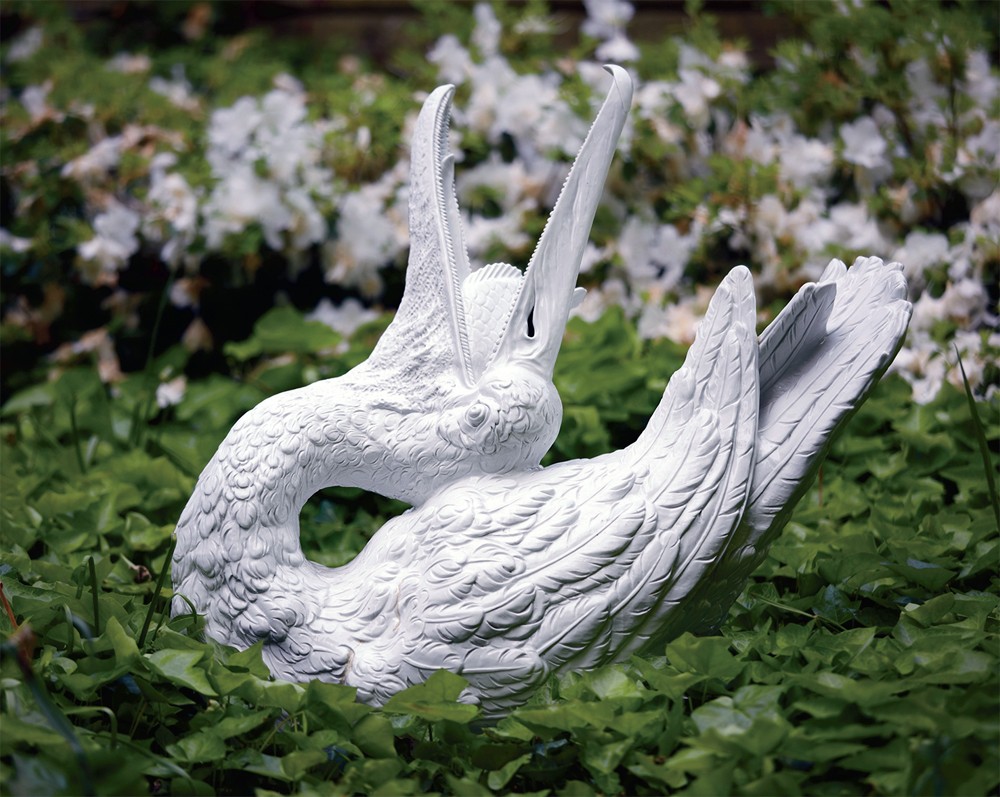 The Frick project was not the first time that Shechet combined work in a public collection with her own sculpture. In 2014 she was asked to curate an exhibition of the Lucy Truman Aldrich Collection for the Upper Farago and Porcelain Galleries at the Rhode Island School of Art and Design (RISD). Taking the stance that she was going to show every piece in the collection, "Meissen Recast" challenged the curatorial conceit that separates a cup and saucer from a figure. Stacking and clustering both objects and figures jettisoned the hierarchy that had determined conventional ceramic installation.
She took a similar equal-playing-field idea to her residency at the Meissen Factory in 2012–2013, where she thought of cast-offs, such as a handle or a mould, as sculptural forms and considered them in combination with figurative works. In this spirit of reorientation, she took the plastic moulds and made moulds of them, which she then recast as porcelain. The resulting object, like Scallop Bowl, 2012, has a sturdy elegance about it, a captivating no-nonsense beauty. In works like this, as well as in her magnificent Swan Vase, she finds the embodiment of the Buddhist idea of bliss-in-form.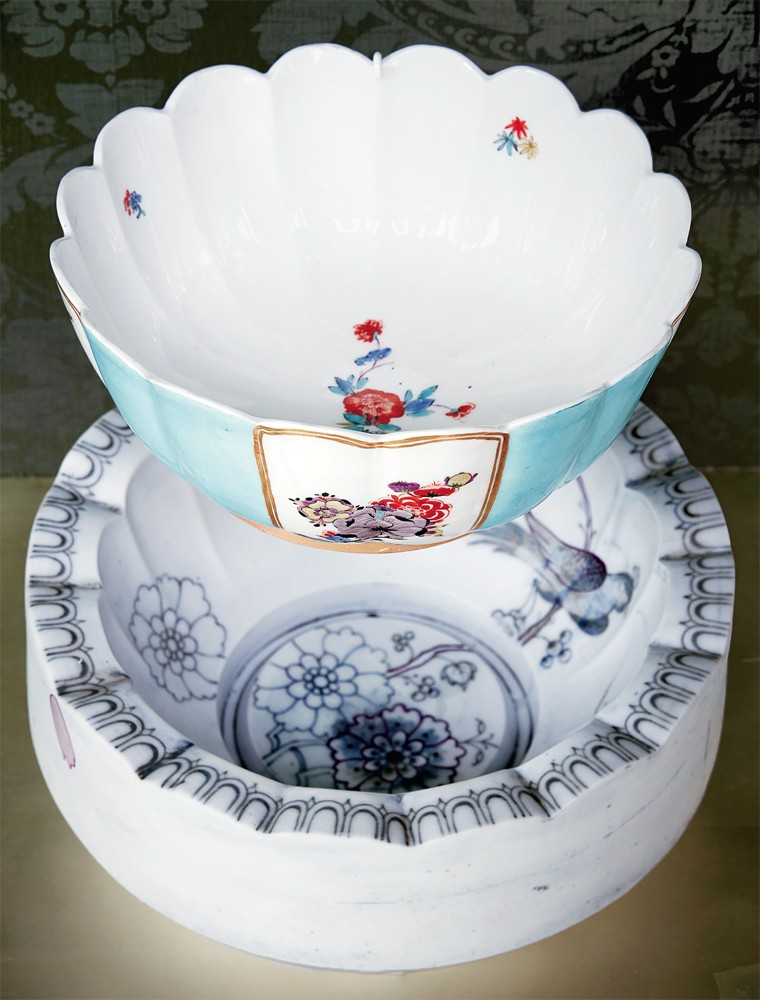 "I like to think that I'm creating a more fluid exchange of aesthetics than the one that has kept porcelain and clay within the boundary of craft," Shechet says. She is interested in the overlap between painting and sculpture and as a result, her work references other artists. A glazed ceramic piece like Even & Perhaps Especially, 2007, has the manic energy of de Kooning's sculpture and in Mix and Match, 2012, a superb partially glazed porcelain with overglaze enamel, she has built a sculpture that could join Picasso's half dozen patinated bronze Absinthe Cups from 1914. Near the top of her sculpture she even includes a checkerboard pattern that recalls Picasso's Harlequin period. "Painted sculpture was something he was very good at, and the Absinthe Cup series was obviously very important," Shechet says. "Certainly the scale and what could be called a cubist cutting up of forms and then putting them back together puts you on the right track with Mix and Match. Clay is a material that one paints with and the glaze becomes part of the structure, so the combination of both those actions and a myriad of techniques makes the boundary between painting and sculpture very rich."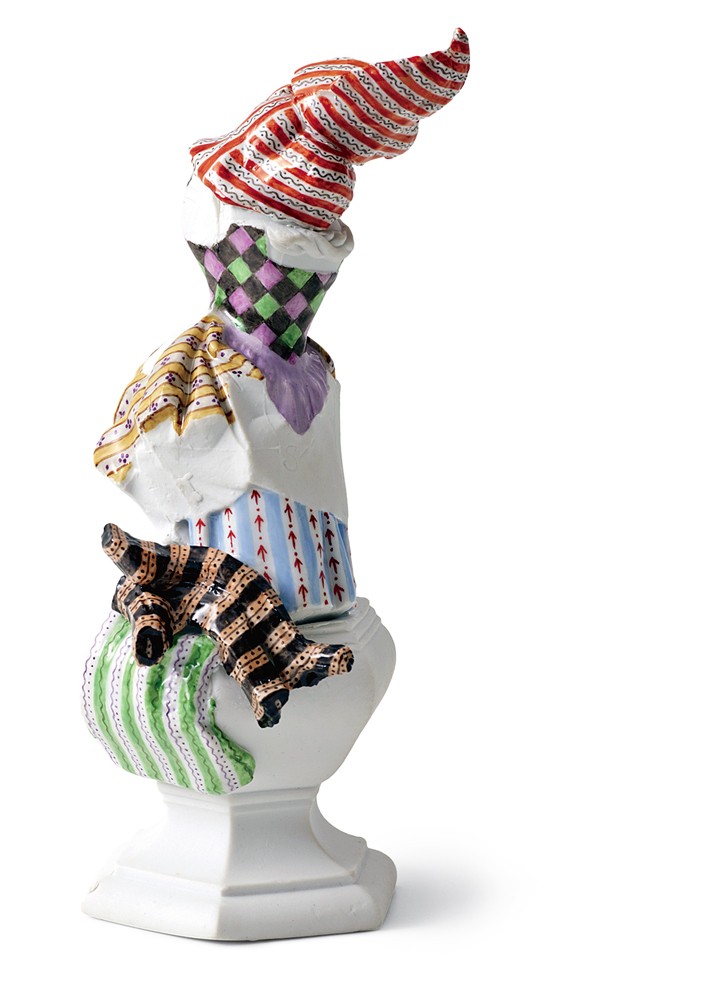 The approach Shechet takes in the museums and at the Meissen Factory involves a negotiation between retrieval and up-ending. "With these institutions I ask, 'How can I insert myself and subvert what is expected and still be respectful of what is going on?'"
In everything she does, Arlene Shechet brings an inclusive appreciation for what is left behind, a recognition of those who are unacknowledged, and an overall disposition to embrace whatever has been marginalized. She consistently avoids slipping into habitual forms of thinking and making. She characterizes her practice in a simple way, emphasizing what matters: "I look to having the resistance that sculpture offers." ❚
"Porcelain, No Simple Matter: Arlene Shechet and the Arnhold Collection" is on exhibition at The Frick, New York, until April 2, 2017; "Turn Up the Base" opens at Sikkema Jenkins & Co, New York, on October 13 and runs through November 12; and "Arlene Shechet: From Here On Now" is at The Phillips Collection, Washington, DC, from October 20, 2016 to May 7, 2017.
…to continue reading the issue, order a copy of Issue 139: Painting here, or SUBSCRIBE and receive a limited edition Border Crossings tote, screen-printed in the fall of 2016.