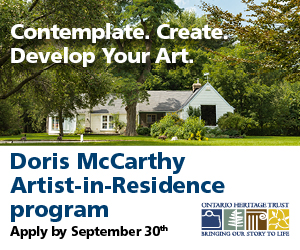 Aganetha Dyck is getting over heartbreak. For 22 years she collaborated with bees, introducing objects (figurines, plastic containers, fragments of cloth, shoes) into their hives, which, over the course of time, they transformed into things of astonishing beauty. Her relationship with the bees was a special kind of interspecies alchemy. Then, in August of 2009 she developed a strong reaction to a bee sting. Not feeling well, she went to bed, slept through the next day and into the evening, and awoke to find herself covered in hives, the result of an allergic reaction. "It was the dumbest thing I had ever done," she says, "I could have died."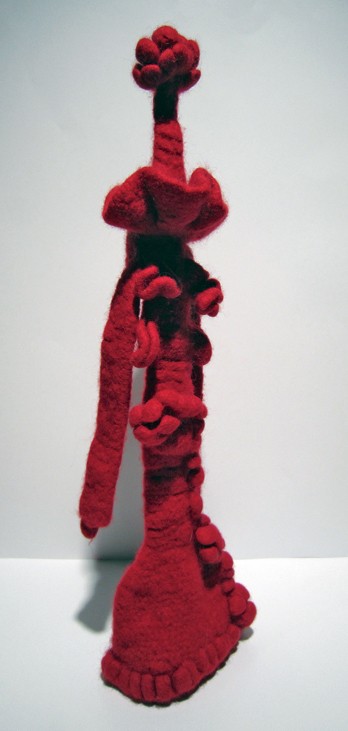 "Crochet (Red)", 2012, felted crochet, 100% wool. All images courtesy the artist and Michael Gibson Gallery, London. ON.
It is now too dangerous for her to work with bees in the way she had done in the past, and the diminished contact with her winged collaborators has been a difficult adjustment. Dyck recognizes she had become addicted to the bees and was undergoing a process of withdrawal. "I needed something to release my sadness." She decided to return to a process she had initiated in the mid '70s in Prince Albert, Saskatchewan. In 1975 she began shrinking wool clothing, turning the pieces into free-standing sculptures; last year she started to crochet the first of nine projected felted sculptures. "I thought, if I do nine it will get it out of my system." The felted sculptures each take several weeks to crochet, at which point Dyck decides whether the object, which can be four to five feet long, has any sculptural possibilities. Then she subjects them to repeated hot water washings and cold water rinses until they reduce to the desired scale. The drying process is at least a week, during which time the sculptures are stuffed with tissue to keep their shrunken shape. They are air-dried, she says, "because in a dryer, they fluff up and they don't want to sit."
The colours are various—grey, white, turquoise, blue, pond green, red, brown and gold—and their shapes are variable and marvelous. Their long appendages can be reconfigured; the attenuated neck on Crochet (Blue) makes the figure seem part giraffe, the cowled neck on Crochet (Pond Green) is either about style or religious devotion, or both. These sculptures read as if they were prototypes for delicate creatures, hybridized from mixtures of human, animal and plant DNA. They are subject to an equivalent degree of speculation; the artist thinks of them as "garments for theatre"; a friend emailed her saying they looked like "the honeybee's figurines."
"Crochet (Red)", (detail), 2012, felted crochet, 100% wool.
Dyck's favourite is Crochet (Brown). "I thought this one is so weird and off-the-wall that I can't show it to anyone." It does have a slightly goofy quality that makes it all the more endearing, with its scalloped base, awkward arms and ever-widening legs (although it's not really clear that these are actual body parts). These immensely attractive figures have a presence disproportionate to their scale and they represent an important moment of transition. She has also returned to things altered by her beloved bees, feeder boards on which the bees have left patterns and "signatures," and a collection of Barbie-type dolls purchased in a Mennonite Thrift Store that she "dunked in wax and asked the bees to fix." Significantly, in her studio is her grandmother's large tablecloth, an object the bees worked on for two seasons. Her husband constructed a giant hive frame and the beekeeper put seven hives underneath, each inhabited by 40,000 bees. "That means 280,000 bees worked on it, she says, "and the only word to describe it is 'gorgeous'."