Darkness, Be Not Proud
Robert Burley and the Death of Photography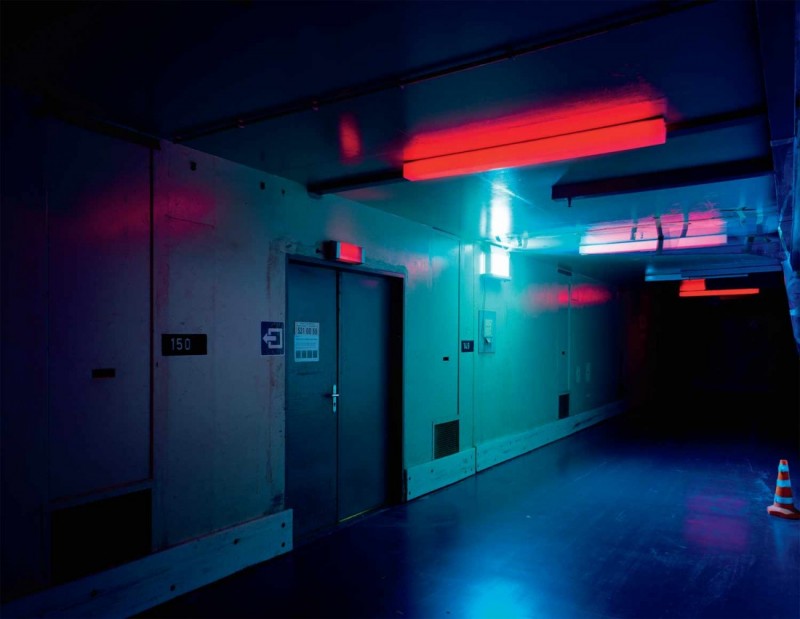 Just over one hundred years ago, on twenty-five acres where the brick buildings and streetcar rails of Toronto dwindled to farmland, the Eastman Kodak Company began constructing facilities dedicated to the manufacture of its photographic film products. The Rochester-born company was growing quickly; it had founded its Canadian branch in 1899 and already outgrown its first Toronto location. "Kodak Heights," as it was called, would form the modern iteration of the Canadian Kodak company, a sprawling complex of chemical labs and executive offices set in the scrubby green surrounds of the city's northwestern limits. By 1925, 900 people populated the Heights's seven buildings. As the photographer Robert Burley wrote in his recent book, The Disappearance of Darkness, (Princeton Architectural Press, 2012), employees felt their way along blackened passages, worked in black rooms. The material of photography was made in the dark.
 In the early 1980s Kodak seemed too big to fail. Its worldwide revenue hit and then exceeded $10 billion in U.S. dollars; in Rochester alone it employed 60,400, or roughly one quarter of the local population. It dominated the global photographic industry, a corporate superpower whose name was synonymous with the rolls of film in our fridges and the snapshots on our desks. But within 10 years of its popularization, digital photography had made most of the company's products obsolete, and by 2004 there was hardly a need for a massive film-production factory in Toronto's outer core. Kodak Canada ceased manufacturing operations in June 2005 and began to demolish its plants. For photographers of the analogue era, the literal destruction of Kodak was surreal. Their medium, as it was, exploded, leaving little but smoke. 

"By the late '90s we could see that this was going to happen," Burley told me over lunch one day at Ryerson University's noisy student café. He's a photographer whose latest project, "The Disappearance of Darkness," narrates the shift from traditional to digital photography through images of stripped offices, vacant photo labs, demolitions—the demise of a massive century-old industry. The surprise, he said, was how quickly it happened; the implosions at Kodak were documented on onlookers' iPhones.
Burley has been photographing for over 30 years, primarily architecture and landscape, and spaces on the fringes of those we ordinarily inhabit, or consider—a Chicago airfield in "ORD," 1986, urban parks in "Viewing Olmsted," 1996, downtown Toronto's six remaining synagogues in "Instruments of Faith," 2003. But in addition to his concern with the built environment is a passionate interest in photography itself—as an idea, a means of representation, in its duality as both an expressive and documentary medium—and in treating, in his own projects, its nature, practice and socio-cultural significance. Burley speaks easily of his work. A long time presence at Ryerson's School of Image Arts where he has held various professorial and administrative posts since 1997, Burley now teaches the techniques of his medium, both pre- and post-digital, to undergraduates. Many of them, born after the mid-1980s, are too young to inherently understand this technological transition as the most major to occur in photography's 175-year history.
In June, artwork for the "The Disappearance of Darkness" exhibition—the book of the same name—was scattered around an unused room at the university, the former headquarters of the Ryerson Image Centre, which had outgrown the space. Burley had turned it into his summer workshop. He and his two assistants, undergraduate students with unnerving technical knowledge, were there every day for months, housing prints and producing them on the ink-jet printers next door. ("You can create a photographic exhibition in any room with a wall outlet these days," he wrote to me later.) Large-format photographs taken at Kodak, Ilford, Polaroid, and Agfa plants in North America and Europe were in various states of completion, some matted, framed and wrapped, others awaiting final approval. There were rows of Polaroids on the tables; the first group was the photographer's onsite test shots and the second was a stranger's documents, discovered at the closed Polaroid factory in Waltham, Massachusetts. A television screen played a looped video of amateur footage culled from YouTube— recordings of Kodak factory demolitions in the United States and France. On an old iPhone Burley showed me a slide show of pictures made by a teenager partying inside the abandoned Building 9 at Kodak Heights (2009's "Extermination Music Night XI at the Kodak Factory. Got busted by the cops after the first song"), random and decidedly un-compelling shots of graffitied walls and people's legs. These are the components of the exhibition: images original and appropriated, still and moving, chemical and pixellated, created within six years of each other and yet across an age, displayed on matrices as varied as their forms. What he wanted, he said, was to get people to think about what a photograph is now. Looking around, it was very difficult to say.
This body of work began to take shape in 2005, when he learned of the impending closure of Kodak Heights. "I thought I'd do a project on Kodak Canada," he said. "It was important to the city, it had been here for well over a hundred years and employed thousands of people. And then there was its relation to photography and to my own work; I'd been using these materials for decades." But over the 18 months that he spent at the Toronto plant documenting its empty and emptying interiors, its steady shuttering and eventual implosion, it became clear that what he was actually capturing was the dissolution of his medium. Internationally, factory after factory was closing down. "Disappearance" grew in scope; between 2007 and 2012, Burley visited the decommissioned sites of photographic manufacturing in the Netherlands, the UK and Belgium; in Rochester, New York and Waltham, Massachusetts; and in Chalon-sur-Saône, the French village where, in 1827, Joseph Nicéphore Niépce exposed a pewter plate coated with Bitumen of Judea for eight hours and obtained the first permanent photograph. "The question I kept asking throughout this whole project, to the chemical engineers and executives that I would meet was, is it possible to make film and other photographic media just as artists' materials? And no one could really answer that." It is hardly worth it to make film—chemically complicated, easily corruptible—unless you can sell it to the masses. "This is a historical moment and that attracts me as a photographer. I'm interested in times when things are about to change in significant ways. The photography we know is disappearing." 

More accurately, the photography that Burley knows is disappearing. The transition from analogue to digital technology was so swift that there is already a generation of photographers who have never shot with film, and likely never will. (Though he does not believe that film will become entirely unavailable, Burley thinks it will revert to what it was in the early 20th century: black and white only, produced in small batches, and relatively non-standard from one package to the next.) About his students he says they have a fascination with traditional media, its novelty, the fact that for them it's exotic and unpredictable. He adds that for younger photographers, physical photographs have the "aura" about which Walter Benjamin wrote, in the same way that paintings did to those of Benjamin's era. "To them, when they make a physical silver gelatin print, or even a colour print, it seems to take on this otherness quite separate from the screen-based world we live in." Yet that odd print—unassisted by tools able to alter brightness, sharpness, contrast and colour saturation to minute degrees, and created in darkness—may be more representative than the one endlessly adjusted and tightly controlled. "With digital, there are no limitations. It's so fluid and so easy to change that photography has started to lose its grip on reality. That was always a fundamental characteristic of my medium. I have to get my head around it."
The exhibition, "The Disappearance of Darkness," opened in two locations in October 2013: the National Gallery of Canada and the Musée Nicéphore Niépce in Chalon-sur-Saône, and will tour in the new year to galleries and museums in North America (including the Ryerson Image Centre and the George Eastman House International Museum of Photography and Film, in Rochester) and Europe, respectively. The curator of both exhibitions is Dr. Gaëlle Morel, a young but formidable figure in the photo-history world, still a close-knit entity at this middle-years stage of market, museum and academic interest in photography. Morel moved to Toronto from Paris five years ago and took up the position of exhibitions curator at the RIC. She calls photography's move into digital "a technological shift, not a revolution as it is too often defined," that nonetheless requires long-time photographers to adjust their ways of working. It's her sense that "Robert Burley's generation will have to face those adjustments and accept the fact that from now on, film will only be an artists' medium, and therefore may be more challenging to use."
The fascination of Burley's project lies, in part, in its full-throttle embrace of the possibilities that the new visual media present, at the same time that the project memorializes and includes the photography that is passing into history. The 30 large pigment prints in each show were created from scanned 4 x 5 inch film negatives, still often the best format for producing large-format art photographs. Straightforward and devoid of people—except where, in Demolition of Buildings 64 and 69, Kodak Park, 2007, they stand in an anonymous cluster in a Rochester parking lot watching implosions—these images do possess an elegiac quality ("You can feel the ghosts," as Morel puts it, "of the people, of the machines"). The Polaroids have it, too: the abandoned ones of "Wired" (created in 1991, found by Burley in 2009), views of the Waltham plant's electrical components; and the deteriorating ones of "Faded Proof," 2004–2012, pictures intended, originally, only as compositional aids—some are stained with Burley's fingerprints and fading with age. Displayed in "The Disappearance of Darkness" in two framed grids, they encourage the reading of material photographs as direct links to time and place; a beautiful concept which demonstrates these objects' vulnerability and loss. Burley wants to probe this loss even, or especially as, he says, "the force of [technological] change directs attention away from it. People get anxious about being left behind and don't want to appear to be living in the past." But he also wants to explore photography as he sees it now, a digital medium so usable and readily accessible that it has become an extension of our memories—we take pictures almost subconsciously, and in lieu of remembering what we capture on the screen. "Extermination Music Night" introduces the idea that we all participate in photography, and interact with and absorb it in too many ways to count; in "Blow-ups," 2013, bystanders' demolition videos are slowed and magnified, highlighting their technology while simultaneously creating harmonious abstract images, "like colour field paintings," as Burley described them, from pixellated clouds of dust.
Morel considers herself fortunate to be able to witness how such a significant shift affects professional photographers. "It's quite moving," she wrote to me from France. To her, Burley's project celebrates the medium as it is now, even as it evokes, with some nostalgia, what it was for many years. "It's a wonderful declaration of love for photography, and therefore of hope for the future. He trusts the new technology."
Katie Addleman is a PhD student in the University of Toronto's Department of Art. In 2013 she won a Western Magazine Gold Award for her writing on the visual arts in Border Crossings.