Buffy Sainte-Marie
If I had to pinpoint the "essence" of Buffy Sainte- Marie's incredible legacy—a legacy that spans a multitude of disciplines, styles and media—it would be vibration. I am not trying to be reductive; vibration is everything. When an artist pays undivided attention to vibration, as Sainte-Marie does, the resulting work has the power to shake up and collapse boundaries. In the realm of vibration, visual and aural become sisters, rather than strangers, both relying on the oscillation of waves, lightwaves and soundwaves, respectively. Furthermore, the opposition between the material and the immaterial becomes unstable. For instance, both aural and visual waves produce an emotional (or energetic) impact on the receiver that science cannot fully account for. In this way, an artist's attention to vibration can pull art out of the narrow confines of secular aesthetics and bring it into the realm of spiritual significance.
Such ruminations might surprise anyone familiar with the fact that Sainte-Marie's music and art rely very much on new media technology, which she has been using for over 50 years. After all, what is so spiritual about computers? Sainte-Marie's digital artworks, which form a focal point of her retrospective exhibition currently on display at Urban Shaman Contemporary Aboriginal Art in Winnipeg, provide lots of potential answers.
As Sainte-Marie has discussed, it doesn't so much matter to her what medium she works with. Whether she is employing a traditional Indigenous instrument, a guitar, a paintbrush, or a computer, the intention driving the creative process is always the same: to play (an essential mode of creativity) and to communicate (first with herself and then with the audience). At the same time, to use tools for "play" rather than for "work" (or worse) often requires a radical change in perspective. In an educational video for the Cradleboard Teaching Project (an initiative of the Nihewan Foundation for Native American Education, which she founded in 1969), Sainte-Marie points out that while the mouthbow originated as a weapon, it eventually became a musical instrument when somebody decided to use it for a different purpose. Sainte-Marie understands computer technology along similar lines—as a military and science technology that artists like herself have been able to transform into a supreme art instrument. "Working in digital art thrills me because it's based in the way the artist's mind actually works," she pointed out in a 1996 interview for the project space Art Focus. As she explains, the computer allows an artist to work directly with information, free of time-consuming practicalities like mixing paint, washing paintbrushes and waiting for the right light. Most importantly, an artist is able to control all the aspects of the creative process—a capacity crucial to Sainte-Marie, who above all strives for an unfiltered emotional connection with her audience. This brings us back to the importance of vibration, since such an impact is accomplished by channelling resonances that quite literally touch and move the audience.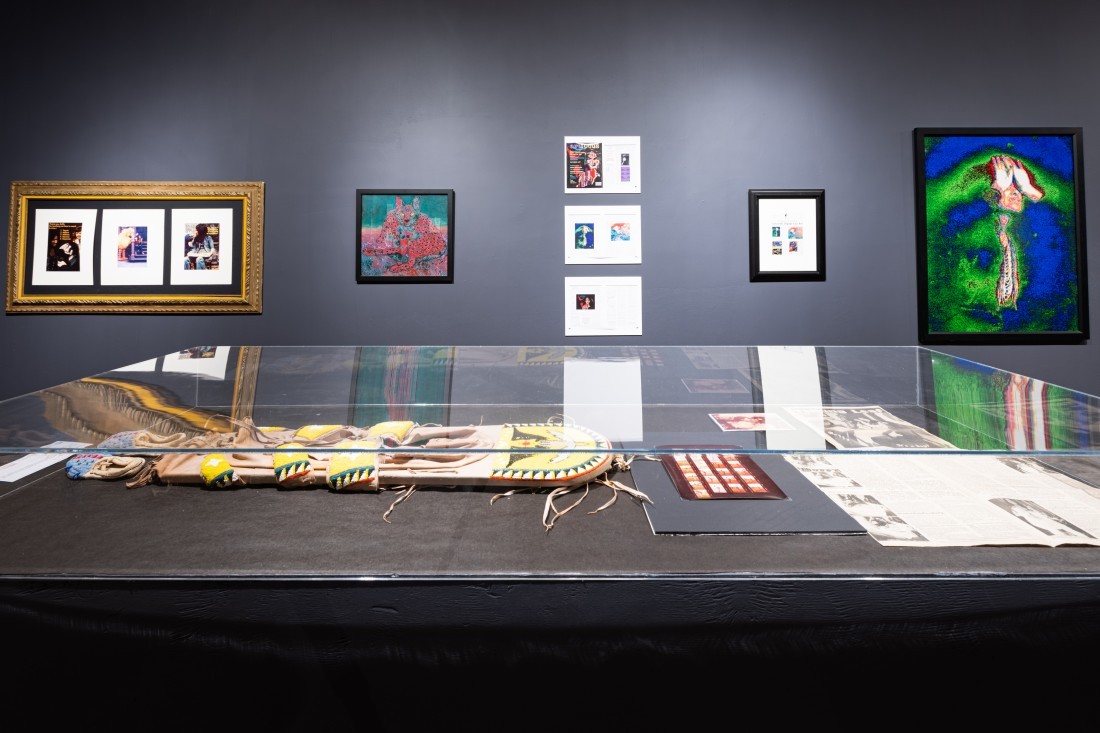 Sainte-Marie started creating digital art pieces in 1985 on the original personal computer, the Macintosh 128K, and unassumingly became an innovator in the field of digital art. Employing the mouse-operated graphical user interface (the first of its kind), she easily mastered the userfriendly technology and started creating works in applications such as MacPaint and Photoshop. As implied earlier, Sainte-Marie didn't become entirely taken with the processing logic and algorithmic nature of the new medium, unlike many early digital artists. What she loved was the freedom it afforded her, a freedom to endlessly play with a 16-million-colour palette, to fuse photography and painting and to work directly with light. She then had her digital paintings printed by Cibachrome—today, a nearly obsolete technique that creates a vibrantly chromatic, intensely "psychedelic" effect and makes the pieces appear as if glowing from within. In the current exhibition, most of the works are printed on KODAK Endura Metallic VC Paper, which approximates the effect of Cibachrome. Such printing techniques are perfectly suited to a pair of hallucinogenic images, Ayahuasca Jaguar I and II, which directly allude to ancient Indigenous ceremonies that expand consciousness with the help of psychoactive medicine.
Sainte-Marie's work opens up what she calls—in reference to her treatment of Indigenous themes through new media—an "alter-native" dimension. In The Mohawk Warrior Contemplates His Future, a graphically edited, oversaturated photograph, a young, topless man appears suspended in a vortex of different iterations of his distorted image that can be read as the imminent possibilities that hover within his energetic field. In Pink Village, a picture rendered in acid-pink and yellow pixelated colours, an Indigenous Elder is superimposed on a teepee village. It is an energizing image, and yet, just like in the picture of the Mohawk Warrior, the circulating energy burns with possibly destructive undertones. In the same interview quoted above, Sainte-Marie remarks of the piece: "Although the colours are fun, young, exciting, emotionally it's contrary. You see an Indian elder before a sky of destruction, hovering over a teepee village that may or may not be surviving. Yet there's a feeling of serenity in the presence of chaos, as if to say even if this shall pass away, the Creator and Creation will survive." With bewilderment, the interviewer retorts: "This sounds pretty religious to me. Is it intended to be?"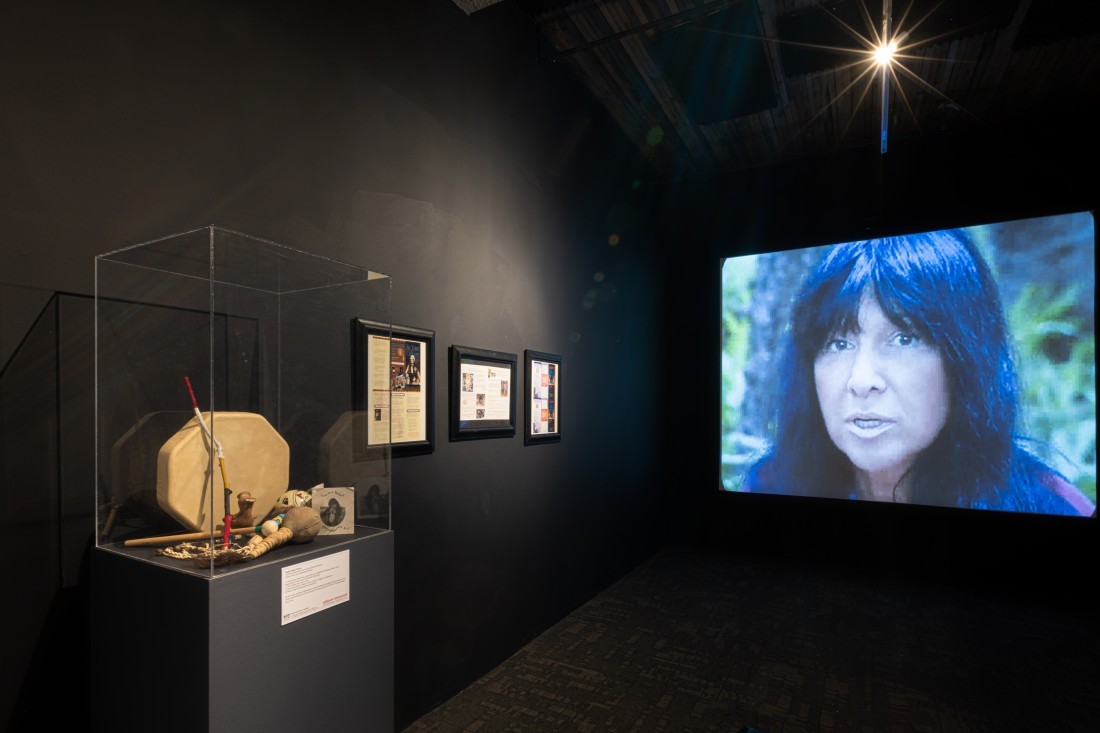 "Not in the church sense," responds Sainte-Marie, and yet she muses: "Even the Bible says that we are made in the image of the Creator, I add, 'therefore: creative.'" The contemporary art world might benefit if it embraced Sainte-Marie's idea—one that some are still stubbornly resistant to—that creation is a supremely spiritual practice. Behind every stroke of paint, behind every pixel, every carefully arranged note, there is a vibration. And it is this vibration, arising from a quiet interplay between the artist and her medium, that moves through air and matter, shaking up skin, organs, cells and, consequently, souls of the lucky audience. ❚
"Buffy Sainte-Marie: Pathfinder, a retrospective exhibition by an innovator of digital art" was exhibited at Urban shaman and Aceartinc., Winnipeg, from December 17, 2021, to March 19, 2022.
Monika Vrečar is a media theorist and writer living in Winnipeg.